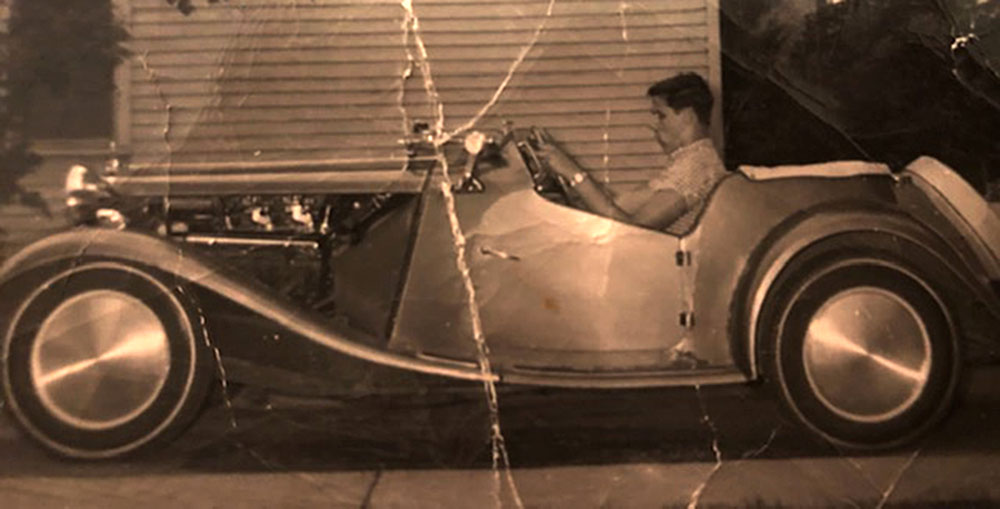 Small Block Adventures
by Dick Ruzzin, November 27, 2018
Published by Permission
The sound of a Chevrolet small block at 7200 RPM is something you never forget. I never thought that it would influence the course of my entire life. In the Detroit area, especially in Macomb County, street racing was thriving in the late fifties and I had many friends who enjoyed the sport. Woodward Avenue was close, and on a Friday night in the summer street racers were seen everywhere. Chevrolet engines were in just about everything with wheels that could be converted. Ford flatheads were just taken out and thrown away. I never thought in a million years that I would some day stand next to and meet the engineer who created that motor, Ed Cole.
I was drawn to reading Road & Track, and bought a used MG TD. When I see one now I cannot imagine how crazy I must have been to put a 283 Chevrolet Small Block under its hood. In 1959 I was driving a car on the street with the same power and weight as the Corvette SS that had raced at Sebring less than one year before. With ported 315 heads, three Rochester two barrel carburetors, a light flywheel, dual point ignition, headers, solid lifters and a Duntov cam, the engine was in sync with the then current information that was being funneled out of the Chevrolet dyno rooms a few miles away. All I needed to do was to figure out how to get traction. A Corvette weighed 3000 pounds at that time and the MG with the included small block weighed only 1800 pounds. Was it fast? You better believe it!

Bringing the MG Home
Shortly before the SBC engine swap in my MG TD was finished, my dad kicked me out of his construction workshop for welding his best mechanic's wrenches to the metal workbench. At that stage the car would run but it had headers without mufflers, and no floor boards. My friend Don and I one night got it ready for the three mile trip to our farm in the country. We started off after dark. The generator did not work so the headlights were very dim as they were running on a weak battery. We had to drive for about a mile on a very dusty gravel road.
I was very distracted as it was the first time that I had driven the car after the engine installation. I remember being amazed at the throttle response and how fast it was. Raw flame and light coming out of the headers straight down to the road and spreading for about twenty feet all around the car. The engine was very loud. The headlamps were almost gone at that point, and I was driving from the spreading light and flame from the exhaust in front of the car. The cloud of dust from the road reflected and amplified the light.
My mother heard the noise when we were about a quarter of a mile away. It was totally dark and there were no streetlights out on our country road. She looked out of the kitchen window to see what the noise was but she never expected it to be me. She was horrified to see a ball offlame running along the road making a horrific noise. I was running slowly in first gear so that I could stop easily. She was about to call the police when I turned into the driveway. She had remembered that I was bringing the car home, but did not imagine that what she was seeing could be me. She thought that an airplane had made an emergency landing on the road, crashed, and that she was seeing it come to a halt at the end of our driveway. Then I turned in.
It was a warm humid night and my friend Don and I were a little damp from the heat. The thick dust from the road came up from where the floorboards would eventually be. The dust enveloped us and stuck to our skin and clothing, We could hardly breath or see at that point with dirt and dust in our eyes. We were so caught up in the moment that we did not realize what was happening. My mother did not recognize us. She knew the car but could not figure out who was driving as I was so covered in dirt and dust. She immediately appealed to us to turn the engine off because she was afraid it would set the grass on fire next to our house. She refused to let me drive Don home in her car until we removed all of our clothing. I dropped him off in his alley so that he could sneak into the back of his house wearing only his underwear and all the dirt on his arms and face. His mother immediately called mine to verify his story which sounded pretty bizarre.
I did finish the MG, it was an absolute thrill to drive on the street. It weighed the same as the 1957 Corvette SS race car with the same power but less traction, I am sure.
It was a sleeper with the side panels on the hood, and accelerated like a rocket. We kept thinking the clutch was slipping because the engine revved so quickly, the car was light and we were used to hearing a small block in much heavier cars. At under 1800 pounds, it was a thousand pounds lighter than a fuel injected Corvette, which at that time was the fastest car on the road. I would roll out ahead of one very quickly, about four car lengths in first gear—end of race.
Later that night my dad arrived home and when he was told the story by my mother he laughed and forgot his anger at me for the welding trick.
I learned a lot from that early project but the trip home would never be forgotten by my mother who often suffered greatly from my car projects. She quietly put up with dirty greasy clothes and odd hours, once finding a whole differerential in her freezer as I was trying to shrink it so that I could pull the bearings out of it. That worked!
Cars can be fun. How they ran was always important to me but how they looked would soon emerge as my number one priority.
Many thanks to Dick Ruzzin.