Continental Mark II—End Game
By Jim and Cheryl Farrell
Introduced in late 1955, the Continental Mark II was one of the most beautiful and elegant cars ever built. The end for the Mark II came at the end of the 1957 model year. It started when Ford Motor Co. decided to convert from a family-owned company to one that was publicly owned. By selling stock, Ford, the Ford family and the Ford Foundation (which received most of the Ford common stock when Henry and Edsel died) would supposedly have more cash to work with. Because Ford management was reluctant to have a money-loosing division on its very public books, it was decided Continental Division had to show a profit even though that wasn't the case when it was first started. The details of what actually happened and how Continental Division died have always been somewhat of a mystery. With the passage of time and the deaths of all of those who were involved with the Mark II, more records are now available. We will probably never know the complete story of the death of Continental Division because not all dealings between interested parties were written down. But new records released in April 2022 tell much about the sequence and the reasons Continental Division was terminated.
The Mark II story got its start in 1951, when Ford executive vice president Ernie Breech asked Bill Ford if he was interested in building a successor to his father's Continental. Breech said he had been receiving letters from people who wanted to know when Ford was going to build another Continental, and he thought the time was ripe to do so. At the time, Bill Ford was in his last year of a four-year internship at Ford, and his full-time position at the company was in the process of being determined. Needless to say, he jumped at the opportunity to resurrect his father's Continental, and by mid-1952, the Mark II project was underway.
On June 9, 1952, the Davis Committee recommended that Ford build a "halo" car that would be the best car money could reasonably buy. It was to be a continuation of Edsel Ford's original Continental, and it was recommended it sell for $7,500–$8,000. This new "halo" car was not expected to make a profit, but rather was to be a loss-leader, a form of advertisement for all Ford products, and a car that would reduce Cadillac's current "prestige position" in the industry. The recommendations of the Davis Committee were quickly adopted by Ford's board of directors, and on July 17, 1952, the new Continental project got underway as Special Products Operations (later changed to Continental Division).
At the time Ford decided to "go public" in 1956, Henry Ford II and Breech, as the leaders of Ford Motor Co., decided that when Ford did go public, all Ford divisions had to show a profit, including Continental Division. That "excuse" for changing the rules in mid-game has never rung completely true. Lincoln, for instance, was never profitable from at least 1941 through and including 1960.
Bill Ford, who died in 2014, long maintained that Ford's 1956 public stock offering was the straw that broke the camel's back, and that if the Mark II had only been started a few years earlier it probably would have survived. He also acknowledged that it was probably a mistake to first build the Mark II as a two-door because the market had changed since the first Continental to favor four-door cars—but he said he didn't figure that out until later. Those statements are only part of the story. What follows is the rest of the story as we now know it.
In October 1955, the Mark II was introduced first in Paris, France, and a few weeks later at the Ford Rotunda in Dearborn, Michigan, and elsewhere. A four-year cycle was initially planned for the Mark II before styling changes were thought necessary. A four-door model Mark II was not initially planned. Yet even before its introduction and probably in early 1955, records show that Continental Division designed a four-door Mark II. By that time, Continental Division had obviously realized the four-door was likely to sell better than the two-door Mark II—and besides, Continental Division had recently been told it now had to show a profit.
The four-door Mark II was planned with rear-opening (suicide) back doors that closed on shortened "B" pillars. Wheelbase for the Mark II four-door was increased by six inches to 132 inches. The increase in weight for the four-door Mark II was 163 lbs., but improvements already planned for the Lincoln engine the Mark II was to use in '57 were thought adequate to take care of any performance issues. It was planned to build the Mark II four-door by using frame extenders in the middle of the Mark II chassis with minimal new body parts, all in a plan to make the two- and four-door Mark IIs look as similar to each other as possible. Any increase from the initial $9,695 list price of the Mark II two-door for a four-door Mark II was not disclosed, but the increase probably would have been in line with other Ford products.
The Mark II obtained most of its major mechanical parts (engine, transmission, differential, brakes and suspension.) from the current year Lincoln. When it was decided to build the '58 Lincoln with a unitized body and the 430 CID engine, the Mark II four-door, which Continental Division planned to introduce and sell beginning in March 1957, was no longer viable—nor was a Mark II two-door going to be after the 1957 model year. Thus, by late spring 1955, Continental Division began designing a new Mark III four-door (No two-door Mark III was designed).
Two alternative full-sized clay models of the proposed Mark III were finished, di-noced, and ready to be shown to Ford's Product Planning Committee by June 20, 1955. A new merchandizing plan was also developed for the purpose of increasing sales. Interestingly, of the two Mark III design proposals, the favored one, according to its designers, was not the one shown to the Product Planning Committee, but by the time the proposed Mark III die model was constructed at Continental Division so tooling could be made from it, it displayed most of the features of the favored car. Designers also indicate they were told, when designing the Mark III, that they were designing a car expected to sell for about $6,800.
Continental Division's budget for the fiscal year 1956–7 (July 1-June 30) was due for approval sometime in January 1956. According to Bill Ford, he knew Continental Division was in financial jeopardy. What Mark IIs had been sold were now selling at discounted prices. The car was universally recognized as beautiful, but it was too expensive, and there just didn't seem to be a big enough market for a car that expensive. Bill Ford decided that if Continental Division was going to die, it wasn't going to be without a fight, so he pushed hard for Continental Division's new Mark III.
At Ford there was a multi-step process each division had to go through to gain approval for production of a new model, and every division's budget had to be approved yearly by Ford's Executive Committee. New model proposals had to gain approvals from Ford's Product Planning and Administrative Committees before going before the Executive Committee for approval of a division's budget. Each committee supposedly had different functions and their approvals were made based on differing issues. On November 13, 1955, Continental Division made the first of its presentations for its proposed Mark III with its cost estimates and its new marketing plan to Ford's Product Planning Committee. The presentations were similar for all the committees and included the following highlights:
• The Mark III would have the same wheelbase as the '58 Lincoln, but would be five-inches shorter in length.
• Profitability was based on Continental Division's estimate of 4,000 Mark III sales per year, with a break even point of 3,825 sales per year.
• The new sales program being instituted included dealer reclassification, more training for sales people and better advertising. Continental Division said it would take several months before it knew if its new sales program was successful.
• Continental Division acknowledged Cadillac planned to market a new Eldorado Brougham in competition with the Mark III. Continental Division told the committees they had shown photos of the proposed Mark III and Eldorado Brougham to potential buyers of the Brougham, and most said they would cancel their Cadillac orders and order a Mark III.
• In the budget, Continental Division included a $335 per car figure for proposed Mark III improvements before production if feasible, including a pillarless four-door Mark III with rear hinged rear doors, fuel injection (an early proposal was for a supercharger), push-button automatic transmission controls, retracting backlight, and/or temperature control.
• Body assembly of the Mark III would be at Continental Division, and not by an off premises sub-contractor as it had been with the Mark II.
• The Mark III would use more interchangeable components with the '58 Lincoln, including exhaust, most windows and mechanisms, floorpans, front inner fenders and supports, etc.
• The planned sale price of the Mark III was estimated to be $9,800.
• A revised two-year cycle for the Mark II and a three-year cycle for the new Mark III were proposed.
The Produce Planning Committee approved production of the Mark III, but recommended that Continental Division consider using more common parts with current year Lincolns and somehow reduce the Mark III's sales price by $2,800. After that, the Administrative Committee also approved production of the Mark III.
After the Mark III made it through Ford's Product Planning and Administrative Committees, with a little luck and increased sales, it looked like Bill Ford might just be able to save Continental Division. From what had been said, things looked hopeful the proposed Mark III's budget would also sail through Ford's Executive Committee, which was made up of many of the same executives who were also on the other two committees. The new Mark III was scheduled to start production on September 16, 1957. And it was planned to have the car in dealer showrooms beginning November 15, 1957, but there were no plans to continue the Mark II after the '57 model year.
Then the roof fell in. After postponement of several Executive Committee meetings, on May 4, 1956, it finally met to review Continental Division's proposed budget. The minutes from that meeting indicate that Crusoe, who had recently become Ford's vice president in charge of all truck and cars, had conducted his own independent investigation of Continental Division's finances. (Crusoe was also a member of Ford's Product Planning and Administrative Committees.)
Before he came to Ford, Crusoe had retired from GM's Fisher Body, where he had been controller and then treasurer. During his time at Ford, L.D. Crusoe had already been responsible for:
• Removing Benson Ford as head of Lincoln-Mercury Division
• Splitting L-M into separate divisions
• Installing his protege, Jack Reith, as the head of Mercury Division; and the appointment of Ben Mills, (a Whiz Kid accountant /statistician who had previously been assigned to Continental Division to try to squeeze more out of Continental Division's dollar) as the head of Lincoln Division.
• Crusoe was also the person most responsible for pushing through the Edsel program he and Reith proposed in place of the Davis Committee recommendations already adopted. The Crusoe-Reith plan included substitution of the Mercury Turnpike Cruiser show car as the basis for new '57 Mercury instead of Benson Ford's Mercury Monterey (XM-800 Mercury show car), which had previously been approved for production as a new model from L-M Division starting in fall 1956.
Crusoe questioned the effectiveness of Continental Division's new marketing program. He had determined there was no way Continental Division could sell even 3,825 cars (break-even point) per year, and recommended that Continental Division be merged into Lincoln Division. He did say, however, that in his opinion there was value in having a Mark III as a prestige car for the company, but that Continental Division's proposed Mark III would not make a profit. The end result was that at the May 4, 1956, Executive Committee meeting, with Bill Ford dissenting, the rest of the members voted to immediately stop all work and money spent on Continental Division's Mark III. The responsibility for "organizational relationships and personnel requirements as to Continental Division and Lincoln Division" was assigned to Crusoe. As a result, the Mark II and its marketing were transferred by Crusoe to Lincoln Division. (Continental Division itself was shut down at the end of June 1956, when its fiscal year ended.)
On July 25, 1956, it was decided the new 1958 Continental Mark III would be a clone of the '58 Lincoln. On September 16, 1956, Ford's Executive Committee also decided that Lincoln Division would continue selling new '57 Mark IIs until they reached a total production of 3,000 or until June 29, 1957. After that there would be no more Mark IIs produced.
It wasn't a happy ending for a great car. After the adoption of the Crusoe-Reith plan, there was no room at Ford Motor Co. for both the planned E-car (Edsel) and the Continental Mark II or III. By the time the dust settled, Continental Division was shuttered and it was full steam ahead with the Edsel. Adding insult to injury, after Continental Division vacated its premises, Edsel Division moved in.
Photos: Ford Design
Books by Jim and Cheryl Farrell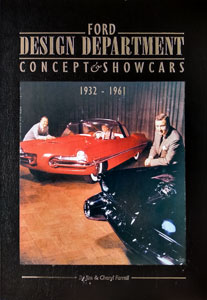 Ford Design Department—
Concepts & Showcars
1999, 10×13, 400 pages, Fully indexed
900 photos. Includes 150+ designers and sculptors, and highlights 100 concept cars.
ISBN 0-9672428-0-0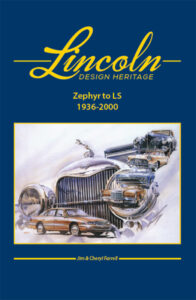 Lincoln Design Heritage:
Zephyr to LS (1936-2000)
2021, 10×13, 480 Pages, Fully Indexed
1,600 photos and illustrations
ISBN 978-0-9672428-1-1
The Ford book is $50 plus $7 S&H (US). The Lincoln book is $85 plus $10 S&H (US). Both books bought together are $110 plus $17 S&H (US). To order, email: cfarrell57@gmail.com