Henry Ford's Plastic Car
By Jim and Cheryl Farrell
This year on April 7 marks the 75th anniversary of Henry Ford's death. Most people think the flathead V-8 engine was his last major contribution to the automobile world. There was, however, one later project. It was Ford's effort to build and market a plastic car with a selling price of $400, which was a little more than one-half the then current price of a Ford automobile.
For all his faults and shortcomings, Henry Ford wanted to help farmers. After years of research, and testing many plants, he thought the soy beans were the answer. Ford built steering wheels and dash knobs from soy bean mash. At one time, the paint used on Ford products was made from soy bean oil. He sometimes wore clothing made from soy bean material, and there are stories about Ford feeding his luncheon guests soy bean food products that tasted terrible to everyone except him.
Starting in 1928, Ford placed a family friend named Robert Boyer in charge of an experimental chemical laboratory. and asked him to find industrial uses for common plants. By 1937 Ford himself was wearing suits made from soy bean material. By 1938, Boyer made glove box doors from plastic, and Ford tested large sheets of soy bean plastic by jumping up and down on them. By 1941, Fords had a car deck lid made from soy bean plastic, and he used an axe to demonstrate how strong it was. That same year he also assigned tool maker Lowell Overly to the Design Department to help design and build a plastic car. The Design Department first built a quarter-sized model, and to stay within Ford's 3,000 lb. weight limit, started building a tube-type chassis and framework for the car. E.T. "Bob" Gregorie, the head of Ford's Design Department, assigned Ed Martin and John Najjar to work with Overly. Gregorie and Overly were soon at odds over the design of the car, so Henry shut the project down, collected all the parts and pieces, and put them in storage.
Three months later, Overly was given a place in the Soy Bean Lab and told to finish the car. The directions Ford gave Overly were to use the light-weight tubular framework, a streamlined body and a V8 "60" engine. Overly built a model of the car he proposed, Ford approved it, and Overly began making body panels to attach to the car's tubular framework. By this time, the Design Department had become more cooperative and helped make a full-sized clay model of the car Overly and Mr. Ford wanted.
Because of wartime restrictions, the molds used to cast the plastic panels had to be made from concrete, which left a lot to be desired—and the panels required a lot of hand finishing. The plastic panels were attached to the car's framework with clamps and screws, and any joints were sealed with more soy bean resin. Recessed acrylic windows in rubber seals were installed within 1/8-inch of the car's exterior. The car's seats were also made from soy bean fabric. Total weight of Ford's plastic car was 2,300 lbs. The car was introduced to the public with lots of publicity on August 13, 1941, and the New York Times even ran an article forecasting that Ford would market his plastic car as early as 1943 for about $400.
Every time the plastic car was shown, it was outside because it stunk of formaldehyde. Although it was driven around Dearborn, the panels soon began to shrink and the smell continued. War preparations and then the war gradually stopped everything. Ford's plastic car was soon placed in storage in the basement of the Design Department. There's some indication that the car may have been seen there as late as 1971, but in all likelihood it became a contribution to some wartime scrap drive.
By the time World war II ended, Henry Ford was in his 80s, and had suffered at least two strokes. He was no longer active and died in 1947. Absent some breakthrough in the manufacturing process, many doubt whether a plastic car could have been produced at the end of or shortly after the war. But then again, in 1946, Bill Stout, who then worked for Graham-Paige, built both the body and the frame of his Scarab automobile from fiberglass.
Photos: Ford Design
Books by Jim and Cheryl Farrell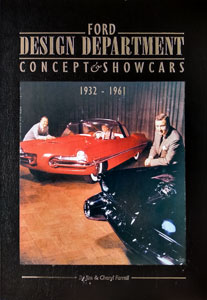 Ford Design Department—
Concepts & Showcars
1999, 10×13, 400 pages, Fully indexed
900 photos. Includes 150+ designers and sculptors, and highlights 100 concept cars.
ISBN 0-9672428-0-0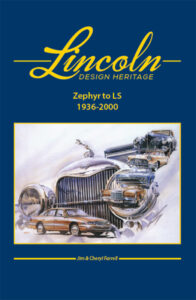 Lincoln Design Heritage:
Zephyr to LS (1936-2000)
2021, 10×13, 480 Pages, Fully Indexed
1,600 photos and illustrations
ISBN 978-0-9672428-1-1
The Ford book is $50 plus $7 S&H (US). The Lincoln book is $85 plus $10 S&H (US). Both books bought together are $110 plus $17 S&H (US). To order, email: cfarrell57@gmail.com