Lincolns That Never Were
By Jim and Cheryl Farrell
At one time each of these Lincolns was planned for production, and each of them is much different than what was actually produced. For one reason or another none of the following Lincolns made it into Lincoln showrooms—but they sure could have.
Photos: Ford Design and The Henry Ford
1939 Lincoln-based Mercury
Conventional wisdom is that Edsel Ford decided to produce a higher-priced Ford in 1939 and it was called a Mercury. Here is a photo of a car that has been identified by Ford designers and clay modelers as a 1939 Lincoln proposal designed using a Ford body and chassis—a Ford that's dressed like a Lincoln. Was it originally meant to be a smaller Lincoln called the Mercury? Head of Ford design at the time, Bob Gregorie, disagreed, but designer Tucker Madawick and modeler Fred Hoadley believed what became the Mercury started our as this Ford dressed as a Lincoln.
1942 Lincoln-Zephyr, Continental and Custom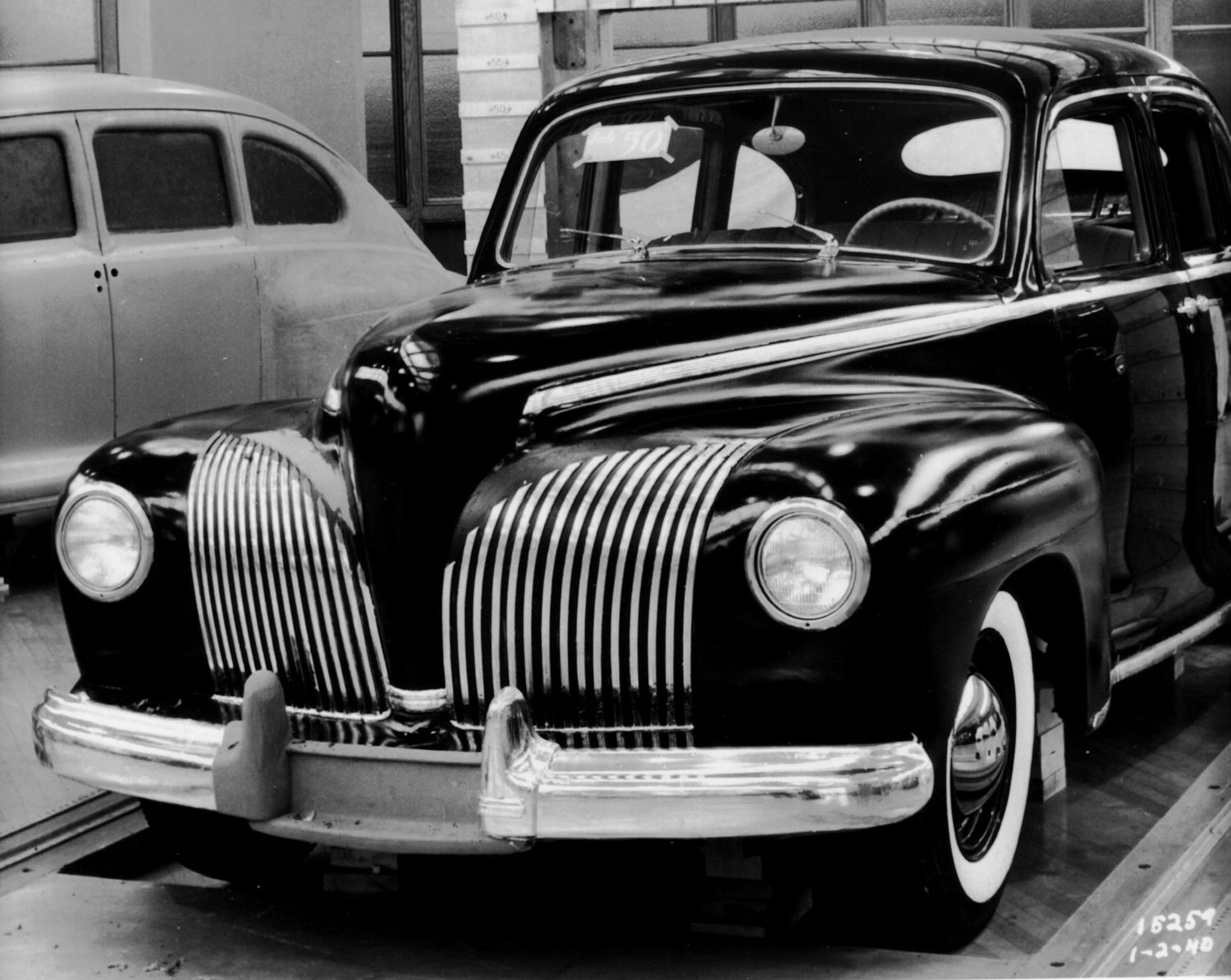 Ford was slow to incorporate the wider look Cadillac adopted from Cord in 1941. Jack Davis, Ford's head of sales, pleaded with Gregorie to design a more substantial looking Lincoln for 1942. He did, but according to Madawick, before the "more substantial" look was adopted in 1942, this Zephyr proposal, similar to the 1941 Lincoln design, had already been designed and was planned as the '42 Lincoln.
If Continental Division had not been terminated in 1956, a new Continental called the Mark III Berline would have been in Continental showrooms in the fall of 1957 as the new '58 Continental Mark III. Could this car have saved Continental Division if it had been given one more year? Probably not.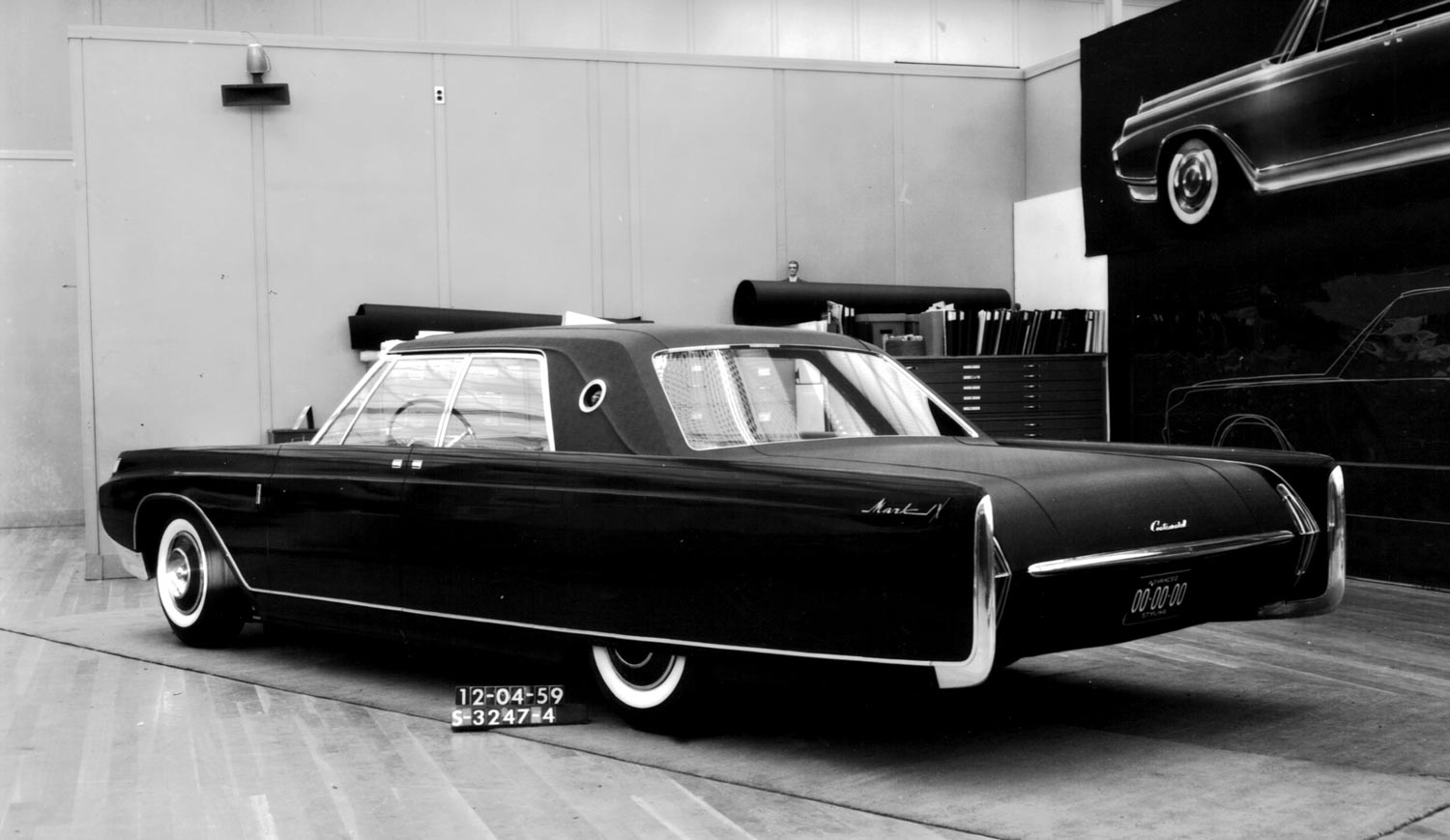 Elwood Engel's proposal for the '61 Thunderbird became the '61 Continental. George Walker, head of Ford's Styling Department, was due to retire in 1961. He wanted Engel to succeed him. He thought if Engel also designed the next (1964) Continental, it would help Engel ace out Bordinat. Because Henry Ford II was sick, Bill Ford was able to engineer Bordinat's selection as the next head of design instead of Engel. That was the end of the Mark IX. But if Engel had become head of Ford design this car was planned as the '64 Lincoln.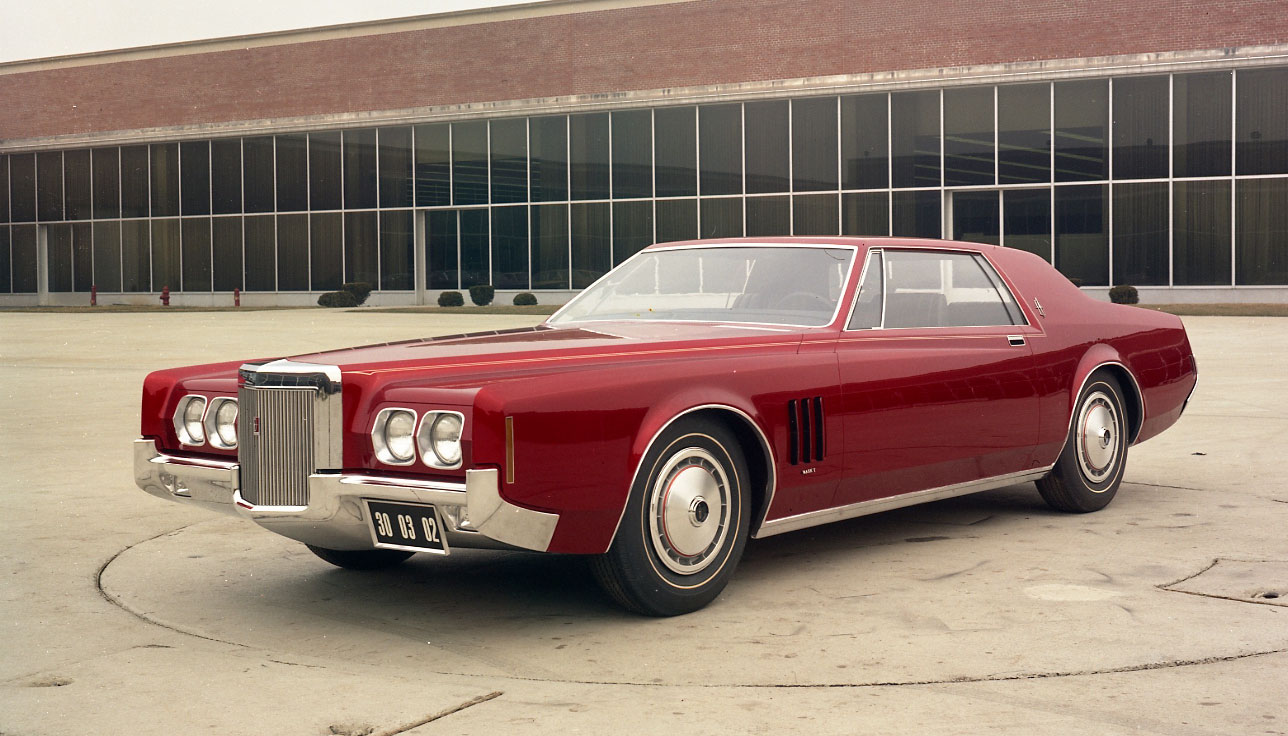 In the mid-1970s, Henry Ford II wanted to downsize all Ford products. Although this smaller Mark V was planned for introduction as the '76 Mark V, a Lincoln plant (Wixom) engineer determined Ford couldn't build both the smaller Mark V and the smaller ('77) Thunderbird without additional but very expensive equipment. That information later turned out to be incorrect, but it meant this smaller Mark V was not to be. But for one engineer's mistake this car would have been the Mark V.
1976 Lincoln Continental (Town Car)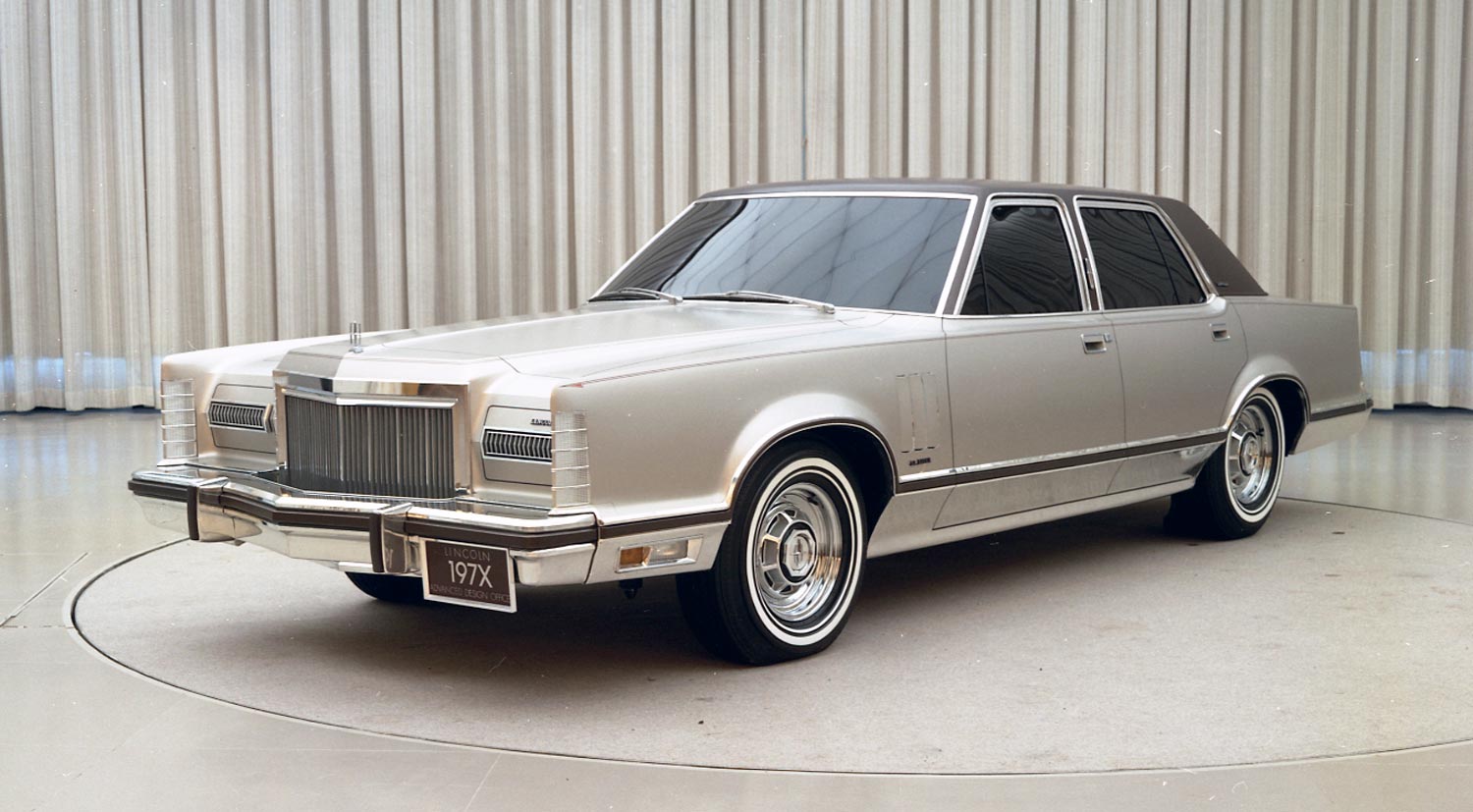 Bordinat didn't want to downsize Lincolns. He planned a big new Lincoln Continental for 1976. Bordinat's bigger Continental (Town Car) had already been designed when Henry Ford II decided the next big Lincoln would be built on the downsized Panther platform. That not only delayed a new Continental (Town Car) until 1980, it meant Bordinat's bigger Lincoln Continental went by the wayside, although a lot of its design features were incorporated in the 1980 Continental.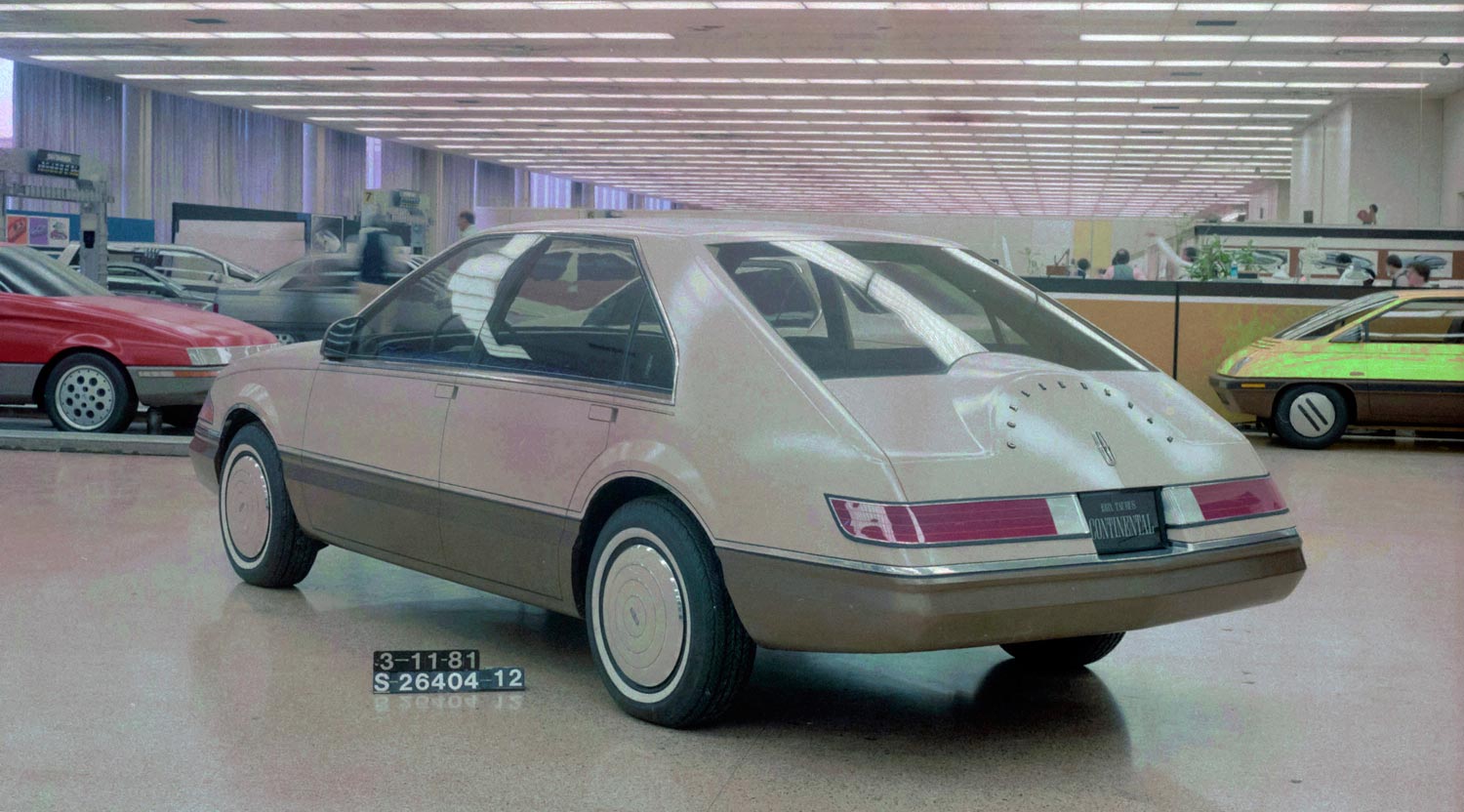 Until it was decided to build the new mid-sized Continental based on the Ford Taurus, a new Continental was then planned for 1985, and it looked a lot different. Would it have sold better that the '88 Continental?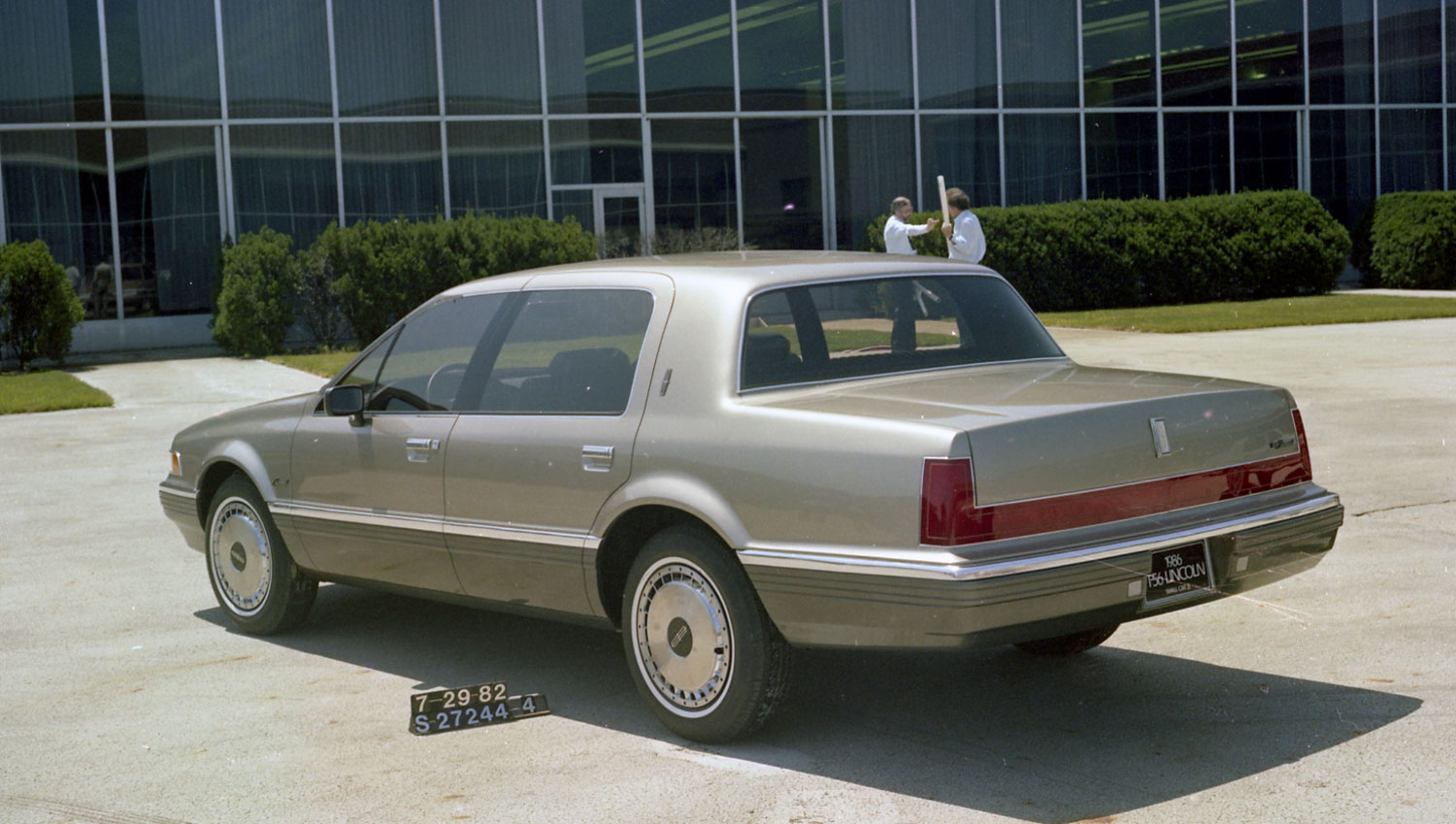 The 1990 Lincoln Town Car was originally supposed to be a downsized Lincoln, and it was no longer going to be called a Town Car, Originally planned for 1990, this smaller front-wheel-drive Lincoln was to be powered by a V-6 engine. When GM downsized, more car buyers switched to the bigger Lincoln Town Cars. As a result, between 1983-85 Town Car sales skyrocketed, so Ford decided not to downsize even though the downsized Lincoln had already been designed.
Books by Jim and Cheryl Farrell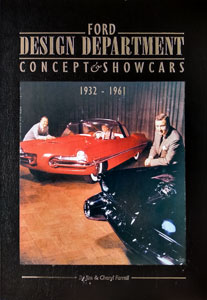 Ford Design Department—
Concepts & Showcars
1999, 10×13, 400 pages, Fully indexed
900 photos. Includes 150+ designers and sculptors, and highlights 100 concept cars.
ISBN 0-9672428-0-0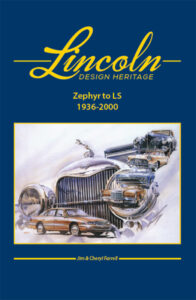 Lincoln Design Heritage:
Zephyr to LS (1936-2000)
2021, 10×13, 480 Pages, Fully Indexed
1,600 photos and illustrations
ISBN 978-0-9672428-1-1
The Ford book is $50 plus $7 S&H (US). The Lincoln book is $85 plus $10 S&H (US). Both books bought together are $110 plus $17 S&H (US). To order, email: cfarrell57@gmail.com