The Cellini of Chrome, The Story of George W Walker / Ford Motor Company's First Vice President of Design
by Helen Hutchings
Three men are generally recognized and acknowledged as having been the most directly responsible for bringing styling and design into the corporate functions of major Detroit automakers. The lives and careers of two, Raymond Loewy and Harley Earl, have been examined and recounted in numerous books, yet it is only now that the third, George W. Walker, is the subject of a book.
The Cellini of Chrome, The Story of George W Walker / Ford Motor Company's First Vice President of Design takes its title from a November 1957 issue of Time magazine that featured Walker on its cover. The irony here is that Time had featured Raymond Loewy on the cover of an October 1949 issue—but never published a cover feature on Harley Earl.
Walker and Loewy also shared in common having established and operated their own highly successful industrial design firms, bearing their respective names. The client list of each was numerous and varied and meant the items each designed was equally diverse. Both men understood the important contribution good styling and design contributed to the desirability of a product (any product) and thus its maker would enjoy concomitant increase in sales that their newly well-designed product—including automobiles—would attract.
Henry Dominguez is the author of Cellini of Chrome. He has written several earlier published titles, two of which your commentator has read and I think highly of both—as is also the case with this, his newest. (Should you be curious, those earlier two are Edsel Ford and E T Gregoire, published in 1999 by SAE and The Last Days of Henry Ford, a 2014 issued book from the same publisher as this Cellini, Racemaker Press.)
Given all the cross-pollination one vehicle manufacturer to another (then and now) between their respective departments—with design or styling studios no exception—GM people and history intermixes into Walker's essentially Ford-focused (yes, there's a bad pun there) story. Notable is one regarding how Walker gained entrée into Ford Motor Company in the first place.
George Walker and Ernie Breech had long been good friends regularly golfing together commencing during the years Breech word for GM and extending thereafter. Less than a year after Henry Ford II was installed at the helm of Ford Motor Company he hired Breech away from GM to be his Executive Vice President. So every time design input was needed Breech made sure Walker was front and center doing the work or involved in the competition until ultimately Walker was hired as Ford's first-ever vice-president of Styling, as Walker named his department.
Actually, while still owning and operating his own design business, Walker had done a bit of work for GM. Even more interesting, as his industrial design firm had made him a wealthy man, he chose to gain and maintain many of his business contacts via memberships in private clubs. One of them, Detroit's Recess Club, elected him its president in 1949. Subsequently, according to Dominguez, Walker "had a lot of meetings with Harley Earl because [Earl] was trying to get people in the club. They had to go through me [Walker speaking] at that time. So we [Harley and Walker] were very closely associated."
George Oros too was a GM designer before being hired by Walker's firm and thus eventually becoming a key designer at Ford. All of that cross-pollination has led to inclusion in this commentary of several images from this book that you'll find below. In each, one or more name of an individual is unknown. If you recognize any, please tell us by way of adding a comment, who, by name, you believe that person or those individuals may be.
Of course the story of the design—then redesign—of what would become the production '49 Ford, that company's first new car since the conclusion of War II, is told again. But there's so much more in this book for Henry Dominguez has written about Walker, personally and professionally. Moreover he's told all aspects of the story engagingly, informatively, and entertainingly—and yes, it includes some of the same type of studio hi-jinks that took place within Ford's Styling as those Gary Smith relates on the pages of Dean's Garage.
The Cellini of Chrome, The Story of George W Walker / Ford Motor Company's First Vice President of Design is highly commended not merely for inclusion on your library's shelves but to actually sit down and read purely for the enjoyment of what Henry Dominguez has written and the story he's told.
Title: The Cellini of Chrome
Subtitle: The Story of George W Walker / Ford Motor Company's First Vice President of Design
Author: Henry Dominguez
Description: 384 pages, 11" x 10.25", hardcover w/dust jacket, 250 b/w & 78 color photos but (alas) no index
ISBN: 978 0 999 8754 3 8
Publisher: Racemaker Press, 2020 www.racemaker.com
List Price: $90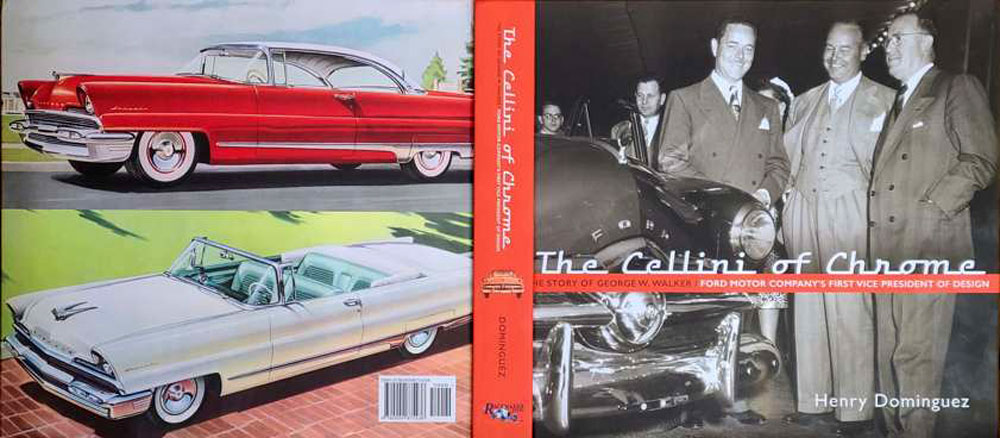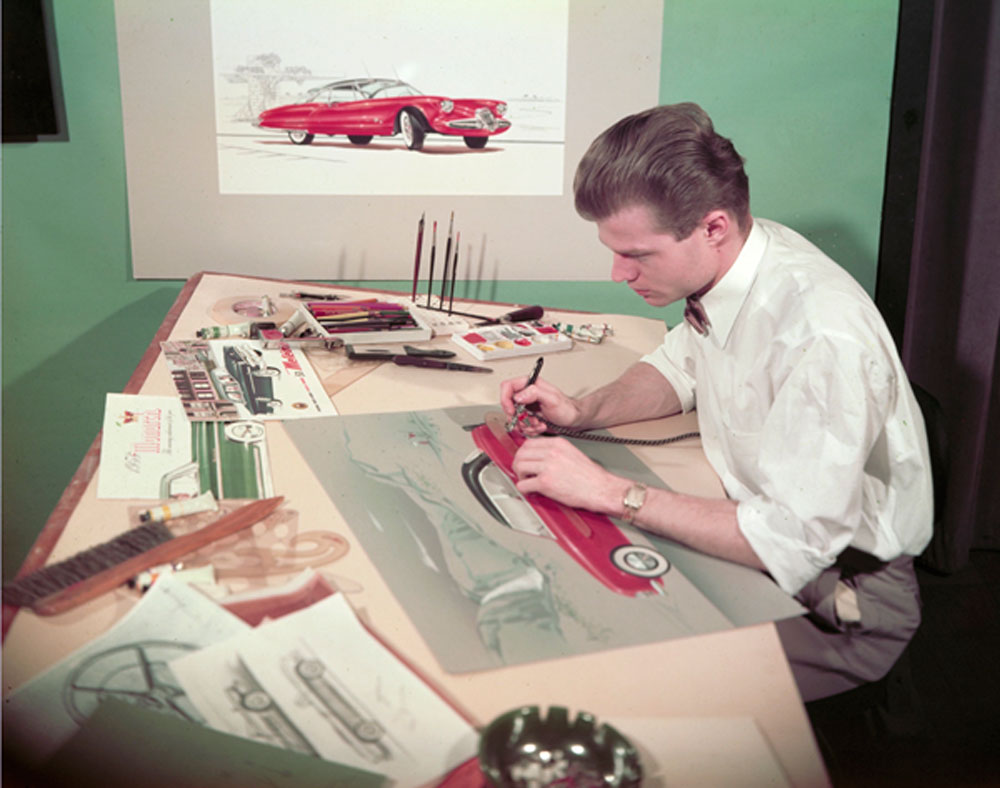 Pg 229 is another designer at work in Ford's new Styling Building around 1953 in an image from Ford Photomedia. Does anyone recognize this man?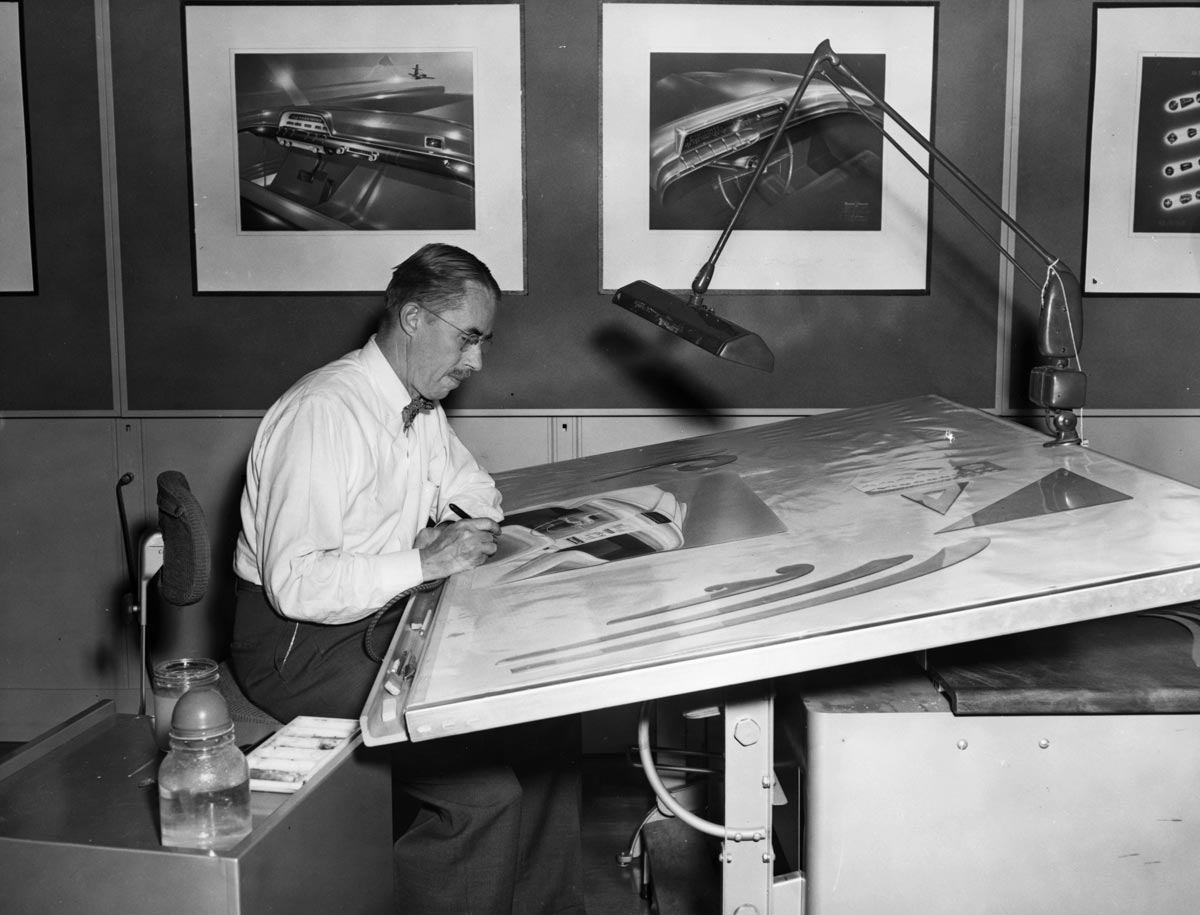 Pg 162 is an unidentified designer in 1952 courtesy the collections of The Henry Ford. Does anyone recognize who this man is?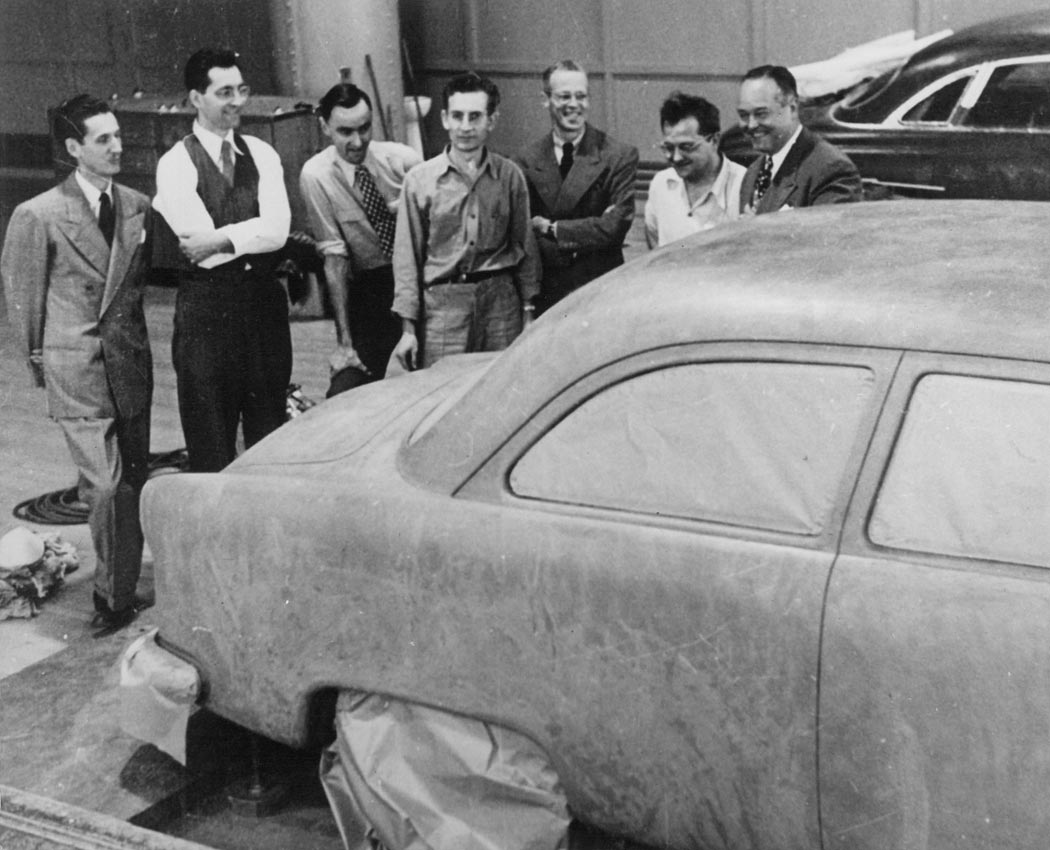 Pg 122 Photo courtesy Janet Oros Weise shows (right to left) George Walker, unknown, unknown, unknown, Elwood Engel, Joe Oros and Frank Francis who was Bob Gregoire's right hand man. Can you help put names to any of the three "unknowns"?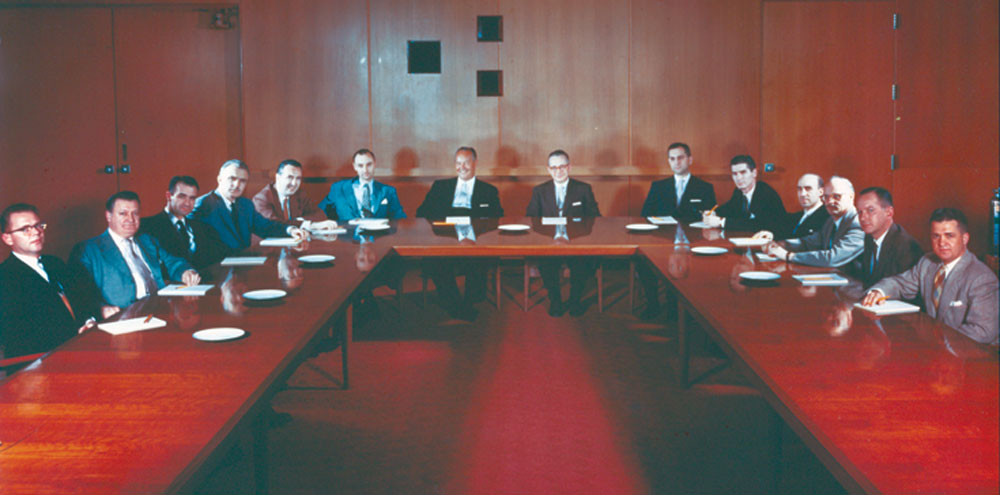 Pg 298 is a photo courtesy John Najjar showing styling staff shortly after Walker was appointed its vice president. L to R are David Ash, Charles Stobar, Wes Dahlberg, Robert Maguire, Gene Bordinat, Elwood Engel, George Walker, unknown, Joe Oros, Roy Brown, John Najjar, Alex Tremulis, unknown, unknown. Can anyone help identify and of the three "unknowns"?
Pg 95: Courtesy Bob Todd is an image of members of Ford's Design Department who would gather weekly at Parkland Bowling Alley on Detroit's west side for some stress relieving exercise. Some men are identified. Can you help us put names to any of the other faces?