The Blue Job—Buzz Grisinger's Test
By Jim and Cheryl Farrell
Handsome as a movie star and a physical fitness nut all his life, Buzz Grisinger would often astound his co-workers by doing numerous push-ups or pull-ups on command. He was a prize-winning competitive swimmer into his late 80s, and stayed interested in car design until his death at age 91.
Grisinger graduated from the Boeing School of Aeronautics, taught at Boeing, and was a designer at Chrysler in the 1930s. He worked on the Manhattan Project (atomic bomb) during WWII, and then designed cars at Kaiser-Fraser until 1952, when he and co-worker Rhys Miller became independent Detroit area designers. Grisinger and Miller submitted a proposal for the Mark II design contest and were later hired as Ford designers. Grisinger's first assignment at Ford was to design the continental kit used on the '56 Thunderbird. He was then named head of the Mercury pre-production studio, where he designed the Blue Job.
Before starting the Blue Job, Grisinger was told there was not much chance it would become a production car, but management wanted to see "what he could do." Grisinger acknowledged that "Blue Job" was a funny name for a concept car, but he was more interested in its design. Grisinger was a hands-on designer who was involved with every aspect of cars designed in his studio. Other studio designers who worked on the Blue Job included Ed Westcott, Dick Kessler, Bob Cheida, Jerry Morrison, Ed Iser, Herb Todd, and Chuck Berry. Doug McComb was the head clay modeler.
Grisinger and many of his studio designers were aware the Blue Job was Grisinger's test. They recall that Grisinger made most of the decisions concerning design of the Blue Job, and was actively involved even in the clay modeling of the car. As was customary, the Blue Job was a concept car designed differently on each side. When done, management was impressed enough to have the car built as a full-sized clay model, although it had no interior and the doors, trunk, and hood did not open.
When a workable retractible concept became common knowledge at Ford, all studios at the Styling Center wanted to produce their own retractible model. Studies showed that a Lincoln and Mercury retractibles were feasible, and Thunderbird and Edsel full-sized clay model retractibles were built. The 1957–59 Ford Skyliner was the only retractible produced at Ford, although the retractible mechanism was later used on Thunderbird and Lincoln convertibles.
Dick Noe was a design engineer Grisinger recruited from Chrysler. Noe was an MIT graduate who, after he came to Ford, designed and engineered a retractible model of the Blue Job called the Strato-Top. It was simpler and less expensive to build than the retractable model earlier developed by Continental Division. Because there was no money in the Mercury studio budget, Noe's innovative retractible model only got as far as detailed renderings and a full set of engineering drawings. Features of Noe's Blue Job with Strato-Top included the following:
A light-weight Plexiglas sliding top panel over the front-seat area that retracted back over the rear section of the roof and then into the trunk.
An anodized aluminum sunshade that could be used to block off the Plexiglas panel.
Easily adjusted top channel guides.
The entire retractible mechanism slid on inexpensive nylon bushings.
Weather seals and header bumpers were made of nylon and inexpensive.
The header was easily attached and had built in drains
The headliner was molded plastic cemented to the roof.
Inexpensive flexible driveshafts that were operated by reversible electric motors and located at the centerline of the roof.
The trim and the outer part of the backlight folded inward and retracted with the remaining backlight into the trunk.
A folded and stamped roof structure with interchangeable right and left side panels.
Because Noe's Strato-Top retractible roof design was simple and inexpensive, Grisinger and management thought it could be produced for far less cost than the Ford retractible, and that it would look more like the standard two-door hardtop model than the Ford retractible. The failure of the Ford retractible to sell up to expectations ended any hope for a Mercury retractible model.
Grisinger's Blue Job and the other cars his studio produced led to his appointment as head of the Lincoln-Mercury studio when Gene Bordinat was named Ford's new chief designer in 1961. Grisinger retired in 1971, and moved to California, where he continued to be actively involved in car design, and at one point, was recruited as a clay modeler at Concept Center (Ford of California). Grisinger enjoyed the weeks he spent at Concept Center so much he said he was sorry to leave.
Photos: Ford Design
Books by Jim and Cheryl Farrell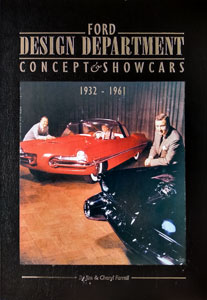 Ford Design Department—
Concepts & Showcars
1999, 10×13, 400 pages, Fully indexed
900 photos. Includes 150+ designers and sculptors, and highlights 100 concept cars.
ISBN 0-9672428-0-0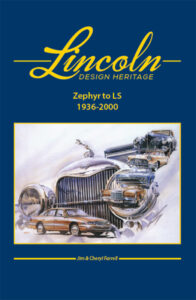 Lincoln Design Heritage:
Zephyr to LS (1936-2000)
2021, 10×13, 480 Pages, Fully Indexed
1,600 photos and illustrations
ISBN 978-0-9672428-1-1
The Ford book is $50 plus $7 S&H (US). The Lincoln book is $85 plus $10 S&H (US). Both books bought together are $110 plus $17 S&H (US). To order, email: cfarrell57@gmail.com