The American Station Wagon
A Brief Packing and Styling Essay
by Harry Bradley
Published in Car Styling No. 8, October, 1974
For years, American station wagons have functioned reasonably well. At least up to the mid-1950's. This, because wagons have always been based upon 4-door sedan configurations. 1940s and 1950s sedans were so big, tall and upright that the basic anatomy was ideal for spacious, useable wagons. A 1953 Chevrolet 210 Handyman which clearly demonstrates the practicality of early wagon designs. However, today's wagons are nearly useless because today's sedans are very low with severe tumblehome, extreme body pull under at the rocker panels, deep foot wells, pronounced wheel wells, and high driveshaft tunnels. Producing a wagon around these extremes is difficult-perhaps impossible. Moreover, many of the stylish, flamboyant tailgate arrangements currently available have further reduced useable space at the rear and have added impractical qualities with regard to ease of loading.
Over the past 20 years American wagons have developed along three distinctly different lines. First, the Country Club Wagon was long and low, with plenty of visual excitement, but not very functional as a part-time hauler. Mostly used by suburban mothers to chauffeur children around town, shop for groceries, and attend meetings. The 1960 Ford Country Squire exemplifies this type of vehicle. In fact, Ford was largely responsible for the erosion of the early spacious wagon package into today's configuration. In many cases, these massive Cruisers have a stylish exaggeration that captures the very essence of American automotive design: abundance, useless bulk, flamboyance, gimmicks, and texture.
Second, the Compact Sport Wagon was new to the American market in the 1970s. This trend was effectively previewed by the 1955–1957 Chevrolet Nomad (or, prior to that, the 1954 Chevrolet Waldorf Nomad). As a package, this style is not too useful for other than very small loads. It had a clean, agile size which appeals to young people, small families and small businesses. The 1971 Vega Kammback exemplifies this type of wagon. It is not simply a shrunken big wagon, as the Pinto seems to be, but a design with proportions and accents specific to the sporty quality of a small wagon.
Third, the Suburban Van—an awkward compromise which utilizes the spacious, useable dimensions of the commercial van but retains the van's difficult entry-exit configuration, commercial styling, and over-generous, ponderous mass. Favored mostly by larger families with extensive camping needs, used by mothers trucking children about the community, and popular with a small group of young people as the status car of the 1970s. The 1973 Dodge Sportsman exemplifies this type of wagon.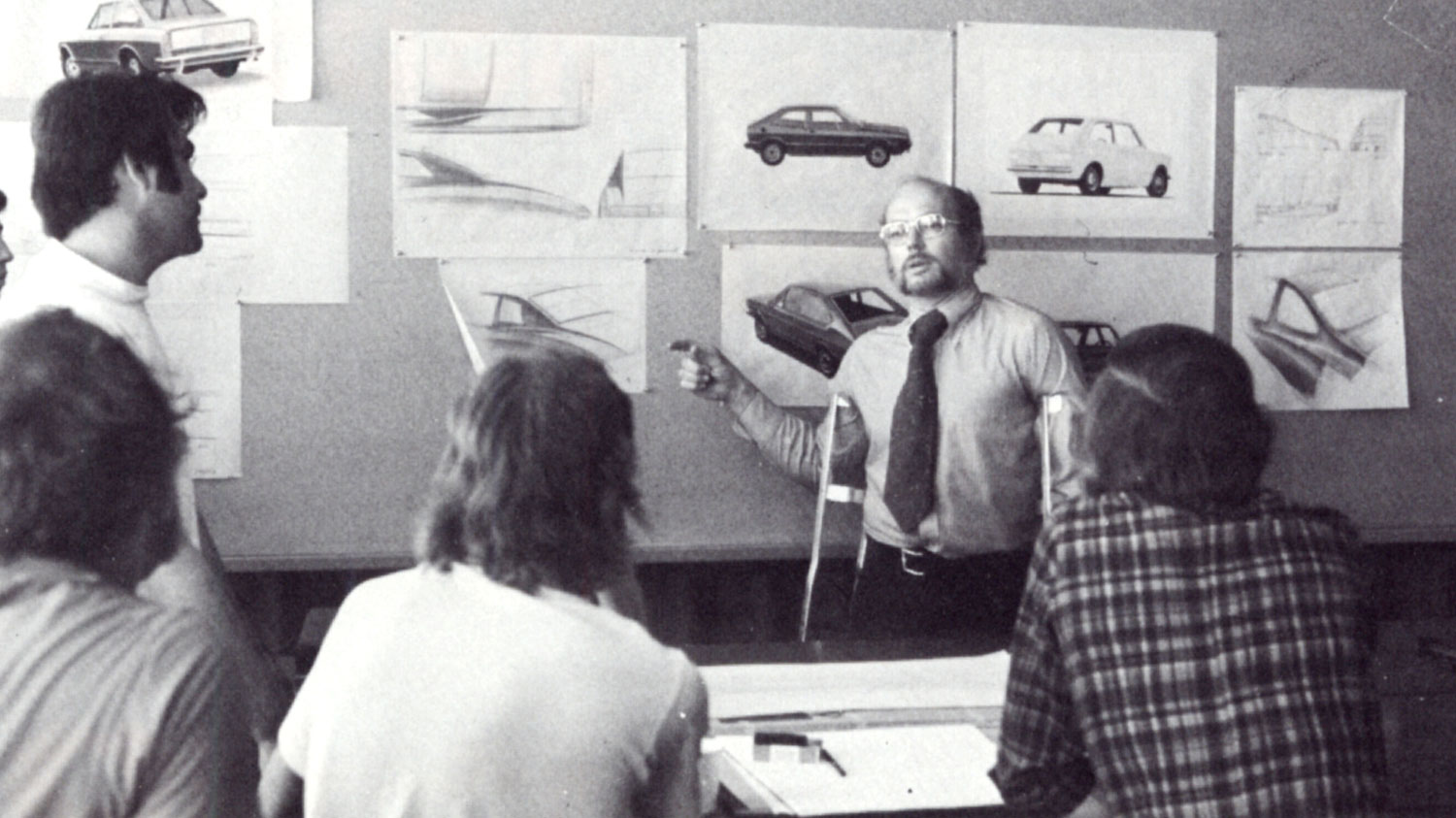 Harry Bradley graduated from the College of Wooster, Wooster, Ohio, in 1958, where he majored in the History of Oriental Religions and minored in Art. Four years later, he graduated from Pratt Institute, Brooklyn, New York. Here he majored in Industrial Design with particular emphasis upon Automotive Design.
He was hired by General Motors Styling Staff (now General Motors Design Staff) where his studio assignments included Truck and Coach Studio, various Advanced Studios, Chevrolet Studio, Pontiac Studio and Cadillac Studio. In these studios, Bradley participated directly in the design of production cars, trucks and buses, plus advance-concept cars, trucks and buses. He also worked briefly on fuel cell and battery powered experimental car programs for General Motors.
In 1964, he was granted a one year leave-of-absence and, on a full tuition General Motors Fellowship, attended Stanford University, where he received a Masters Degree. His thesis at Stanford was in the area of Lower Extremity Orthotics having designed a pair of bi-lateral long leg braces known as the Stanford-Bradley Brace.
In 1967, Bradley moved to Mattel Toys, Los Angeles, California, where he was a Senior Industrial Designer in the Research and Development Deportment. There he designed the original series of Hot Wheels.
By 1968, he had formed Bradley Design, Palos Verdes Peninsula, California. Bradley Design concentrates on automotive assignments: styling, engineering, human factors, marketing and advertising. Work is done in all automotive categories from recreational, commercial and specialty to off-road and racing.
Bradley's automotive illustrations have appeared in nearly every American automotive publication and have been employed in automotive catalogs and brochures. Vehicle design includes Indianapolis race cars, land speed record cars, various classes of dragsters plus recreational vehicles of all kinds, cars for movie and TV studios, and agencies, and private industry. He has designed products for handicapped persons including vehicles and appliances. Clients include major automobile companies world-wide, toy companies, automotive accessory and high-performance manufacturers and nearly all automotive publications. Articles about Harry Bradley and his work have appeared in Newsweek, Time, Life and newspapers throughout the United States.
Since 1959, Harry Bradley has been on the faculty of Art Center College of Design, Los Angeles, California. He is an instructor in the Industrial Design Department, where he teaches Advanced Product Design and Advanced Automotive Design. He has been a guest lecturer at U.C.L.A., Los Angeles, California, and has appeared on television and radio programs.