The 1958 Ford—An Indirect Casualty Of The Edsel
By Jim and Cheryl Farrell
Most old car enthusiasts like the looks of the 1957 Ford, especially the Fairlane. (In 1957, Ford outsold Chevrolet.) For 1958, the body shell was to be the same, but many suspect the company shot itself in the foot by trying too hard to make the '58 Ford look like the '58 Thunderbird. But that wasn't what the car's designers wanted.
The '58 Ford's design was an indirect result of people problems that arose as a result of the Edsel fiasco. Here's what happened. In 1955 Lewis Crusoe (then head of Ford Division) and his understudy, Jack Reith, convinced Henry Ford II and Ford executive vice president Ernie Breech that a new car eventually called the Edsel would help Ford catch and surpass GM sooner than what was already planned and approved at Ford. The Edsel was a huge and costly mistake—but supposedly nobody at Ford knew that at the time it was approved. Later in 1955 Crusoe was promoted and became a Ford group vice president in charge of all cars and trucks. At the same time, Robert McNamara got Crusoe's old job as head of Ford Division. In May 1955 Reith was appointed head of Mercury Division. In October 1956 Crusoe had a heart attack, probably because of flak he was already getting from the not-yet-released Edsel. For months after his heart attack, Crusoe was convalescing, but by late May of the following year, he was forced to retire instead of returning to work. Reith was also forced to retire, after which he either accidentally shot himself or committed suicide. When Crusoe retired, he was again succeeded by McNamara. Jim Wright, who had been in Ford marketing and then became kind of an understudy to Crusoe, was named head of Ford Division. Even before Crusoe was retired, McNamara and Wright were doing the jobs they later inherited because of Crusoe's incapacity.
Crusoe was a car guy; so was Reith. McNamara and Wright were not; they were finance people who, with Rieth, were "whiz kids." Crusoe and Reith got most of the blame for the Edsel debacle, but HFII, Breech, and Ford's board of directors, who approved and implemented the decision to design, build and market the Edsel, mostly escaped any blame.
With that background, we need to take a look at what was happening at the Ford Styling Center. When George Walker took over, he appointed Joe Oros as one of his assistant managers. A year later, Oros was named head of the Ford design studio. Oros, who was previously been one of the designers of the '57 Ford Fairlane, wanted to continue the smooth, good looks of the '57 Ford Fairlane on the following year's Ford.
The "big thing" at Ford Division for 1958, was McNamara's '58 4-passenger Thunderbird, which replaced the 2-passenger Thunderbird. According to Oros, Wright insisted that the '58 Ford take its design cues from the new, already designed '58 Thunderbird. Oros thought that was a mistake, but acknowledged the decision was not his to make. (The fact there was no pushback from Walker or anyone else suggests that McNamara concurred in or was behind Wright's decision.) Ford Archival photos show the progression of the '58 Ford, and how designers were initially searching for a way to keep the good looks of the '57 Ford while mildly updating it for 1958. In later photos, the effects of Wright's decision to make the '58 Ford kind of a clone of the Thunderbird can be readily seen. Most of the changes, including the grille, side trim and hood ornament mimic the '58 Thunderbird. However, the most noticeable Thunderbird design element on the '58 Ford is its two pod, four taillight back end, which was designed by Ford studio designer Al Mueller.
The Ford didn't sell as well '58 as it did in 1957, and most car buyers felt the '58 Ford was not as attractive as the '57. Even so, Wright's kept on trying to micromanage the design of Fords. The '59 Ford was mostly due to Oros' influence, but for 1960, Oros wanted to continue Ford's big, round taillights. Wright said "no," so Oros was only able to design into the back bumper a half circle indentation below the taillights that mimicked the round signature Ford taillights. By 1961, Oros' big round taillights were featured again on both the '61 Ford and the '61 Thunderbird.
What happened to the executives responsible for the '58 Ford? McNamara became president of Ford in November 1960, but in early January 1961, he left to become President Kennedy's secretary of defense. McNamara's support of the Vietnam war badly tarnished his reputation. Wright left Ford in May 1963, after he was passed over for Ford president. Crusoe was responsible for many of Ford's successes of the early 1950s, but he was also the one who got rid of both Benson and Bill Ford on the road to the Edsel. After his forced retirement, he was bitter. Crusoe sold all of his Ford vehicles and remained embittered towards Ford until his death in November 1973.
Photos: Ford Design
Footnote: Notice in the backgrounds of several photos there are renderings of what must have believed to be how the '58 Chevrolet was going to look. I wonder where they got their information.
V=SxO once again proven to be true. (Validity=Salary times Opinion)—Gary
Books by Jim and Cheryl Farrell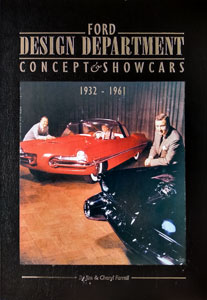 Ford Design Department—
Concepts & Showcars
1999, 10×13, 400 pages, Fully indexed
900 photos. Includes 150+ designers and sculptors, and highlights 100 concept cars.
ISBN 0-9672428-0-0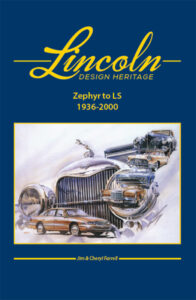 Lincoln Design Heritage:
Zephyr to LS (1936-2000)
2021, 10×13, 480 Pages, Fully Indexed
1,600 photos and illustrations
ISBN 978-0-9672428-1-1
The Ford book is $50 plus $7 S&H (US). The Lincoln book is $85 plus $10 S&H (US). Both books bought together are $110 plus $17 S&H (US). To order, email: cfarrell57@gmail.com