Ford's Mini Max Proposal
By Jim and Cheryl Farrell
In the mid-1950s, George Walker, head of Ford's Styling Center, was frustrated because his designers had been unable to come up with a theme model for the car that became the '60 Falcon—that is, one that was acceptable to Bob McNamara, then head of Ford Division. Finally, Walker assigned veteran designer Don DeLaRossa, who at the time was the new head of the Lincoln studio, and Gale Halderman, a promising young designer manager at Ford, to the project. They were set up them in a small studio downstairs and told to design a small Ford that would pass muster with McNamara. Halderman and the clay modelers did most of the design work, while DeLaRossa was usually busy with other projects. Halderman said that when DeLaRossa reviewed what had been designed, he would make suggestions for a small change to a line here or there or propose addition a feature somewhere on the clay model. Halderman says he was amazed because those small changes DeLaRossa suggested "just made the design." That clay model went on to become the Ford Falcon.
Fast forward about 15 years. Over the course of 3–4 years in the mid-1970s, DeLaRossa championed a minivan designed at the Ghia design facility in Italy. The Ford minivan proposals, called the Mini Max, were designed using differing platforms. They got as far as at least four operable prototypes. Henry Ford II—still gun-shy from the Edsel debacle—thought the Mini Max would cut into Ford station wagon sales too much, so he said "no" to the production Ford minivan. After that, it was mostly forgotten, but the prototypes were locked up in a warehouse. DeLaRossa thought Ford made a huge mistake in not marketing a Ford minivan. He forecast to friends that the decision would "come back to bite" Ford—but he also kept photographs and the plans for it.
In 1978, DeLaRossa retired to Florida and became part owner of a Cadillac agency. By that time Halderman and DeLaRossa had both become executive directors at the Ford Design Center.
After Henry Ford II fired Lee Iacocca as Ford's president in mid-1978, Iacocca was quickly hired by Chrysler as its president. A few weeks after he started at Chrysler, Iacocca called Halderman at home one evening and offered him the job as head of Chrysler's design department. Iaccoca explained all the troubles he had at Chrysler, financial and otherwise, told Halderman he would have to take a cut in salary, but that if he (Iacocca) was successful in turning Chrysler around, Halderman would be well compensated because of stock options. Halderman thought about the offer for a few days and then called Iacocca back. Halderman told Iacocca he was happy at Ford, but more importantly, he and his wife had a young son born with serious medical problems, and he didn't think it fair for him to take on a new job that would mean working extra hours he thought should be devoted to his family. Iacocca reluctantly said he understood. Halderman then suggested that Iacocca hire DeLaRossa as his new chief designer. Halderman explained to Iacocca about his Falcon experience and told him DeLaRossa was exactly the right person he needed at Chrysler because DeLaRossa was a master at changing or remodeling the design of a car with very little cost and minimal effort.
Iacocca hired DeLaRossa as Chrysler's head of design, and one of the first new projects DeLaRossa undertook was the design of the Chrysler minivan. DeLaRossa said that if he could have gotten the Ford prototypes out of storage he would have, but he couldn't. (Iacocca undoubtedly remembered the Mini Max proposals also.) With the plans and photographs DeLaRossa had, plus some excellent Chrysler designers, by late 1983, Chrysler was able to design and market its own minivan, and we all know how well that turned out for Chrysler!
Photos: Ford Design
Footnote: I remember seeing in the hallways at GM Design Staff a rolling, full-size, fiberglas model of a minivan proposal called the MPV (Multiple Purpose Vehicle) based on the FWD X-body platform. It was very much like Chrysler's minivan that came out several years later. Gary.
Books by Jim and Cheryl Farrell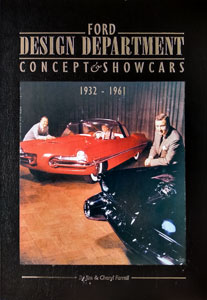 Ford Design Department—
Concepts & Showcars
1999, 10×13, 400 pages, Fully indexed
900 photos. Includes 150+ designers and sculptors, and highlights 100 concept cars.
ISBN 0-9672428-0-0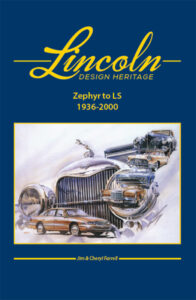 Lincoln Design Heritage:
Zephyr to LS (1936-2000)
2021, 10×13, 480 Pages, Fully Indexed
1,600 photos and illustrations
ISBN 978-0-9672428-1-1
The Ford book is $50 plus $7 S&H (US). The Lincoln book is $85 plus $10 S&H (US). Both books bought together are $110 plus $17 S&H (US). To order, email: cfarrell57@gmail.com