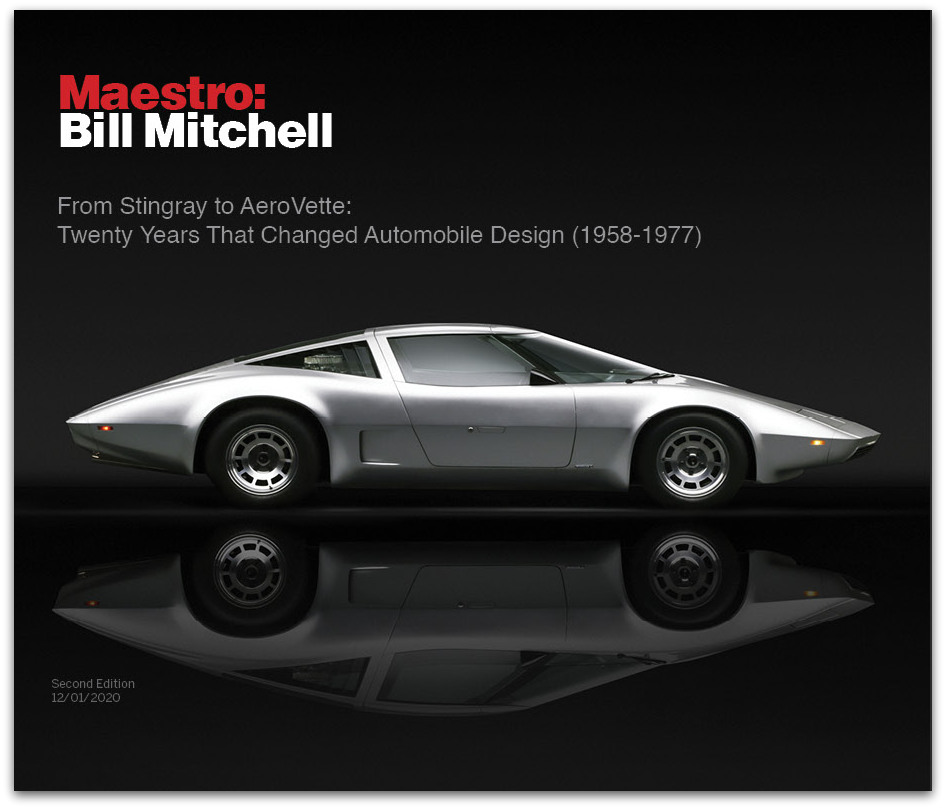 Maestro: Bill Mitchell, Second Edition
Roy Lonberger's extensively revised Maestro it is now available. For those who have put off buying Maestro, this final edition is much refined and a must-have addition to your car design library.
The final revision in the eight year effort to create and produce the finest and most complete record of the incredible twenty-year period of William Leroy Mitchell and his Iconic Concept Cars of GM Styling/Design. This edition is similar to the previous Designer Limited Edition of fifty copies that sold out in November, but is further refined with new cover artwork, new typography, minimal editing, and an improved Table of Contents.
Book Excerpts—Personal encounters with Bill Mitchell by Roy Lonberger
The 197X Olds Toronado Contest
One of the techniques that Bill Mitchell used to motivate his design staff was an occasional studios-wide styling competition. He understood that the normal design task was compromised by regulations and tight schedules. Burnout was not uncommon. Mitchell used the competitions to get the creative juices flowing and to explore new concepts.
Such was the case in mid-summer 1965, when he assigned every designer in the building to create a new proposal for the Toronado. The task was to use the innovative front wheel drive platform of the soon to be introduced Toronado and create a proposal for a second generation car (for introduction 1970). The only styling requirements were that it had to look like a Toronado, masculine in appearance, and emphasis on power, front engine, and wheels. And of course, it had to be all new in appearance.
Every designer was given one week to come up with a design. At that time, the top ten design concepts selected by Mitchell were to be modeled at 1/10th scale out of clay with the supervision of the designer. The final clay model design selected by Mitchell would be modeled in plaster and fully finished in color, paint, and trim.
After only six months into my GM career and after having been on assignment in Studio-X where I had designed two cars (Astro III and Toronado XX), I was eager to show my stuff and to explore new styling directions with a subtle and conservative handsome quality, almost European in character: Maybe a Bentley driven by James Bond (whose movies were just being shown in the theaters). By the middle of the first week of competition, I had the walls covered with red pencil sketches. Unexpectedly, Mitchell came into the studio, looked at all of the sketches, and gave me his first real piece of advice:
"Your designs look like crap because none of them look like a car GM would ever build. If you want to continue to be employed by GM, you had better learn to design GM looking cars."
I was crushed. I wanted so much to show Mitchell that his faith in me was founded, but instead his two sentences stripped me to the bone. After he left the studio, Dave Rossi (the Chief model maker) came over to me and asked me if I ever considered why GM cars look like GM cars. With the talent in the building, the cars could look like anything or everything. He reminded me that my concepts need to build upon the successful work of GM designers who came before me, and that my contribution would be to carry the torch down the road even further. Moreover, he reminded me that the GM customer had pride in owning a GM car, and that it was important the GM identity be preserved. Being different wasn't the goal, but being better was. He called the GM look, the GM Idiom.
I considered what he said, finished a cup of coffee, took down all my sketches, and started over. Two days later, I had the walls covered with a new design direction. At the end of the day on Friday, Mitchell came in and selected my design as a semifinalist. A week later, the clay model had been completed, where upon Mitchell selected my design as the competition winner. In the space of one week, I had gone from the depths of rejection to elation.
The model really came to life with the plaster casting, pearl paint, and machined wheels. Bill Mitchell was so pleased that he selected the car to be photographed under my art direction, and to be used on the cover of the Detroit Free Press.

1967 Astro I
A particularly brutal snow storm in 1965 between Christmas and New Year had all but closed Styling. Those of us who made it to work found ourselves confronted with few designers and support people. Most tried to return home. I stayed until the storm passed. During that time, I decided that I wanted to create an extremely low, aerodynamic race car…one that I could put upon the wall of Chevy-2 Studio and hopefully use as stimulation for the upcoming mid-engine Corvette program that would be happening after the holidays. So I created several illustrations and put them up on the wall. Bill Mitchell returned to the studio after the holiday, saw my sketches, and immediately took me to a secret warehouse studio outside of the Tech Center, with the instructions to design the body for a completed chassis (from the Monza GT xp777#3 with a modular motor) built by Chevy R&D, to be used as a race car at LeMans by Jim Hall.
Officially called the Corvair SuperGT Low Roof Aerodynamic Coupe, because it shared the same chassis it should have been called the Monza Super GT Chaparral. I never used any of those names, just referred to it as the secret x1000 LeMans race car.
One year to the day after starting at GM and at the age of 24, I had my first studio to do my own car. But while I was the only designer, I was not alone. WLM staffed the studio with two great modelers and one Tech-Stylist, and charged Larry Shinoda to make sure everything was completed on time and to guard the gates to the warehouse from other GM executives…it was to be a top secret project.
The design concept was radical: 35.5" OAH, 176.75 OAL, 72.24 OAW, 88.0 WB, 15.0 wheels, modular motor (initially 8-cylinder and later 6-cylinder) monocoque tub, fuel cells in the high sills, center steering, step-in clam-shell access, periscope mirror, body color side windows, pop-out airbrakes, moveable aero devices under the body, ground effects, and body shapes to create down force and negative lift. Most of all, the car had to look like it belonged to the Corvette design idiom.
The design was completed 2/9/66. Unfortunately, the project was cancelled and the car placed in storage. In 1967, the project was resurrected by Mitchell. He assigned Dave Holls and the Advanced Research Studio to convert it into show car, repainted red, and renamed Astro I.
Images from Maestro: Bill Mitchell, Second Edition
Mitchell's Cars
The book chronicles the design history of many of Mitchell's Designs, including the show cars that Roy played a central role in its design (in bold):
Astro I xp842 (1967) Mid-Engine Corvair/Corvette Show Car
Astro II xp880 (1968) Mid-engine Corvette Show Car
Astro III xp800 (1965) Turbine Powered Corvette Show Car
Bison xp798 Worlds Fair Show Truck (1964)
Buick Centurion xp301 Show Car (1956)
Buick LeSabre xp8 Motorama Show Car (1951)
Buick XP-300 xp9 Motorama Show Car (1951)
Buick Riviera xp715 Production Generation-1 (1963)
Buick Riviera Silver Arrow I xp810 Show Car (1963)
Buick Riviera xp784 Production Generation-2 (1966)
Buick Riviera Production Generation-3 (1971)
Buick Riviera Silver Arrow II Show Car (1972)
Buick Skylark Motorama Show Car (1953)
Buick Y-Job Show Car (1938)
Cadillac Aero-Dynamic V16 Worlds Fair Show Car (1933)
Cadillac Eldorado Brougham Production (1957)
Cadillac Eldorado Production (1959)
Cadillac Eldorado xp825 Production (1967)
Cadillac Eldorado xp840 V16 Concept Car (1966)
Cadillac Seville Production (1976)
CERV-1 xp779 Race Car (1962)
CERV-2 Race Car (1964) Chaparral 2A Race Car (1966)
Chaparral 2D Race Car (1966)
Chaparral 2E Race Car (1966)
Chaparral 2H Race Car (1969)
Chevrolet AeroVette xp882 V8 Show Car (1978)
Chevrolet AstroVette Concept Car (1968)
Chevrolet Camaro xp836 Production Generation-1 (1967)
Chevrolet Camaro xp853 Production Generation-1 (1969)
Chevrolet Camaro Production Generation-2 (1970)
Chevrolet Corvair Monza GT xp777 Show Car (1962)
Chevrolet Corvair Monza GT/SS xp782 Production (1963)
Chevrolet Corvair Monza SS xp797 Show Car (1963)
Chevrolet Corvair Sebring Spyder xp737 Show Car (1961)
Chevrolet Corvair Super Spyder xp785 Show Car (1962)
Chevrolet Corvette xp882 4-Rotor Show Car (1972)
Chevrolet Corvette C2 xp700 Show Car (1960)
Chevrolet Corvette C2 Sting Ray xp720 Production (1963)
Chevrolet Corvette C3 Mako Shark xp807 Concept (1967)
Chevrolet Corvette C3 Stingray xp807 Production (1968)
Chevrolet Corvette Cougar EX-52 Motorama Show Car (1953)
Chevrolet Corvette Grand Sport GS-2B xp817 Race Car (1963)
Chevrolet Corvette GT xp898 Vega Concept (1973)
Chevrolet Corvette Mako Shark I xp755 Show Car (1965)
Chevrolet Corvette Mako Shark II xp830 Show Car (1965)
Chevrolet Corvette xp807 Mid-Engine Concept (1966)
Chevrolet Corvette xp819 Rear-Engine Concept (1966)
Chevrolet Corvette Reynolds Aluminum xp895 Show Car (1972)
Chevrolet Corvette Scarab xp808 Race Car (1963)
Chevrolet Corvette Shark xp700 Show Car (1961)
Chevrolet Corvette Stingray xp87 Race Car (1958)
Chevrolet Corvette xo882 Mid-Engine Concept (1970)
Chevrolette Corvette xp882 Turbine Concept (1970)
Chevrolet Corvette XX xp854 Concept (1966)
Chevrolet-Q xp84 Concept (1957)
Chevrolet El Camino SS Production (1968)
Chevrolet MiniCamaro xp873 Concept (1967)
Chevrolet Nova SS xp853 Production (1968)
Chevrolet Panther xp836 Concept (1964)
Chevrolet Super Nova xp828 Show Car (1964)
Chevrolet TASC xp987GT 2-Rotor Show Car (1973)
Cirius xp759 Show Car (1968)
Firebird III xp73 Show Car (1958)
Firebird IV xp790 Worlds Fair Show Car (1964)
GM-X Stiletto xp759 Worlds Fair Show Car (1964) 360
Oldsmobile Toronado Detroit Free Press Concept (1966)
Oldsmobile Toronado FF xp899 Concept (1968)
Oldsmobile Toronado Gran Turismo xp866 Concept (1968)
Oldsmobile Toronado xp784 Production (1966)
Oldsmobile Toronado XX xp866 Concept (1965)
Pontiac Banshee xp833 Show Car (1965)
Pontiac Firebird xp853 Production Generation-1 (1969)
Pontiac Firebird Production Generation-2 (1970)
Pontiac GTO Production Generation-3 (1968)
Pontiac Phantom Mitchell Retirement Concept (1977)
Runabout xp792 Worlds Fair Show Car (1964)
About the book:
Single Volume
, 13 x 11
440 pages, 615 photos and illustrations
Hard cover with Dust Cover
84 contributors
Digitally printed by Blurb
ISBN 978-0-692-46318-5
Published by Magna Design LLC
For ordering information, visit BillMitchellBook.com.