The Lincoln XL-500 (Phantom)
By Jim and Cheryl Farrell
In 1948, Benson Ford (Edsel and Eleanor 's middle son) was named a Ford vice president and head of Lincoln-Mercury Division. The division Benson took over had lackluster sales, but by the early '50s, Benson had been able to double Mercury sales. Lincoln sales had increased also, but not as much.
Benson thought it important to have a new Lincoln concept car at Ford's 50th anniversary celebration scheduled for June 1953. Since the X-100 concept car had became the Lincoln Continental 195X, Benson and L-M's head designer Bill Schmidt thought they already had a great concept car ready and available for Ford's 50th anniversary celebration.
Meanwhile, in 1951–52, Edsel and Eleanor's youngest son Bill Ford was given the job of building a new Continental. One of Bill Ford's first hires was Doug McClure, a boyhood friend who eventually became Continental Division's sales manager. McClure's first assignment was to determine generally how the new Continental should look—its design direction. He was sent on a cross-country trip interviewing potential buyers (rich people) to find out what kind of car they would buy. McClure took different designs for people to look at, including photos of the X-100 concept car his older brother Henry preferred for the new Continental. McClure's interviews showed the well-healed public wasn't very excited by the 195X, but a design referred to as "modern formal" scored highest. The end result was that by June 1952 the Continental 195X was changed back to the Ford X-100.
An unintended consequence of the decision to build the new Continental as something other than the Continental 195X was that L-M Division no longer had a full-sized concept car for the 50th Anniversary celebration to be held in exactly one year.
Benson and Schmidt decided they had no choice but to quickly design and build a new full-sized Lincoln concept car. Because time was short, Benson visited Gil Spears' Advanced studio looking for ideas. He found several already completed 3/8-sized models of concept cars he liked, and they were quickly moved to Schmidt's studio.
From the time he became head of L-M Division, Benson's usual practice was to visit Schmidt's studio daily. Benson and Schmidt clicked and had become good friends. Schmidt listened to Benson's ideas and was able to incorporate his likes and dislikes into those Lincolns and Mercurys coming from his studio. That included the new Lincoln concept car Schmidt was designing. Schmidt early renderings are very close to the way the car turned out. Schmidt did most of the exterior design work on the Phantom, as the car was first named, with help from studio designers Don DeLaRossa, Jake Aldrich and Vic Frolich. George Barbaz was also temporarily reassigned to Schmidt's studio to help, and he is credited with reworking the front end of the Phantom into its final design.
Designer Charles Mitchell won an interior design competition. With help from Don Beyreis, head of the Lincoln Interior studio, he designed the futuristic interior of the Phantom. After a full-sized clay model of the Phantom had been completed, it and an interior buck were sent to Creative Industries (See Dean's Garage post about Creative Industries) to be built as a full-sized fiberglass car. The XL-500 was built on a 123-inch Lincoln frame, and supposedly had power steering, power brakes, air conditioning, and an automatic transmission with push buttons in the middle of the steering wheel—but nothing worked. It was all eye candy, except for the lights which were powered by an onboard battery. No engine or running gear were installed because of the time crunch. There were no side or quarter windows, and the door, hood and truck openings were just grooves in the fiberglass. Access to the interior of the Phantom required climbing through an "open" window.
For reasons that are a little fuzzy, the car's name was changed from the Lincoln Phantom to the Lincoln XL-500 just before it first appeared in public. Best guess is that some other automobile manufacturer reserved the name in the meantime, or the name created confusion with Rust Heinz's earlier 1938 Phantom.
The finished XL-500 was first shown at an exhibition L-M Division put on at the old Lincoln factory from April 26 through May 3 1953. That display also included many of Spear's 3/8-sized concept cars and several of the '53 Mercury and Lincoln color and trim show cars. Over 85,000 people attended that event. It was so successful it encouraged Detroit area automobile manufacturers to restart the annual Detroit Auto Show last held in 1941, but suspended because of World War II.
According to Schmidt, the XL-500 front end became the production '56 Lincoln with only minor changes. In addition, features on the XL-500 influenced the basket handle on the 1955–56 Ford Crown Victoria; the glass roof found its way to the 1954–56 Ford Skyliner and the 1954–55 Mercury Sun Valley; the transmission push buttons showed up on the '58 Edsel, and the tailights were copied on the 1955–56 Mercury.
According the George Hackett and Jim Fulton, L-M public relations employees and others, after the XL-500 was displayed during Ford's 50th anniversary celebration, it went on the show circuit, but there are very few photos of the XL-500 at auto shows. That's probably because when the XL-500 was being ramped up into Madison Square Garden, the rope allegedly broke and the car careened back down the ramp, across the street and backwards into a restaurant, destroying the car and the restaurant.
There are unconfirmed reports that after the 50th anniversary celebration and before the show circuit an opening hood and a non-running engine were installed in the XL-500. There are also people who claim the XL-500 was repaired after its restaurant visit and is now somewhere in Minnesota awaiting restoration. Wouldn't that be great!
Photos: Ford Design
Books by Jim and Cheryl Farrell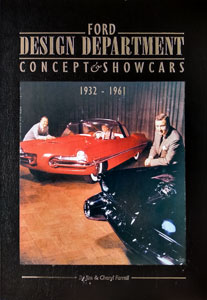 Ford Design Department—
Concepts & Showcars
1999, 10×13, 400 pages, Fully indexed
900 photos. Includes 150+ designers and sculptors, and highlights 100 concept cars.
ISBN 0-9672428-0-0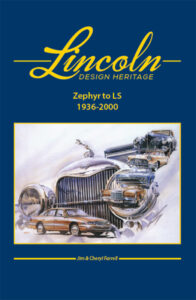 Lincoln Design Heritage:
Zephyr to LS (1936-2000)
2021, 10×13, 480 Pages, Fully Indexed
1,600 photos and illustrations
ISBN 978-0-9672428-1-1
The Ford book is $50 plus $7 S&H (US). The Lincoln book is $85 plus $10 S&H (US). Both books bought together are $110 plus $17 S&H (US). To order, email: cfarrell57@gmail.com
© DeansGarage.com, 2009–2022. Unauthorized use and/or duplication of this material without express and written permission from this site's author and/or the original copyright owner(s) is strictly prohibited. Excerpts and links may be used, provided that full and clear credit is given to DeansGarage.com with appropriate and specific direction to the original content.