Ford's Contribution to Chrysler's Turbine Car
By Jim and Cheryl Farrell
This article supplements prior works by Leon Dixon, Mike Lamm, Gary Smith (DeansGarage, Sept 16, 2010), and others. The purpose of the article is solely to relate what Ford designers reported about "their part" in the design of the Chrysler Turbine car.
Chuck Mashigan was the owner-operator of a tandem-axle dump truck who didn't want to go into debt to buy a bigger rig as requested by his employer. So at the age of 31, and encouraged by his wife, he decided to become a car designer even though he had no art school training or family background in art. GM turned him down because of a lack of schooling. He then bought paper, India ink, and paint brushes and prepared a portfolio on his kitchen table, put the portfolio in his wife's folded cleaning bag, and went to an appointment with Ford. In May 1953, he was hired by Gene Bordinat, then an assistant manager at the Ford Design Department. Mashigan was hired on a 90-day probationary period, and assigned to Alex Tremulis' Advanced studio where he mostly worked on 3/8 sized models. Bordinat told Mashigan that if no studio requested him within 90 days, he would be let go. Forty days later he had requests to join both the Ford and Lincoln-Mercury studios. Because he wanted to design production cars, he chose the Ford studio.
Mashigan was first assigned to the Ford Preproduction studio, where he worked on the Quicksilver. He was then assigned to the Thunderbird studio working with Damon Woods and Bill Boyer, where he helped design the 1956, '57 and '58 Thunderbirds. He was then assigned to the Ford Production studio, working for Joe Oros. While in that studio, he worked on the 1956–59 Fords, including the 1957–59 Skyliners.
According to Mashigan, Oros "required" that he put fins on one of his designs even though he thought fins would be outdated by the time his design would be produced. After spending 20 months in the Ford Production studio, Mashigan became a manager and was moved back to the Thunderbird studio. Although Mashigan did not specifically say so, it was apparent he did not enjoy working with Oros. About the time he was made a manager, he got a call from someone at Chrysler's design department offering him more money, so he left Ford. (Our interview with Mr. Mashigan was in June 1997. He told us he moved to Chrysler in 1957. Ford records suggest he left Ford in 1958.) While at Chrysler he worked mostly on exteriors.
Elwood Engel's last day at the Ford Styling Center was November 3, 1961. In the weeks before he left, multiple designers in his studio (Corporate Advanced studio) report that Engel kept the copy machine busy making copies of designs recently done in various studios. Those same designers say that several boxes full of copies of Ford designs left in Engel's car.
According to Mashigan, shortly after Engel started at Chrysler (November 1961), he asked Mashigan to come to his office, where he showed him a "picture" of a fiberglass 3/8-sized model of a proposed Thunderbird he (Mashigan) had designed at Ford. Engel asked him if he recognized it, and Mashigan said he did. Engel then asked Mashigan to design the Chrysler Turbine car based on that 3/8-sized Thunderbird proposal. The car Mashigan designed and built was the full-sized, two-passenger Chrysler Typhoon. Engel asked him to re-design the Typhoon into a four-passenger car (Chrysler Turbine car). Engel told Mashigan management wanted a four-passenger car. Mashigan then changed the Typhoon design into the four-passenger Turbine car. The Typhoon was finished and photographed by May 15, 1962. In 1963, at the request of Richard Teague, Mashigan left Chrysler to start and head AMC's advanced design studio.
When interviewed, Mr. Mashigan did not recall the name given the 3/8-sized Thunderbird concept car he used as a model for the Typhoon and the Chrysler Turbine car. We sent Mr. Mashigan copies of several Ford 3/8-sized concept cars done during the time period in question to see if his concept car used to design the Turbine car could be identified. Those efforts were unsuccessful.
According to Ford designer John Orfe, shortly before Engel left Ford for Chrysler, he (Engel) asked all designers in his studio "to create rear single point perspective views." The finished designs were put on heavyweight strathmore board, which were then grommeted and hung from the ceiling gridwork in the studio. Orfe saved an ozalid copy of his Lincoln rear sketch which is shown below. It is not known whether other designers in the studio included the same distinctive rear end design in their sketches. Orfe believed his rear design was used on the Chrysler Turbine car. It should be noted that at Ford during the mid-1950s and early '60s, similar rear designs to the one in Orfe's sketch were incorporated on multiple proposals designed at Ford, including the Lincoln Marlin full-sized concept car (designed by Orfe and Howard Payne), and the LaGalaxie show car (designed by Dave Ash, Bud Kaufman, and Jim Powers). No designer has identified Mashigan as one of the designers who worked on either the Marlin or LaGalaxie, although he undoubtedly saw both.
The roof and front of the Chrysler Turbine car, according to many sources, show distinct Thunderbird design cues. The instrument panel of the Chrysler Turbine car is somewhat similar but not identical to Tremulis' 1955 3/8-sized Mexico concept car.
Engel retired from Chrysler in 1974. He died from cancer on June 24, 1986. Some weeks before his death, Ford designer Gale Halderman visited Engel at his home. Halderman felt he had done some of his most creative work while in Engel's studio, and they stayed friends through the years. During their visit, Halderman asked Engel why someone as talented as he was had used so many Ford design themes when he got to Chrysler. Engel explained that when he got there he had to make so many changes so quickly, he had no other choice.
Photos: Ford Design
Dean's Garage post about the Chrysler Turbine car:
© DeansGarage.com, 2009–2023. Unauthorized use and/or duplication of this material without express and written permission from this site's author and/or the original copyright owner(s) is strictly prohibited. Excerpts and links may be used, provided that full and clear credit is given to DeansGarage.com with appropriate and specific direction to the original content.
Books by Jim and Cheryl Farrell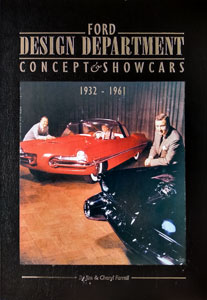 Ford Design Department—
Concepts & Showcars
1999, 10×13, 400 pages, Fully indexed
900 photos. Includes 150+ designers and sculptors, and highlights 100 concept cars.
ISBN 0-9672428-0-0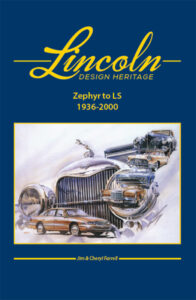 Lincoln Design Heritage:
Zephyr to LS (1936-2000)
2021, 10×13, 480 Pages, Fully Indexed
1,600 photos and illustrations
ISBN 978-0-9672428-1-1
The Ford book is $50 plus $7 S&H (US). The Lincoln book is $85 plus $10 S&H (US). Both books bought together are $110 plus $17 S&H (US). To order, email: cfarrell57@gmail.com