by Bill Porter.
Published by permission.
Many years ago in the '70s when Mitchell banished me to an Advanced Studio, Dave Holls was our boss. (Of all the jobs at Design Staff, being in charge of the Advanced Studios is probably the last job Dave should have had.) Anyway, he hated scale clay models and we (Russinoff, Dave McIntosh, Roger Hughet and I) loved them. Also, Dave Rossi, the world's all time champion scale modeler, was our chief modeler.
So we always had a scale model or two going on in the studio, shielded from the entry view by a 20-foot moveable board on wheels. When Dave Holls would come into the studio, usually once a day or so, Dave Rossi, working away behind the board, would get a signal from us. (Often he didn't need a signal, Holls' voice was plenty!) Dave Rossi would gingerly appear from behind the board at one end and, while greeting Dave Holls in his usual jovial fashion, would also casually walk and pivot the board away from Dave at the same time so as to contain the model behind it, continuously out of sight in a corner of the room triangulated off from the rest of the studio.
We did this routinely for several years and Dave never had a clue as far as I know. Although he must have wondered where those good themes were coming from. Maybe not. Approval for full sized clay work was usually given on the basis of full size tapes or renderings (Mitchell wasn't a form man either, you know) and when that happened, Rossi would just cover the scale models with brown paper and keep them in the back room until we wanted them for the next project.
To this day Russinoff and I laugh about this whenever the subject comes up. Russ: "Hey, Bill, remember when Dave Rossi would pivot the 20 ft. board around so that Dave Holls couldn't see us working on the scale models? Ha, ha, ha." The things we form guys have to do to keep the line guys off our backs. Alas.
I used the word "banished" in the Biblical sense. I got crossways with Mitchell while I was heading Pontiac Studio and he transferred ("banished") me to Advanced 1 Studio where I remained for about 7 years (sounds Biblical too, doesn't it?). Frankly, I didn't get along too well with Mitchell, disagreed with his design taste, especially as he evolved in the late '60s and throughout the '70s, and the feeling was mutual. Mitchell had the street smarts of an alley cat. He sensed who liked him and who didn't. Meanwhile, life in Advanced 1 wasn't so bad. Roger Hughet, Russinoff, Dave McIntosh and I had a great time and did quite a few basic body themes which later went upstairs to production studios. Dave Rossi, that sculptural genius, was our chief modeler. Then in late 1979 when Hirshberg left Buick Studio to go to Nissan (incidentally Nissan interviewed me too, but Jerry was the right man for the job). Rybicki, who had just taken over as VP when MItchell retired, immediately transferred me up to Buick. I liked Irv and got along with him pretty well, but like everyone else, chafed at his ultra conservatism, his narrow range of design acceptability.
Many thanks to Bill Porter.
Three of the designers mentioned in Billl's narritive are in this photo taken in Louisville, KY in 2007. Photo courtesy of Bill Porter. From left: Dave McIntosh, Chuck Jordan, Roger Hughet, Don Wood, Bill Porter, Wayne Kady, Bill Michalak, Charlie Stewart, Tony Balthasar, Graham Bell, Unknown GM Designer, and George Camp.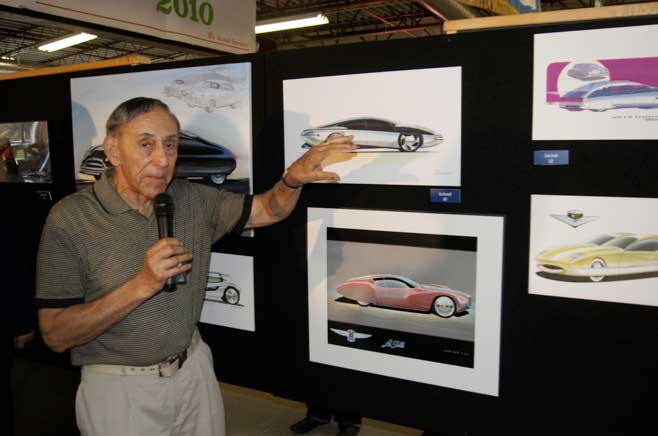 Elia "Russ" Russinoff in 2010. I have a photo of Dave Rossi somewhere.