The D-523, The First Cougar
By Jim and Cheryl Farrell
As head of Ford's Advanced design studio, Gil Spear welcomed designers from other studios and management to take and use any of the ideas he and his designers came up with, but after six years, he felt that many of the best ideas he or his designers put in the studio's "Idea Book" or incorporated in their 3/8-sized models were not being properly addressed. So with the support of Design Department general manager Charlie Waterhouse and assistant managers Gene Bordinat (Lincoln-Mercury) and Frank Hershey (Ford), he proposed the creation of a new Ford design studio called the Special Projects studio. This was at a time when design was still under the control of the Engineering Department at Ford, so a written proposal was made on September 3, 1953 to Earle MacPherson, Ford's chief engineer and Henry Grebe, Ford's chief body engineer. The underlying idea for a Special Projects studio was to better compete with GM which Spear told MacPherson and Grebe was in the process of designing and preparing up to 14 full-sized show cars for their 1954 Motorama.
Spear's answer came in January 1954. To everyone's surprise, MacPherson and Grebe split the Design Department in two, with Hershey as general manager of Ford design and Bordinat as general manager of L-M design. They also created a separate Special Projects studio with Waterhouse as general manager and Spear as chief designer. The new Special Projects studio was also responsible for Canadian, international and tractor design. Special Projects studio's primary assignment, however, was to build several full-sized, operable cars to test concepts the Engineering Department was interested in. Needless to say, that wasn't quite what Spear, Waterhouse, Hershey and Bordinat had in mind.
The first assignment for Spear's new Special Projects studio was a car called the D-523. (MacPherson didn't think concept cars should have names but only numbers.) The D-523 was designed and built to test gull-wing doors and fuel injection and, assuming the Thunderbird sold better than it did, as the new Mercury sports car. The D-523 was designed and built based on a sketch by John Sampsen, and it was built on a modified T-bird frame. It was first built as a full-sized clay model and then as Ford's first fiberglass car built in-house and not subcontracted out.
During the 17 months that Bordinat and Hershey were co-equal general managers, MacPherson and Grebe encouraged all of Ford's designers to ignore and/or not cooperate with consultants George Walker, Elwood Engel and Joe Oros. Hershey and Oros had a tolerable relationship, but the L-M studio locked Engel out of their studio more often than not. The designers who tolerated or cooperated with Walker, Oros and Engel were —shall we say—heavily frowned upon by MacPherson and Grebe.
The D-523 was pretty well finished before the other shoe dropped. Things went from bad to worse at Ford's Design Department until May 22, 1955, when Henry Ford II and Ernie Breech separated design from engineering by naming Walker as a Ford vice president and as general manager of a new and independent Ford Styling Center. MacPherson didn't like what happened, but he was able to convince HFII and Breech that he still needed his own small design department in Engineering. That meant the Special Vehicles Department became part of Engineering located in the EEE building across the street from the new Styling Center, with Waterhouse and Spear running it and their own small design staff. (Sampsen elected to stay at the Styling Center, but soon went to Chrysler.)
In late 1957, MacPherson had a major heart attack and was forced to retire. In the meantime, Walker got himself appointed to Ford's Finance Committee and was able to cut off funding for Engineering's Special Vehicle Dept. When that happened Spear and most of his designers and clay modelers went back to the Styling Center, but with demotions, and the D-523 was stored in the basement of the EEE Building. The D-523's fuel injection didn't work very well, but from time to time, it was dusted off and driven on the street, used to test some new feature Engineering came up with, or featured in a parades at the behest of Ford's Engineering Department.
In 1961, the D-523 was displayed at the Ford Rotunda, where Spear (who was surprised the car had not been destroyed) saw it. Spear then contacted Ford Public Relations and suggested the D-523 become a Ford show car. Great idea! The D-523 was taken to Detroit Tube and Steel where some body work was done (horizontal roof aerials and fender skirts were removed, etc.); the color was changed from lime-green to blue; it was reupholstered; a Ford 406 CID engine replaced the fuel injected 312; and Kelsey-Hayes wire wheels were added.
The D-523 was also renamed the Cougar, but as a show car, it wasn't referred to anymore as a Mercury. It was first shown at the 1962 New York Auto Show, and then made the rounds at other auto shows that season. It was also displayed at select dealers, and featured in a Hot Rod magazine article as maybe an upcoming T-bird. After the show season, the car was sent to George Barris in Hollywood, where he had it painted candy apple red, and it appeared in a 1963 film starring Jack Lemmon called "Under The Yum Yum Tree." In 1965 the Cougar was sold to an admirer in Dearborn, MI, who fell in love with it and happened to own a restoration shop. After that, the car was driven infrequently for several years and then stored for eventual restoration, which has been slow in coming. The Cougar is said to be "not for sale."
Photos: Ford Design
Books by Jim and Cheryl Farrell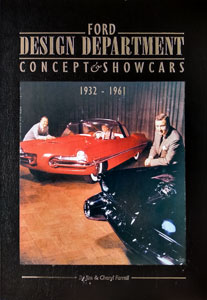 Ford Design Department—
Concepts & Showcars
1999, 10×13, 400 pages, Fully indexed
900 photos. Includes 150+ designers and sculptors, and highlights 100 concept cars.
ISBN 0-9672428-0-0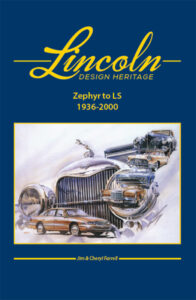 Lincoln Design Heritage:
Zephyr to LS (1936-2000)
2021, 10×13, 480 Pages, Fully Indexed
1,600 photos and illustrations
ISBN 978-0-9672428-1-1
The Ford book is $50 plus $7 S&H (US). The Lincoln book is $85 plus $10 S&H (US). Both books bought together are $110 plus $17 S&H (US). To order, email: cfarrell57@gmail.com