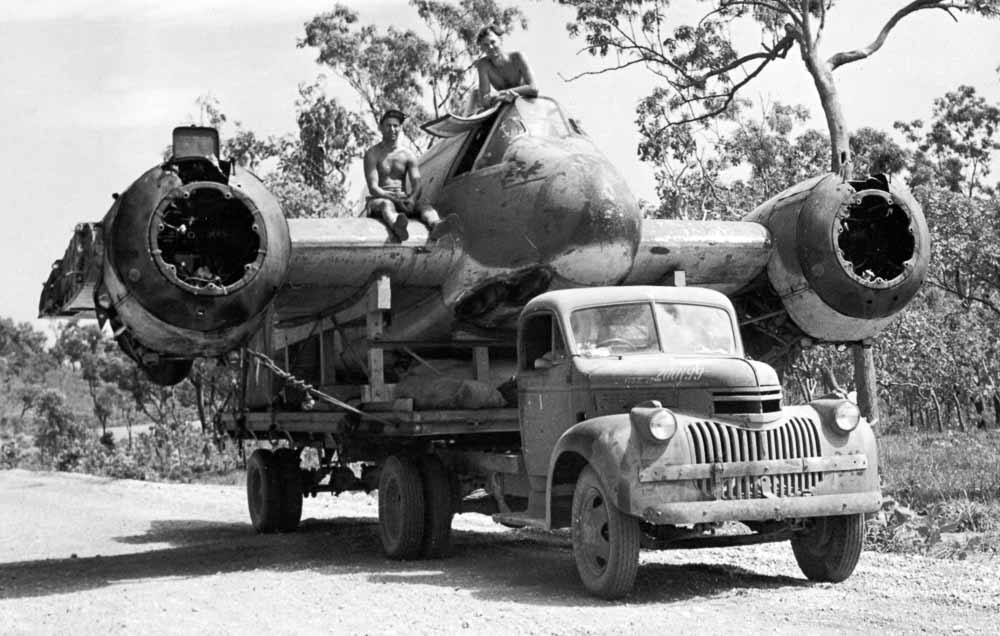 Chevrolet Trucks 100 Years

by Larry Edsall. Book review by Gary Smith
Need a Christmas gift idea for the owner of a late model Chevy truck? This is the book. Looking for an in-depth history of Chevrolet trucks? Not so much.
The Dean's Garage rating system is purely subjective based on comparison with books reviewed on DG, not necessarily the book's competition in the marketplace. It would be hard not to compare Chevrolet Trucks 100 Years with Ford Tough—100 Years of Ford Trucks. Ford Tough tells Ford's truck story through tough beginnings, financial struggles, depressions, and two World Wars. Chevrolet Trucks has a few glimpses into how Chevrolet gained inroads into the truck market, but disappointingly not in nearly the depth of Ford Tough. For example, the chapter devoted to World War II has many interesting photos of vehicles, assembly and holding areas, and other wartime associated images. Captions are interesting, but the body of the text is mostly devoted to a list of what wartime equipment Chevrolet's manufacturing facilities made.
Chevrolet Trucks does cover nearly every model made during the last 100 years in 224 pages. A tall order. Reprinted advertising copy and text from corporate promotional materials reflect Chevrolet's marketing thrusts and make interesting reading from the perspective of the times, but it leaves the reader wanting more depth. That said, Chapter Five, Task-Force Style, devotes most of the chapter to an interesting account of the creation of Chuck Jordan's Cameo Carrier.
Chapter Seven has four photos of the same 1960 green Chevy Fleetside in so many pages.
Chevrolet Trucks 100 Years is a superficial overview. Lots of photos with some historic background. Takes the reader right up to the present day.
Serif body font is easy to read with generous leading. Chapter title pages are nicely designed. Thankfully no list of truck specs and production numbers. Properly indexed. Running head, page numbers.
Caption font size is a bit small. Mostly an overview. Too much quoted copy from advertising and sales literature. Mostly sales brochure photos.
Description from the Publisher

In 1917 Chevrolet introduced its first truck, the Series 490, marking the company's official entry into the dedicated truck business. During the century that has passed since that first Chevy truck, Chevy (and later GMC-brand trucks) have become some of the most ubiquitous and recognizable brands around the world. Every year the company sells over 1 million trucks worldwide.
From the very beginning of the story to today's modern global brand, Chevrolet Trucks: 100 Years of Building the Future covers the entire Chevrolet truck saga, from the early Series 490, to the medium and heavy-duty models, to the light-duty C-series pickups, right up to today's contemporary Silverado and Colorado.
Officially licensed with Chevrolet and created with their full cooperation for imagery as well as interviews with key figures involved with today's truck program, this thorough history covers the full array of Chevy models since 1917 and is a must have for any truck fan whose heart beats with a V-8 rhythm.
About the Author
Larry Edsall was snatched away from a career as the sports editor of a daily newspaper in Michigan to become the motorsports editor at AutoWeek magazine, where he spent most of a dozen years as the managing editor. He left Detroit for Phoenix in 1999 to help modernize one automotive website and then launched another, iZoom.com. He is a freelance contributor to automotive and lifestyle publications, writes regularly for the Detroit News "Drive" section, contributes to the New York Times "Wheels," and is part of the adjunct faculty at the journalism school at Arizona State University. Edsall's Motorbooks titles include Camaro 2016, Corvette Stingray, and Chevrolet Volt. He resides in Phoenix, Arizona.
Specifications
Published by Motorbooks
Format: Hardback, 224 Pages
ISBN: 9780760352489
Illustrations: 200 color & 100 b-w photos
Size: 9.25 in x 10.87 in / 234.95 mm x 276.1 mm
Published: October 16, 2017
Cost: $40.00