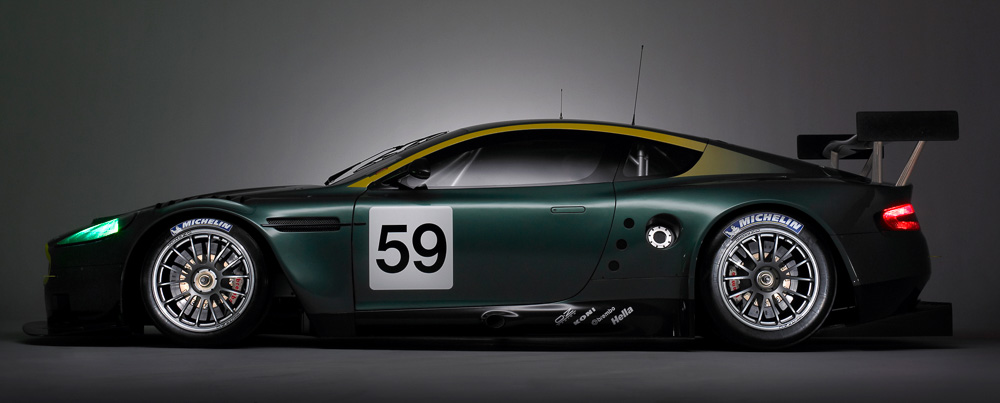 David Brown • Aston Martin • 70 Years

by Andrew Noakes. Book review by Gary Smith
A well-written, thoroughly researched, classy book presented in a British Racing Green hard case with matching cover. Perfect for the British sports car enthusiast and especially the Aston martin aficionado. Like several sports car manufacturers that were caught up in the economic hardships of WWII, Aston Martin had its trials.
In 1947 David Brown bought Aston Martin's assets for £20,000, and turned the company around.
Although Aston Martin had mixed success, racing is part of its DNA. Andrew Noakes goes into some detail, covering the highlights of Aston Martin racing, both victories and failures. Back in those days component design solutions were determined by experience, reasoning, trial and error, economics, and availability. Sometimes hardware wasn't sorted out or up to the task.
"The DBR2 was given its maiden run at Le Mans in 1957, driven by brothers Peter and Graham Whitehead. In practice they soon realized how rapid the DBR2 was, and began lifting off the Mulsanne Strait so the speed of the car wasn't so obvious. In the race the DBR2, like the DBR1s, was eliminated with a gearbox problem, but this time it was a breather fault which caused the transmission to lose its oil. The car had been hastily prepared, and later investigation showed the engine was suffering from fuel starvation beyond 5,000 rpm, robbing it of more than 50 bhp. Wyer felt that, had it been properly prepared, the DBR2 could have won Le Mans that year."
Where did the name Aston Martin come from? In 1912 Robert Bamford and Lionel Martin formed a partnership to run a motor business in Chlesea (a well-to-do area of London), selling and servicing small vehicles built by the Singer cycle and car company. They started to modify Singers to improve their performance, and Martin was competing in hillclimbs. Their next step was to build their own car. Martin linked his own name with that of a famous hillclimb course, Aston Hill.
Then, of course, several pages are devoted to the link between the DB5 and James Bond.
David Brown • Aston Martin • 70 Years covers the marque up to the present day.
Very well written in a matter-of-fact style. Interior design is very conservative, but easy on the eyes with plenty of white space and no distractions. Hard case. Interesting insights into the economics and company struggles of the times. Technical and engineering details explained. Many racing highlights that contribute to the Aston Martin story without going into an exhaustive list. Eight pages of brief specifications of all of the DB models. Indexed.
Description from the Publisher

The name of David Brown is synonymous with the glory days of Aston Martin, when a tiny British sports car company was rescued from near-extinction and turned into a marque that could compete with Ferrari–and win.
Stylish design, lavish illustration and meticulously researched text come together in this large-format, 224-page book to create a superb celebration of the 70th anniversary of DB Aston Martins in 2017.
There's a wealth of detail on the Aston Martin DB road and race cars, both from the David Brown era of 1947-1972 and the modern DB era from 1993 onwards, together high quality images and specification tables for all the key models. Aston Martin DB 70 Years is a fitting celebration of one of the world's most enduring sports cars.
The fast, beautiful sports cars that Aston Martin built under Brown's ownership ­won the Le Mans 24-hour race and the World Sports Car Championship, and provided James Bond with his most famous transport: the ejector-seat equipped DB5 that won acclaim in Goldfinger.
Though the DB era ended when Brown sold the company in 1972, its influence continued to be felt. James Bond's most recent car, the specially-made DB10, and Aston Martin has just launched its most complete car ever, the DB11. 'DB' means as much to Aston Martin now as ever.
About the Arthur
Andrew Noakes has been writing about cars for more than 20 years. He was trained as an automotive engineer but decided to go into motoring journalism, working for Fast Car magazine before launching the classic car title Classics. He has been freelance since 2002, writing on cars for a wide range of magazines and websites, and since 2006 has also taught motoring journalism at Coventry University. He is the chairman of the Guild of Motoring Writers in 2016-18.
Andrew is the author of more than a dozen motoring books including The Ultimate History of Aston Martin, Aston Martin DB7: The Complete Story and Aston Martin – Model By Model. He lives in Warwickshire.
Specifications
Published by Motorbooks
Format: Hardback, 224 Pages
ISBN: 9781781317136
Illustrations: 250 colour images (inc archive photographs)
Size: 9.764 in x 12.008 in / 248 mm x 305 mm
Published: October 19, 2017
Cost: $60.00