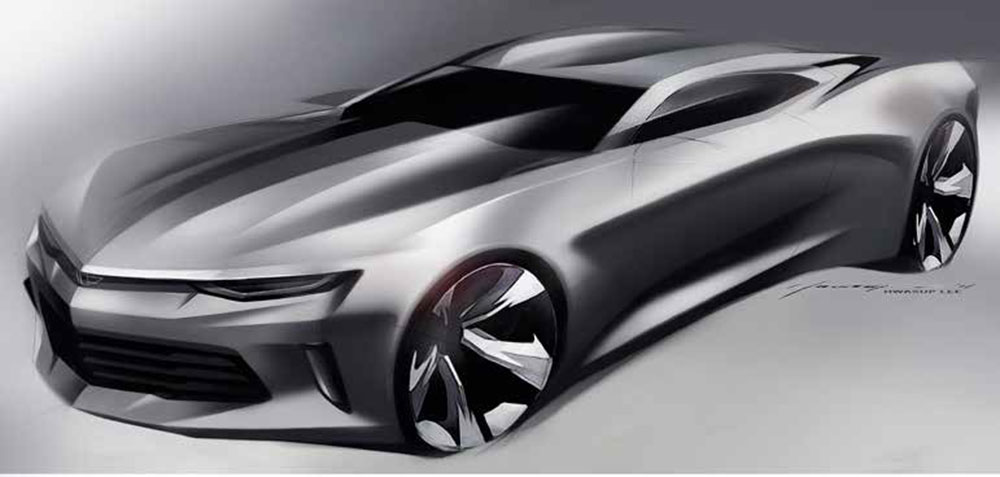 Couldn't afford Corvettes back in the day.
So my first real car was a 1967 Bolo Red Camaro with red interior, 327 and a 3-speed on the floor (Photo: My 1967 Camaro complete with Lucas Flame Throwers and Z-28 front air dam. Taken in front of the Riverside International Raceway's main entrance). More Camaros followed. 1970 (See '70 Camaro Reunion), 1971, 1982, and a 1989 Turbo Trans Am (a Camaro on steroids) also has taken up space in the garage at one time or another.
Reviewing a book is not the same thing as driving, so we have to rely on the author's experience and research to get a feel for what went into the design process and what it's like to drive one. Author Larry Edsall has done a thorough job doing just that—interesting reading, lots of photos, nicely designed interior layout, well organized. A comprehensive overview of all of the major aspects of contemporary car design, engineering, and production.
For all of you car designers, Camaro 2016 has lots of development sketches, renderings, and photos of interior and exterior models. That's sufficient justification right there to have the book on your shelf.
---
An Excerpt from Page 29—The Beginning of the Camaro Revival
In the late winter of 2004, Ed Welburn, vice president of Global GM Design, took charge of the new Camaro program. A few months earlier, Welburn had hired Bob Boniface, a former Chrysler designer, to work in GM's advanced design studio. The future of the Camaro came up while on their way home from the Geneva Motor Show.
"Can you think of anything you might want to work on?" Weburn asked Boniface.
"I want to do a Camaro," Boniface replied.
"Don't start with me," said Welburn, remembering that much of his initial conversation with Boniface involved talk of the Camaro, a car both of them grew up owning.
"I'm not telling you not to work on it," Welburn said. "But if you do, just don't let anyone see it."
Boniface and another design manager, Brian Smith, had plenty of work on Buick and Cadillac concept vehicles to keep them busy. Over the course of the summer, and with no fanfare, they also created a three-eighths clay model of a potential Camaro-styled coupe. The version was designed for GM's Zeta platform, a rear-wheel-drive chassis used primarily on Australia and initially targeted to carry a new rear-drive Chevrolet Impala sedan as a challenge to Chrysler's successful full-size 300.
The Impala didn't happen, but Lutz, pushing to take advantage of GM's global strengths, helped Pontiac import a modified Holden Monaro coupe from GM's Australian subsidiary, badged as a Pontiac GTO. In April 2005, designers in Michigan set out to see if a car recognizable as a Camaro could be built on the Holden platform. At the same time, their boss, Ed Welburn, went to the meeting where six top GM executives would decide on concept cars for the following year's auto show circuit.
"Let's do a Camaro!" Welburn said, just 10 minutes before that meeting was scheduled to end.
"A Camaro hasn't been on anybody's radar," said Oppenheiser, whose current duties included overseeing concept car construction.
According to Welburn, the room got real quiet.
But he got the nod to create a Camaro concept. Binoface and his group would refine their car. Another group, led by GM veteran Tom Peters, who had just finished the sixth generation Chevrolet Corvette, would work on an alternative proposal, one that would push the Camaro design envelope into the future.
Camaro 2016—Chevrolet's Modern Performance Car
Author: Larry Edsall
Format: Hardcover Book, 160 Pages
ISBN: 9780760349816
Illustrations: 200 color and 12 b/w photos
Size: 9.25 in x 10.875 in / 235 mm x 276 mm
Published: Aug. 1, 2016
Entertaining comparison of a 2015 BMW M4 with a 2016 Camaro SS.