Book Review by Gary Smith
American Muscle Cars isn't just another book of shiny car photos, even though photographer Tom Flatch knows what he's doing. We all have enough of those on our shelves already.
American Muscle Cars isn't just another book with engine and performance specs, how few were made, and how valuable they are. No, author Darwin Holmstrom assembled a chronological history of how and why the cars came to exist at all. The narrative weaves together the post-war culture, the political backdrop, and interesting corporate back stories. This book deserves a place on your shelf.
You've probably seen pictures of Ford executives standing around the then new 1964-1/2 Mustang with satisfied looks on their faces, as if all of their foresight and planning had predicted the unprecedented sales success that the car enjoyed. Nothing could be further from the truth. The Mustang almost wasn't. Lee Iacocca was behind the car, but production decisions were made by Henry Ford II and Robert McNarama, both focused on safety. And Ford was still haunted by the ghost of the Edsel, reluctant to gamble millions on an untried concept. The Falcon Futura wasn't selling well, this new car was similar, so why would it fare any better? After being shown to the Executive Committee five times, Henry Ford II finally reluctantly relented. The car was announced on April 22, 1964, and by the end of the day, Ford sold 22,000 copies. 1,000,000 in two years.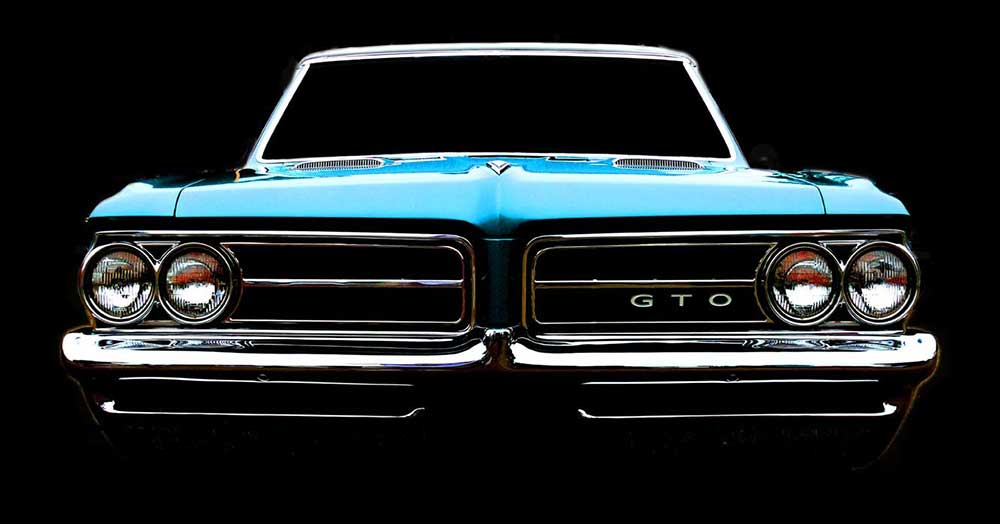 Intriguing questions.
GM was concerned with staying under the government's radar, and instituted a self-imposed limit of 10 pounds of car per cubic inch. That meant that the 1964 LeMans was limited to 350 cubic inches. How did Pete Estes, Pontiac's General Manager, get around the corporate fun police and offer a 389 in an A-body? In the end GM was more than happy to have an additional 5,000 LeMans coupes and GTOs sold.
Why was the Chevy 409 good on the drag strip, but perform poorly in NASCAR? Why was Chrysler conspicuous in its absence in 1965, after enjoying such NASCAR success in 1964? And why did Ford dominate NASCAR in 1965?
What factors contributed to the baby boomer's attraction to these cars anyway?
What single factor was most responsible for the demise of the Muscle Car in the early '70s? Government encroachment? Insurance premiums? Or the oil crisis? Interestingly, Ponitac led the charge with the 1964 GTO, and it's 1974 SD 455 Firebird Trans Am was basically the last hurrah. Until Buick came along with the Grand National and opened up a new era in performance cars.
Many more fascinating insights await the reader. The book chronicles the history of Detroit's performance cars, through the dark ages of the '70s, clear through the present day.
If you're into all of this, that means that probably you have kids who have a zero idea what a Muscle Car was, let alone why it would be of any historical significance. Here's an opportunity for them to be educated. Just be sure to get your book back after they've read it.
Make room on your shelf for American Muscle Cars even if you have to throw out one of your picture books.
A few photos from the book by Tom Glatch.
Format: Hardcover, 224 Pages
ISBN: 9780760350133
Illustrations: 260 color and 55 b/w photos
Size: 9.75 in x 12 in / 248 mm x 305 mm
Published: Apr. 1, 2016