The 1956 Lincoln, Part 1
By Jim and Cheryl Farrell
Bill Schmidt was the gifted designer of the Lincoln Futura, the Lincoln XL-500, and the Packard Predictor concept cars, among others. There's much more to his story, and what follows are the highlights. Schmidt did not start out to be a car designer, nor was he a student who studied car design. He did not attend college or art school, but went to the Henry Ford Trade School and started out as a Ford tool designer. How that led to his appointment as the head of a major studio and then head of the design department at major American car manufacturers is a story of talent that would make Horatio Alger blush.
Schmidt graduated from the Henry Ford Trade School in 1940. His first job was as a tool designer for Ford Motor Co. At the start of World War II, Schmidt was transferred to Ford's Willow Run bomber factory to design tools used in building the B-24 bomber. Plans for building the B-24 came from Consolidated Aircraft in San Diego. They were very technical and difficult for people not trained in aircraft construction to understand or follow. Schmidt, who had natural artistic ability but little artistic training, began making his own exploded drawings of sub-parts of the B-24 so he could better understand how to build them. His plans sped up production, and management soon asked him to make similar drawing for all B-24 parts and pieces Ford was building. Soon Schmidt was in charge of his own department where he and 35 workers were making exploded drawings for all war work done at Ford.
In late 1944, as war work at Ford was winding down, Schmidt and 16 of those in his department were transferred to Bob Gregorie's Ford Design Department. Even though Schmidt had never designed automobiles before and had no formal design schooling, he was placed in the advanced part of the Design Department under Ford designer Eric Ramstead.
Schmidt learned quickly. He was one of the designers of the small Ford that became the Vedette, and also worked with Ramstead of the 1948 Ford F-100 pickup among other vehicles. When Gregorie left Ford in late 1946, Tom Hibbard was named as Gregorie's replacement. Hibbard placed Schmidt in charge of all of Ford's exterior design work.
Hibbard was replaced as head of Ford's Design Department in 1947 by design administrator John Oswald. Because on his obvious talent, Oswald named Schmidt head of the Lincoln-Mercury design studio. Osborne also hired George Snyder, a former GM designer and head of their Oldsmobile Studio. In 1948, Oswald named Snyder as the new head of Ford's Design Department. Snyder was not well liked. He preferred designers and clay modelers from anywhere else but Ford. His immediate plan was to get rid of or demote all Ford employees in the Design Department, including Bill Schmidt. Schmidt was soon demoted, and placed in charge of a small instrument panel studio off in the corner somewhere.
Schmidt rose to the challenge and soon redesigned the instrument panels for all Fords, Mercurys and Lincolns. His great-looking instrument panels were soon incorporated in all Ford vehicles.
Snyder's tactics of trying to get rid of all long-time Ford design employees soon led to his termination by Henry Ford II. That led to Schmidt's reappointment as head of the Lincoln-Mercury design studio, where he was in charge of the redesign of '52 Lincolns and Mercurys.
Until May 1955, the Design Department was still a part of Ford's Engineering Department. When Edsel Ford was alive, that wasn't a problem, but after his death, Engineering reasserted it's authority over design. As assistant chief engineer from at least 1948 until he became Ford's Chief Engineer in 1952 (and until May 1955 when design became separate), Earle MacPherson was the real boss at Ford's Design Department. MacPherson thought most designers were impractical dreamers who were not much good.
Most designers, including Schmidt, thought Lincoln's natural competition was Cadillac. MacPherson decided the new 1952 Lincoln should be smaller and in competition with GM's Oldsmobile—not Cadillac. Some of MacPherson's engineering decisions up to then must have been pretty good—he was in charge of development of Ford's first overhead-valve engine that helped Lincoln win its class in the Mexican Road Races from 1952–54, but he did not understand "design."
Because things were continually in an uproar at Ford's Design Department, a reorganization was ordered in January 1954. Ford's Design Department was split into two parts, the Ford studio under Frank Hershey and the Lincoln-Mercury studio under Gene Bordinat. Bordinat had previously been assistant manager at Ford's Design Department. Although Schmidt continued as chief designer for Lincolns, Bordinat's appointment again meant Schmidt was demoted. The 1954 reorganization didn't work out very well, and a year later it was history. For all the postwar turmoil at Ford, how Bill Schmidt was able to design the award-winning 1956 Lincoln—which was not the car MacPherson wanted—and how that helped to separate Ford's Design Department from Engineering will be covered in Part II of this story.
Photos: Ford Design
Books by Jim and Cheryl Farrell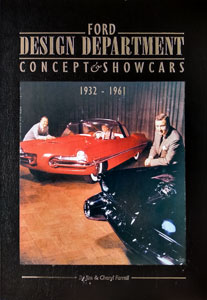 Ford Design Department—
Concepts & Showcars
1999, 10×13, 400 pages, Fully indexed
900 photos. Includes 150+ designers and sculptors, and highlights 100 concept cars.
ISBN 0-9672428-0-0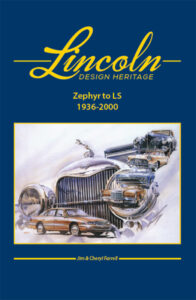 Lincoln Design Heritage:
Zephyr to LS (1936-2000)
2021, 10×13, 480 Pages, Fully Indexed
1,600 photos and illustrations
ISBN 978-0-9672428-1-1
The Ford book is $50 plus $7 S&H (US). The Lincoln book is $85 plus $10 S&H (US). Both books bought together are $110 plus $17 S&H (US). To order, email: cfarrell57@gmail.com