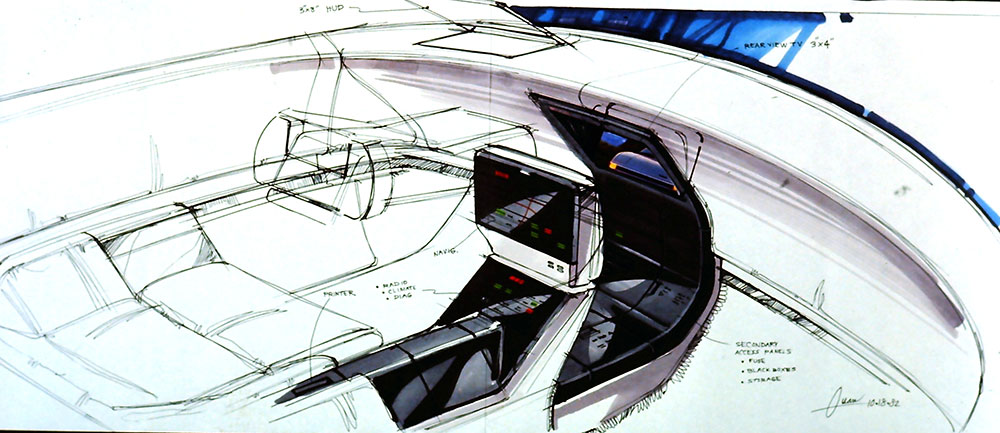 1995 Buick Questor Interior Design Development
by William Quan
During the 1983 Chicago Auto Show, GM introduced the 1995 Buick Questor to showcase GM's technical forward thinking in the electronic future.
Back in September 1982, we were tasked with competing the interior design in under three months working at an off-site location after regular work hours so as not to interfere with our daytime design projects. Working offsite collaboration of various teams allowed us to bypass the typical GM layers and processes and get results in a shorter amount of time.
Paul Tatseos was the Buick Interior Studio Chief Designer. I was the primary designer for the interior, but could not have done it without the help of Ed Donaldson, the Assistant Chief Designer who spent the evenings with us. Chuck Jordan would swing by at times to keep abreast of our progress. My original sketch (sepia colored) for the instrument panel looked good on paper, but when it was modeled as a full size clay, it was not what I had expected. I had to quickly scramble to come up with a better alternative. The new sketch theme when translated to a full size clay turned out to be the one blessed by Jordan, so we were on our way. From that point on, things started to fall into place in terms of an interior that looked harmonious.
The seat cushions blended into the tunnel console as well as the door armrest. By working closely with some very forward thinking engineers from GM Delco's California office, we were able to incorporate many of their electronic technologies into our interior. The interior was a showcase of electronic screens for navigation, climate and radio controls. The center console integrated a disc player for the navigation maps and a thermal printer. The steering wheel hub had controls for the touch button transmission as well as voice activated telephone calling. A motorized retractable panel forward of the steering column projected the HUD (Head Up Display) graphics onto a glass panel by the windshield for all driver information.
The project was exhausting while being exhilarating at the same time. I traveled with the teams to Chicago to watch them assemble the car on GM stage late into the night in order to be ready for the opening day.
Thanks to William Quan.