A Tale of Two Mercurys
By Jim and Cheryl Farrell
In September 1945, Henry Ford II became president of Ford Motor Co. The next month, he made Lincoln-Mercury a separate division of Ford, and in January 1948, Henry's younger brother, Benson, was named the head of L-M Division and a Ford vice president.
Benson loved being the boss of L-M Division, and, by most accounts, he did a good job. By1952, Mercury had doubled its sales. Lincoln was also in good shape and had just introduced a hot new overhead-valve engine. Bill Schmidt was head of the L-M design studio. Before he left for Packard in early 1955, Schmidt and Benson were good friends who saw each other almost daily at Ford's Design Department. Benson chose all the L-M concept cars produced during this period, including the Lincoln XL-500, the Lincoln Futura, the Mercury XM-800 and the XM-Turnpike Cruiser. He was also the person who got Lincolns involved in the Mexican Road Races.
The June 1952, the Davis Committee Report recommended that Ford build a new top-of-the-line model that became the Mark II, plus a new mid-sized model to better compete with GM's mid-sized cars. That mid-sized car was to be the Mercury Monterey. It was to share its platform with Mercury, but be longer and sell for more than Mercury but less than Lincoln.
In 1952, Benson authorized the design of a new Mercury show car called the Javelin. It was designed in the Mercury Preproduction studio, and its primary designers were studio manager John Najjar and Elwood Engel, an employee of consultant George Walker. Neither Engel nor Walker were very well liked by most L-M designers. Najjar and Engel, however, got along well, which sometimes caused Najjar problems. Rather than choose from competitive designs, Walker talked Don DeLaRossa, the studio exec, into mating a roof line proposal developed by designer Bob Jones onto the design done by Engel and Najjar so their car would be chosen, which it was. After the Javelin was completed, it became the Monterey and was approved for production starting in the 1956 model year just as the Davis Committee recommended.
Benson wanted the Monterey to have a retractible roof model, so he asked Gil Spear, head of Ford's Advanced studio, to prepare a sketch of the Monterey with a retractible roof. Unfortunately, the roof structure had to be moved seven-inches forward, so it didn't look much better than the '57 Ford retractible eventually wound up looking. But, a retractible roof model for the new Mercury Monterey was not to be because it was decided the Mark II would offer Ford's only retractible roof.
The finished clay model of the Javelin was made into a plaster model in Ford's shops and then created in fiberglass by Creative industries, a local job shop. Even the bumpers were fiberglass. Casting imperfections in the car were covered by thick rubberized paint. The car's 312 CID engine and Merc-O-Matic transmission were inoperable. None of the car's instruments worked either. At the time, the Javelin, with its 119-inch wheelbase was the lowest Ford car ever proposed.
When it was decided to manufacture the Javelin as the new Monterey, the name was changed to the XM-800. The show car was introduced to the public at the Detroit Auto show on February 24, 1954. Press releases referred to the car the XM-800 Mercury Monterey, and the public was also told if there was enough demand the Monterey would be produced.
In the meantime, one of the Whiz Kids, Jack Reith, a protege of Ford Division head Lewis Crusoe, was sent to manage Ford of France, which was in trouble financially. Reith unloaded Ford of France to Simca and returned to Dearborn a hero. In the meantime, in April 1954, Najjar, as manager of the Mercury Preproduction studio, proposed another new Mercury show car. Benson Ford approved the project, so Najjar made five proposals for the new show car. Engel fell in love with one of the proposals that had Jato (Jet Assist Take Off) bottles on the rear sides of the car, although they were discarded during the design process. Engel also came up with the name XM-Turnpike Cruiser for Benson Ford's new concept car.
Designers began designing two competing models for the new XM-Turnpike Cruiser show car, with Engel and Najjar in charge of designing one of the competing proposals. By fall 1954, Reith, just back from France, had discovered the Turnpike Cruiser Engel and Najjar were designing, and he started spending a lot of his time in the Mercury Preproduction studio "helping" design Engel and Najjar's Turnpike Cruiser proposal. Larry Shinoda, a recently hired Ford designer, came up with the "bookend" rear lights for the car, but most of the other design ideas came from Engel or Najjar—and all were "approved" by Reith. It's not hard to figure out what car was chosen as the XM-Turnpike Cruiser, but by that time, Reith wanted it built as a fully operable street legal car. So for $80,000, Ghia did just that at their Turin, Italy, facility.
At Ford's February 7, 1955, Product Planning Committee meeting Reith made a "surprise" proposal: scrap the approved Mercury Monterey planned for production that fall as a new1956 model; build the Turnpike Cruiser as the new '57 Mercury; separate Lincoln and Mercury into separate divisions; add another division and market another new car (eventually named the Edsel and Edsel Division); and increasing the $100 million allocated for the Monterey to $250 million for his entire proposal—including the Turnpike Cruiser —and the Edsel. Benson Ford was the only member of the Committee who voted against Reith's proposal. He claimed he was blindsided, and he may have been. But it was obvious many members of the Committee had foreknowledge of the proposal, and supported it. Within months, Crusoe recommended that Benson was removed as head of L-M Division. He was, and was given a make-work job with dealer policy. Not surprisingly, Reith replaced Benson as head of Mercury Division.
As the new '57 Mercury, the Turnpike Cruiser body style didn't sell as well as Reith forecasted, and on August 30, 1957, he was forced to resign. Crusoe was also out and was replaced by McNamara, who really disliked the Edsel, but that's another story. Lincoln and Mercury were soon recombined again, and for a short while the recombination included Edsel (until Edsel was terminated) as MEL Division, with Ben Mills as head of MEL and then L-M Division.
The XM-800 was removed from the show circuit in late '55 or early '56, and for a few months it was used as a Ford safety car. In December 1956, it was given to the University of Michigan as a teaching aid, but was eventually sold off by them as surplus property. For a while it just sat outside. In the early 1980s it was eventually saved from a trip to the dump by a car collector, who later resold it to another collector. It has now been restored into a running automobile.
The Turnpike Cruiser was productionized by DeLaRossa, who really didn't like the show car or the '57 Mercury. As "Reith's car" the XM-Turnpike Cruiser soon became an outcast, and was eventually sold for $300 to get rid of it. The car went through several owners, deteriorated, and eventually wound up in storage in southern California. It has since been resold, and is now being restored.
What happened as a result of the Edsel disaster is well known. A more interesting question is what would have happened if Ford had taken a different path, followed the Davis Committee recommendations already adopted and built the XM-800 as Benson Ford's new 1956 Monterey.
Photos: Ford Design
Turnpike Cruiser and the XM-800
Books by Jim and Cheryl Farrell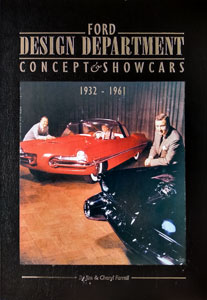 Ford Design Department—
Concepts & Showcars
1999, 10×13, 400 pages, Fully indexed
900 photos. Includes 150+ designers and sculptors, and highlights 100 concept cars.
ISBN 0-9672428-0-0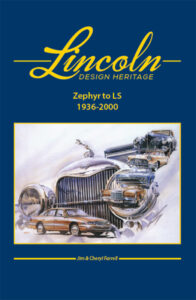 Lincoln Design Heritage:
Zephyr to LS (1936-2000)
2021, 10×13, 480 Pages, Fully Indexed
1,600 photos and illustrations
ISBN 978-0-9672428-1-1
The Ford book is $50 plus $7 S&H (US). The Lincoln book is $85 plus $10 S&H (US). Both books bought together are $110 plus $17 S&H (US). To order, email: cfarrell57@gmail.com