Who Designed the 1949 Ford?
By Jim and Cheryl Farrell
There's probably more controversy today about where the design of the 1949 Ford came from than ever before. Designers George Walker, Richard Caleal, Bob Bourke, and Bob Koto have all, at one time or another, claimed some credit for it. Others claim the design came from an unused or discarded Studebaker design. Bourke believed he designed the spinner grille for the ''49 Ford based on similar spinner grilles he had previously designed of Studebaker proposals. Ford photographs seemed to have solved that issue of the grille design, and now it's generally accepted that Joe Oros came up with the spinner grille on the '49 Ford. Almost everything else is still up in the air with the multiple claims as to who designed what features on the car. Hopefully, time will tell us more.
Here's the short story of how the design of the '49 Ford came about. Henry Ford II was young and inexperienced, so a seasoned GM executive named Ernie Breech was hired to teach Henry the car business. Bob Gregorie, then the head of the Ford Design Department, had already designed the two '49 Ford proposals Ford planned to market. When Breech first got to Ford, he didn't think the smaller Ford car would make money, so he arranged for its sale to Ford of France. The larger of Gregorie's Ford proposals Breech thought was too big to be profitable, so he proposed a contest between Gregorie and Breech's friend George Walker to design new '49 Ford proposals. Whoever's car was chosen would become the new '49 Ford.
The small Walker proposal was designed by Caleal, Koto (maybe) and Bourke (maybe), but Walker's full-sized clay model for the contest itself was designed mainly by Walker employees Joe Oros and Elwood Engel, loosely following the small model Caleal, maybe Koto and maybe Bourke had designed. The Walker proposal as built beat out Gregorie's proposal to become the '49 Ford, and subsequently Gregorie resigned.
It has been often said that the '49 Ford was the car that saved Ford. Overstatement or not, the '49 Ford was almost all-new (except for the flathead V-8 engine) from the ground up. Production for the 1949 model year came to 1,118,308 cars, and earned Ford a $77 million profit. It beat out Chevrolet sales for 1949 by about 100,000 cars. The '49 Ford also helped solidify young Henry and Breech as the leaders at Ford.
The photos were taken by Ford photographers during the design contest. They were located in what was then called the Ford Industrial Archives. (Now called the Ford Archives.) Many have never before been published. The photographer started with the armatures upon when each full-sized proposal was started. Unfortunately, the photos end before Ford designer Gil Spear productionized (and modified) the '49 Ford made by Oros and Engel.
Photos: Ford Design
Development of both Gregorie and Walker Models
Books by Jim and Cheryl Farrell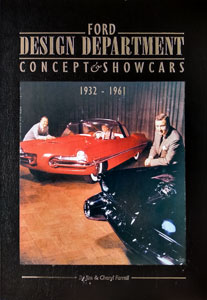 Ford Design Department—
Concepts & Showcars
1999, 10×13, 400 pages, Fully indexed
900 photos. Includes 150+ designers and sculptors, and highlights 100 concept cars.
ISBN 0-9672428-0-0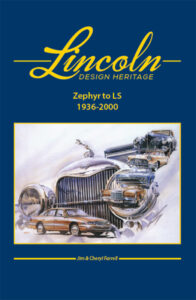 Lincoln Design Heritage:
Zephyr to LS (1936-2000)
2021, 10×13, 480 Pages, Fully Indexed
1,600 photos and illustrations
ISBN 978-0-9672428-1-1
The Ford book is $50 plus $7 S&H (US). The Lincoln book is $85 plus $10 S&H (US). Both books bought together are $110 plus $17 S&H (US). To order, email: cfarrell57@gmail.com