Ford's Levacar Mach 1
By Jim and Cheryl Farrell
After several years as a consultant, George Walker finally became a Ford vice president and head of the renamed Styling Center in May 1955. Until Walker took over, Ford styling was a lesser part of Ford Engineering. At the time, Earle MacPherson was Ford's chief engineer. Although they were polite to each other, Walker and MacPherson didn't get along. It's not an understatement to say they intensely disliked each other. There was never a question about MacPherson's competence, but he was also dictatorial, and he didn't like designers who he thought were mostly impractical dreamers. MacPherson wanted designers under his thumb as a part of his Engineering Department. Walker, on the other hand, wanted control of all design at Ford and a separate design department that was on an equal footing with Engineering.
MacPherson was not subject to Ford's new policy requiring that all executives retire at age 65. Walker was because he became a Ford employee after that policy went into effect. For years, MacPherson fought tooth and nail and successfully prevented the separation of design from Engineering. In 1955 MacPherson finally lost that battle, but as a consolation prize, he got to set up his own design studio in his Engineering Department. MacPherson recruited several of the "more practical" Ford designers (including Gil Spear), who left the Styling Center to set up a separate but smaller design studio in the Engineering Department to work on MacPherson's engineering projects.
MacPherson turned 65 in 1956, but showed no signs of retiring, or giving up his power. Walker was not due to retire until 1961, and he desperately wanted to leave a Styling Center to his successor that controlled all aspects of Ford design. Walker got his opportunity in 1957, when MacPherson had a serious heart attack.
MacPherson's successor as Ford's chief engineer was Andy Kucher. Walker made sure he and Kucher were on the best of terms. At first, Kucher was a pinch-hitter during MacPherson convalescence. Kucher actually became Ford's chief engineer when MacPherson couldn't return to work and retired on May 1, 1958. Kucher was far different than MacPherson. He was mild mannered and not really a car guy. Previously Kucher had been head of Ford's Scientific Laboratory, and his background included almost everything except cars.
To encourage Kucher to give up Engineering's separate design department, Walker agreed to help him design and develop his 30-year pet project—a one-man people mover without tires that levitated on a cushion of air and got its forward motion (at least for purposes of Ford's display) from a small squirrel-cage heater fan. The Levacar Mach I became the most unusual concept vehicle ever designed and built at Ford.
Walker assigned the Levacar project to Elwood Engel's Corporate Advanced studio. Engel was Walker's assistant manager and the person he wanted to succeed him when he retired. The hand-picked stylists in Engel's studio who worked on the Levacar included Gale Halderman, who did most of the design work, and Dean Beck. Design engineering was done by Bob Thomas and Ray Smith. The primary clay modelers were Harry Stricker, Cecil Perkins, Dick Sprague and Joe Seibold.
While the Levacar was being designed, Kucher visited the Styling Center often where Walker made sure he was treated like royalty. Kucher's ideas were encouraged and as much as possible incorporated into the design of the Levacar, Even the name "Levacar" came from the Engineering Department. Kucher's engineers also came up with the three round stainless steel pads for the bottom of the Levacar with holes in them that blew out high-pressured air allowing the Levacar to hover over a super-smooth metal surface. For the air supply, the Levacar was designed with an onboard air compressor. A display was also designed and built which included a 3-foot wide circular stainless steel track 35-feet in diameter with a metal tether that allowed passengers to ride the Levacar around in a circle. On May 20, 1958, the Levacar display opened at the Ford Rotunda. For a while even the general public was allowed to ride in it, until problems arose because the surface on which it rode constantly needed adjustment. Visitors to the Levacar display were also given a small Levacar model with a "mouthpiece" they blew air into that made the model levitate.
Many magazine articles featured the Levacar as the next big thing in transportation. Some cutely opined that Henry Ford had put people on wheels but his grandson was trying to take their wheels away. The Levacar display was then shown at the Chicago Auto Show (as part of the Edsel display). It was also later displayed in Cleveland, Miami, Redondo Beach, and Denver.
Given the technology of the day, Kutcher was never able to develop a method that allowed the Levacar to travel over public roads. As a last resort, he changed direction and proposed that Ford build a Levatrain transportation system between New York City and Atlantic City, New Jersey. After spending over $1 million on the Levacar project, Henry Ford II decided that was enough and stopped the program. Ford was not going into the train business.
Walker retired in 1961. His successor was not Engel, but Gene Bordinat. Bordinat didn't like spending any of his budget on unique or space-age concept cars, so he mostly authorized concept cars made by modifying production vehicles. A disheartened Kucher retired on March 31, 1962. With Kucher's retirement, the Levacar project lost its champion. The Levacar itself and its display were in storage in a back room at the Ford Rotunda when they were destroyed by fire on November 9, 1962.
At the time the Levacar was developed, other companies and government agencies were also developing hovercrafts that ran mostly over water, but no one was successful in developing a similar vehicle that successfully ran over roadways.
Recently, there have been news reports claiming that tire particles created during driving are becoming a major pollution problem, whether the vehicle is electric or gas powered. Maybe it's time for someone to try developing a Levacar again. The 500 mph forecast (the Mach 1 part of the name) by Kucher isn't necessary, but only something that will navigate Dearborn's potholes and travel on today's freeways at more modest speeds.
Photos: Ford Design
Books by Jim and Cheryl Farrell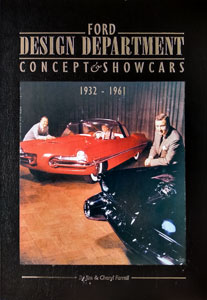 Ford Design Department—
Concepts & Showcars
1999, 10×13, 400 pages, Fully indexed
900 photos. Includes 150+ designers and sculptors, and highlights 100 concept cars.
ISBN 0-9672428-0-0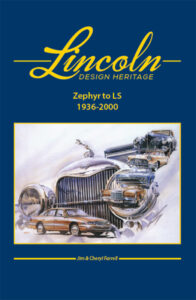 Lincoln Design Heritage:
Zephyr to LS (1936-2000)
2021, 10×13, 480 Pages, Fully Indexed
1,600 photos and illustrations
ISBN 978-0-9672428-1-1
The Ford book is $50 plus $7 S&H (US). The Lincoln book is $85 plus $10 S&H (US). Both books bought together are $110 plus $17 S&H (US). To order, email: cfarrell57@gmail.com