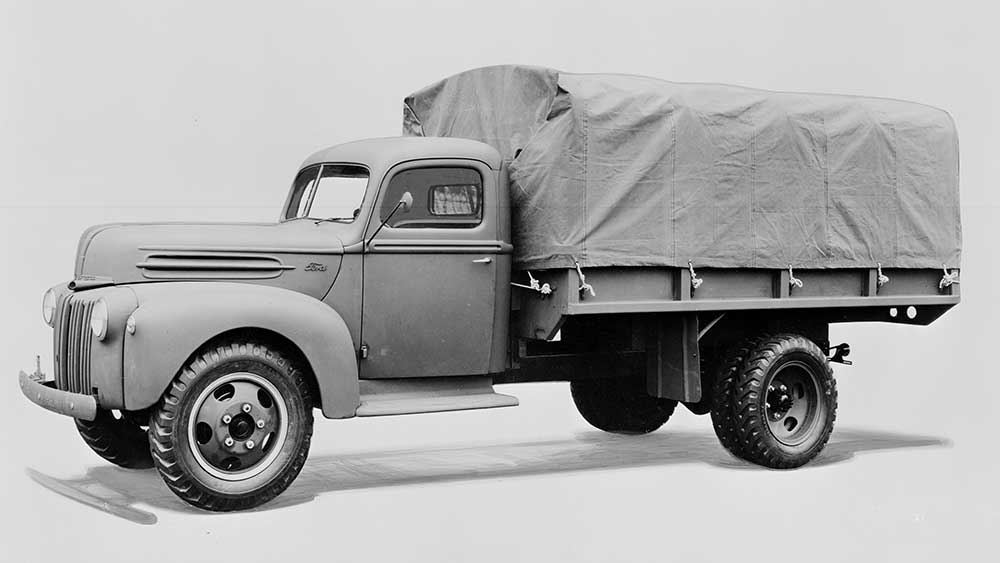 Ford Tough—100 Years of Ford Trucks

by Patrick Foster. Book review by Gary Smith
It's amazing how many things we experience every day that we take for granted. Part of the landscape. Seemingly obvious solutions to complex logistics and challenges. Always been there. In this case, trucks. Today, a myriad of specialized trucks move everything from bread to Buicks.
And it's only been about 100 years since Henry manufactured his first trucks which were in reality only a 20 h.p. Model-T with an added slip-in pickup bed.
Ford's Model-T popularity and reputation for reliability, simplicity, and the largest dealer network in the world gave his truck offerings a decided edge over his growing competition, mainly Chevrolet, Dodge, and International. Only a few decades later, truck engineering, power trains, and driver comfort had developed into practical, functional vehicles.
Foster's book traces the development of Henry Ford's first truck offerings all the way to the present day. There are many interesting insights into Ford's economic difficulties, how Ford contributed to the effort in both world wars, and the challenges during the depression.
There are also many interesting sidebars in the book, like this one:
Who's in Charge
"Personal tragedy struck the Ford family in May 1943 when Edsel Ford, son of the founder of Ford Motor Company, died at the age of forty-nine from stomach cancer. His loss meant that old Henry Ford, aged, cranky, and possibly becoming senile, was back in charge of the company. There seemed to be no one else who could do the job. Ford Motor was a privately owned firm and jealousy limited control to family members. Edsel was the Ford's only child, so his passing left a gap in management succession. Edsel's son, Henry Ford II (Henry's grandson), was young, inexperienced, and away serving in the U.S. Navy. Military planners were naturally concerned about old Henry's ability to manage the cast network of production that was so vital to the war effort. The poorly managed Ford Motor Company was losing millions of dollars each month, and the U.S. government considered taking it over to ensure the supply of military products would to continue to flow out to the Allied forces (like that would have worked—Gary). Then came a solution: After the appropriate strings were pulled, Henry Ford II was transferred out of the Navy and joined the management ranks at Ford, the better to watch over the company's fortune. Although the elder Henry remained in overall control, his young grandson became a vital mover within the company."
Ford Tough is not a resource for production figures and model designations for every truck Ford ever built. It's more of an interesting overview of how Ford's truck line matured over the last 100 years.
Description from the Publisher

In July 1917 Ford Motor Company introduced a one-ton chassis for commercial trucks, marking what many historians feel was its official entry into the dedicated truck business. Prior to this the company had offered commercial cars, including depot hacks and delivery van bodies mounted on its standard passenger car chassis. Dealers had also offered small after-market pickup beds that could be placed on the rear of a Model T car to convert it to a pickup. But with the debut of the rugged Model TT truck chassis, Ford was firmly in the truck market. Eight years later it introduced its first factory-produced pickup, a sturdy half-ton job that met with great acceptance. During the century that has passed since that first Ford truck chassis, the F-series has become the best-selling truck in the world, and the best-selling vehicle of any type in America. Every year the company sells over 700,000 F-series trucks, and well over 1.5 million trucks of all types, just in the U.S. It's an amazing success. Ford Tough: 100 Years of Ford Trucks tells the entire Ford truck story from the very beginning, when Ford got its start in truck production. This book provides the history of the wide array of models Ford has built over the past century, including the Model A roadster pick-up, stylish 81C pickups, legendary 1948 F-1, Bronco, Courier, Ranchero, Econoline.
About the Author
Patrick R. Foster is a well-known and respected automotive writer and historian. Foster is an authority on AMC and its various sub-brands and has written a number of books on that automaker, as well as many others, including Jeep and Studebaker. His most recent books for Motorbooks are Jeep: A History of America's Greatest Vehicle and American Motors Corporation: The Rise and Fall of America's Last Independent Automaker.
Specifications
Published by Motorbooks
Format: Hardback, 208 Pages
ISBN: 9780760352175
Illustrations: 200 color & 100 b-w photos
Size: 9.25 in x 10.87 in / 234.95 mm x 276.1 mm
Published: June 1, 2017
Cost: $45.00