Don Schwarz
I am very grateful to Don Schwarz for his extensive contributions to the Dean's Garage book with stories and insights from his executive career at GM Design Staff. He was in a position to witness first hand many outrageous events that were kept quiet from those of us in working in the studios. Stories about John DeLorean, Chuck Jordan, Paul Deesen, and of course, Bill Mitchell. Pricess insights into the asylum.
Here are a few of his stories from Dean's Garage.
Gary
Photos: General Motors.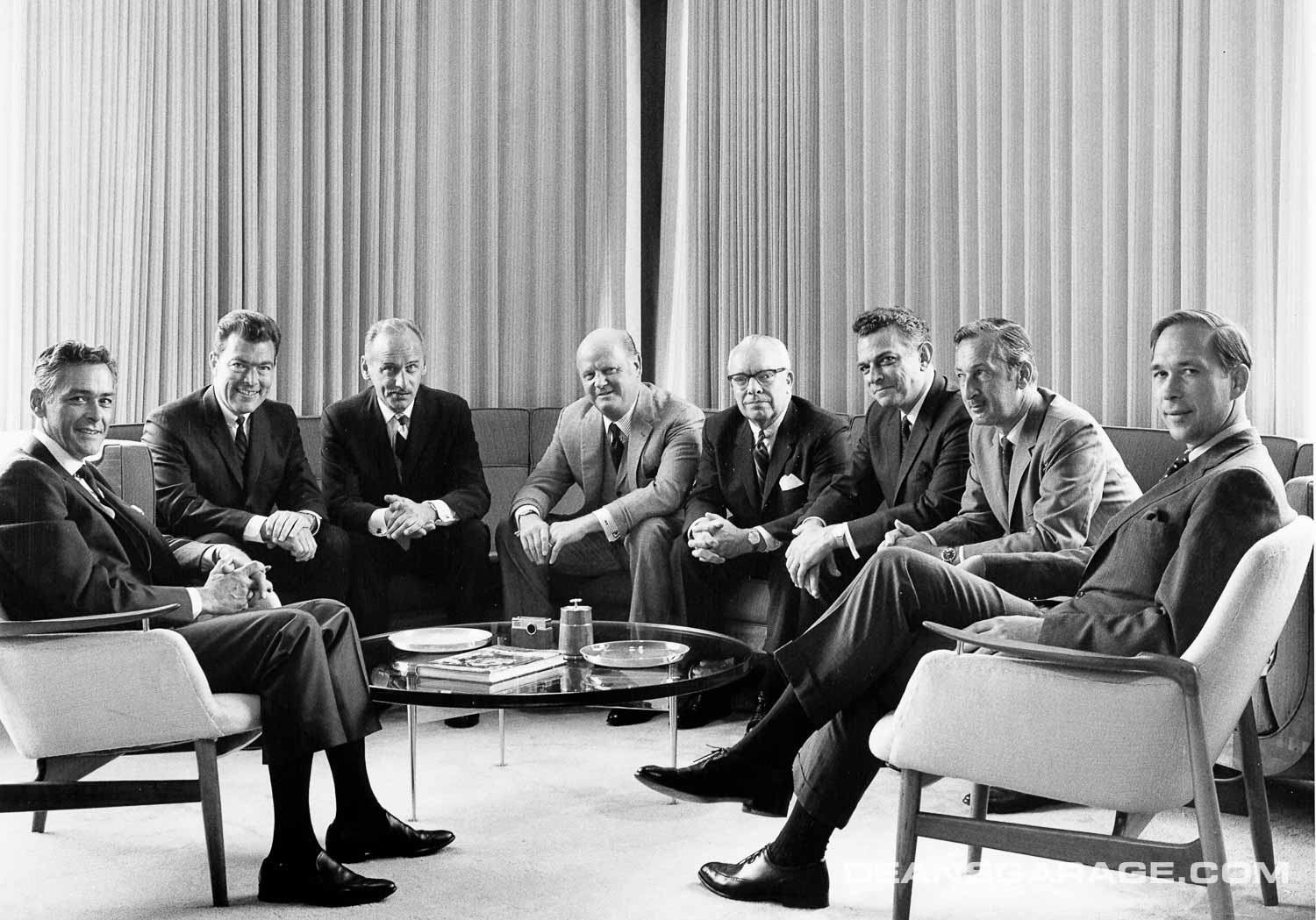 Jack Humbert, Dave Holls, Irv Rybicki, Bill Mitchell, Steve McDaniel, Vince Kaptur, Clare MacKichan, and Don Schwarz. Photo: General Motors.
John Z. DeLorean and the British Government
In Industrial Design we were working on a project for Pat Kane of AC Delco. Pat had hired us to design a GM vehicle service facility. The day Pat reviewed our progress was the day after the British Government had given DeLorean £70,000,000 for the plant in Northern Ireland to build his new car. I was aware that Pat and DeLorean were friends, so I asked Pat why in the world the British Government would give all that money to DeLorean. He replied, "Because the British Government has the money and John DeLorean has the experience. And in the end, John Z. will have all the money and the British Government will have had an experience."
Caprice Limousine
I frequently saw GM executives, like DeLorean, while driving to work down Woodward Avenue in the morning gloom. They were being driven to work and reading their mail by dome light.
One morning I was in the garage waiting for the arrival of DeLorean to take him to Chevrolet Studio for a product review. He arrived in a Cadillac limousine. Pete Estes and Tom Murphy happened to be in the garage as well, and saw DeLorean arrive. I overheard Mr. Murphy ask Pete a loaded question: "Of what division is DeLorean V.P.?"
Later I heard that Pete asked DeLorean why he was riding in a Cadillac. DeLorean told him that it was because sitting in the back seat of a Chevrolet cramped his long legs. Pete suggested that he could have the passenger bucket seat removed providing more legroom.
Shortly afterward, word got out that DeLorean was having a Chevrolet Caprice lengthened in a Chevrolet fabrication shop, specifically to give him more leg room in the rear seat. The modification was reported in the local news. When Executive Vice President Roger Kyes heard about it, he called Alex Mair, Chevrolet's chief engineer, and told him, "Saw that damn thing in half. I never want to hear about it again."
Facelift
One day DeLorean entered Chevrolet One Studio with an entourage that included several journalists and a photographer. Neither Mitchell nor Tom Christensen (Mitchell's executive assistant) were in the building. As you know, no outside photographers were allowed in the studios without prior authorization. It appeared that John Z. was promoting himself, playing the big executive, and making momentous decisions about future Chevrolet products.
This happened around the time he had gotten a facelift. He had visible stitches down the hairline near the ears on both sides of his face. When asked about the stitches, he said that the stitches were the result of a car accident.
Executive Car Colors
Chuck could be difficult but he also had a great facility for accepting and enjoying jokes aimed at him. He would simply break up. He could also accept rebuttals.
One morning at an 8:00 a.m. staff meeting in the Executive Conference Room, Chuck got on my case about new exterior vehicle colors. "S…c…h…w…a…r…z" (he liked to stretch out my name to get my attention), "When are we going to get some new colors we can buy?"
I answered, "I came through the executive garage this morning and (I said to everyone in the room), except for my car, all of the cars there are black."
A few seconds passed waiting for Chuck's reaction. Silence. No one said anything. Then Chuck said, "Touché." And that was the end of it. Some time later cars painted in bright colors began to appear in the executive garage.
Bill Mitchell—Dynaflow
An advanced design studio had designed a vehicle that Mitchell intended for Cadillac, and called it the LaSalle, recalling Harley Earl's 1927 creation. However, Cadillac management declined Mitchell's proposal. In a pique, Mitchell showed the clay model to Buick management. They bought the idea, named it Riviera, and the rest is history. Bill Michell's Riviera was always parked in the executive garage next to the door which led to the elevator and to the executive offices—front end out for easy departure.
Bill came down to the garage in a hurry to leave, got into the Riviera, started the engine, pulled the tunnel-mounted gear shift lever rearward, stepped on the gas, and the vehicle promptly went backward into the wall. At that time most of the cars and trucks in the corporation, except Buick, used Hydramatic transmissions, and Chevrolet used Powerglides; both had the drive position for the selector at the rear. The Buick Dynaflow's drive position was at the front. Having driven vehicles other than Buicks for a while, Mitchell was accustomed to the Hydramatic and Powerglide shift patterns. So when he pulled the shift lever of the Riviera backward, he thought he would be going forward. In a rage, and probably embarrassed, he turned beet red, got into another car, and left. His experience led to the standardizing of transmission shift patterns for all GM vehicles. It also led to Buick changing from Dynaflow transmissions to Hydramatics.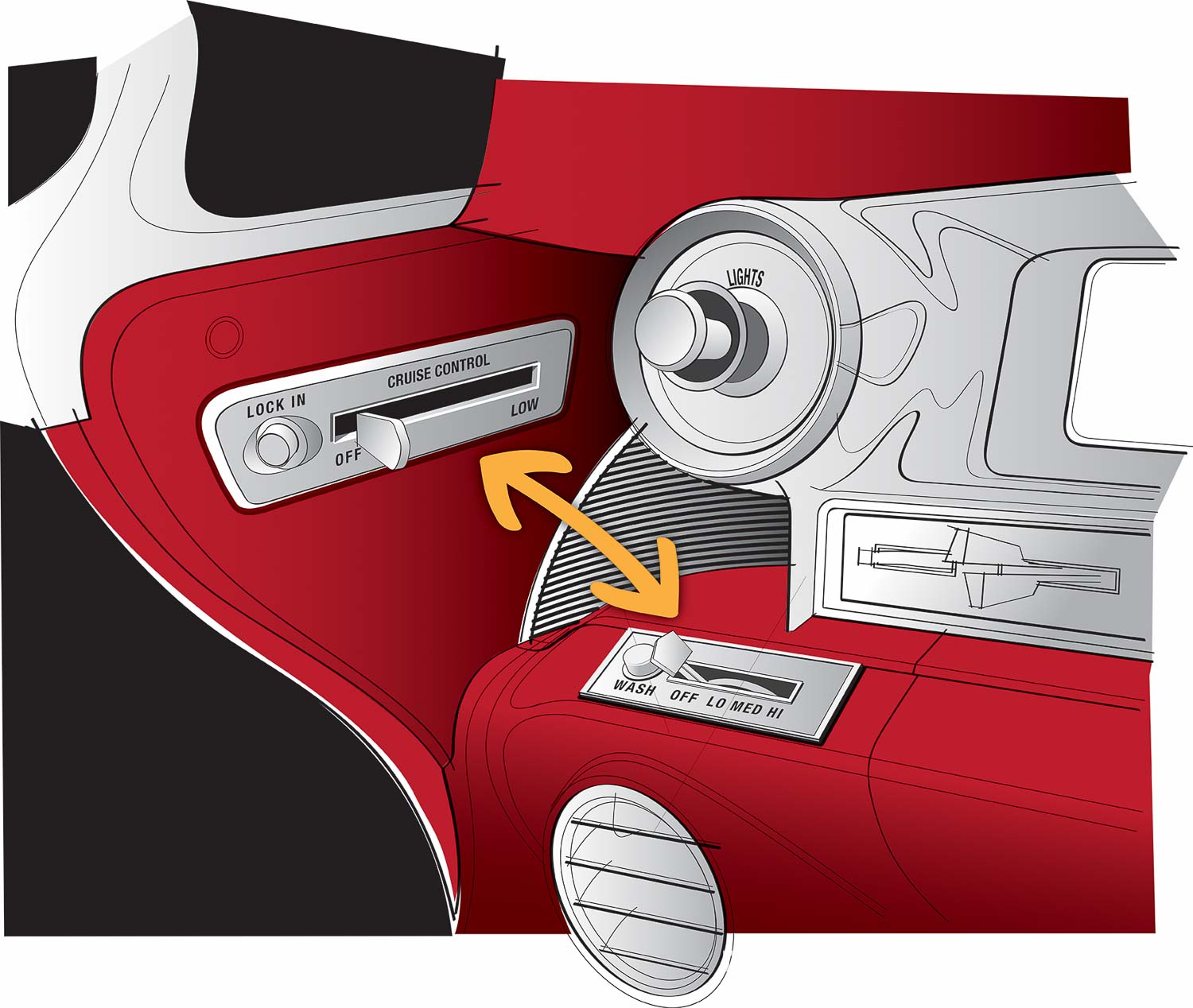 1961 Cadillac cruise control and windshield wiper control could easily be confused. Illustration: Gary Smith.
Cruise Control
The 1961 Cadillac had a wrap-around windshield, as did all of the C-bodies for Buick and Oldsmobile; and the B-bodies for Pontiac and Chevrolet. The ends of the instrument panel under the sides of the windshield were referred to as the horn, and that was where the lever operating the cruise control was located. Moving it forward increased speed.
One day on his way home after work in the rain, Mitchell mistook the cruise control for the windshield wiper. He pushed the lever forward and the vehicle leaped forward, almost causing a rear end collision.
The next day he went into Cadillac Interior Studio and ordered Chief Designer Bob Scheelk to have a large, red, golfball-size knob made to put on the cruise control lever of his Cadillac. He did not want to make the same mistake again.
New Seat Belt Buckle
Ken Hammer's group had developed a new seat belt buckle, built a model, installed it in a vehicle, and invited me to the Styling Garage to evaluate it.
After a demonstration by Ken, I tried it myself. It was new, different, and worked fine. Satisfied, I called Mr. Mitchell's office to invite him to the garage to look at the proposal.
After an explanation and demonstration, Mr. Mitchell got in the car to try it. After repeated attempts he couldn't make it work.
Frustrated, he got out of the car and said, "Fix it, and before you call me, find the dumbest guy you can find to work it." For once I kept my mouth shut.
Just before noon I received a call from Mitchell's secretary inviting me to lunch in his dining room. Conversation at those lunches included an exchange of stories. Mr. Mitchell told the group about the seat belt episode, confessing that probably he was the problem when he couldn't operate it.
Ground Crew Strike
On a trip to the Turin Auto Show, the Alitalia flight that Bill Mitchell and his wife were on diverted to Milan because of a ground crew strike in Turin. Before the plane could land, the pilot received word that the strike was settled and they could now land in Turin. However, when the plane landed, the strike had resumed. That meant that the passengers had to retrieve their own luggage from the hold of the plane.
Having learned in advance of Bill's flight and the strike, we had difficulty imagining Mitchell climbing into the hold of the plane in order to retrieve their luggage. Those of us from Design Staff and Opel gathered at a hotel, waiting with trepidation for Mitchell's arrival for a cocktail party. When he arrived he was surprisingly calm.
The sliding glass doors in Bill's room in the Principi Hotel had a handle which, in deference to Bill, could easily be confused as a pull handle instead of a slide. Bill being impetuous, when the door didn't pull open as he expected, he gave it a jerk and the glass shattered cutting his leg. This wasn't turning out to be a good trip.
When Bill traveled to auto shows, he normally had two hotel rooms: one for him and his wife, and another room for local guests, some distance from his own room.
The Infamous Mr. Mitchell
On an auto show trip to London with a visit to Luton, I was driven back to London in the evening by a GM driver. As we passed the rear of the Savoy Hotel where I was staying, the driver slowed down, pointed out the rear entrance to the hotel, and said, "That is the entrance that the infamous Mr. Mitchell used."
Expense Account
Whether it is true or apocryphal, it was said that Mitchell never submitted an expense account, saying, "They pay me enough."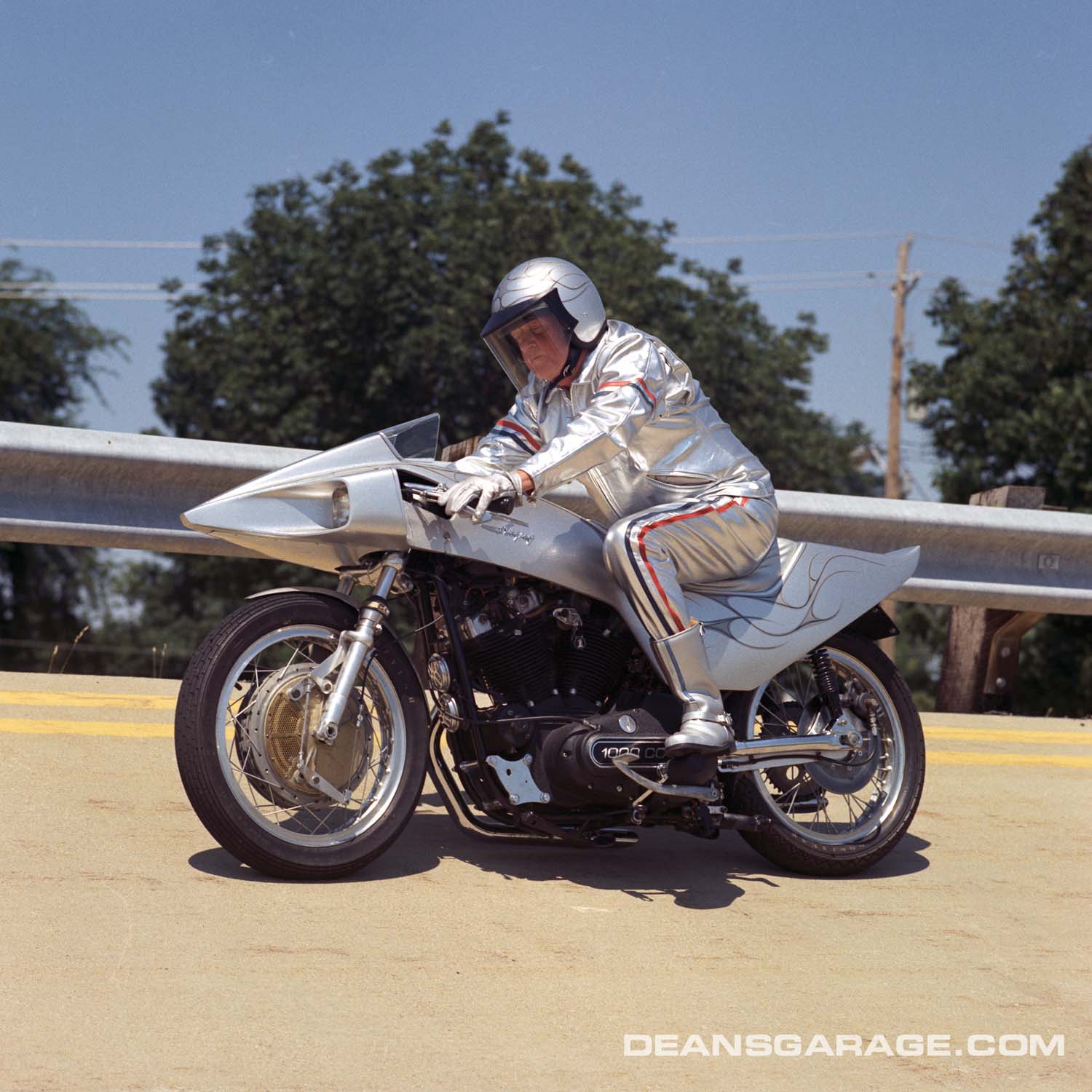 What Price Ego?
One of Bill Mitchell's motorcycles fell over on his foot, breaking several bones.
One day as I entered Steve McDaniel's office (my boss), he was threading shoe laces through a pair of spats. Spats were a thing of the past, but Mitchell, who was a fastidious dresser, wanted to cover the white plaster cast with something the color of the suit he would be wearing.
Therefore, he requested that Steve have vinyl spats, with eyelets, made in the Trim Shop in the colors of Bill's suits: tan, black, and blue.
Steve, not thrilled with his task, commented, "What price ego?"
Where Has Elegance Gone?
As I came out of my office one day, I encountered Bill Mitchell clumping down the hall from his office with a cane, recovering from his broken foot. He was carrying a couple of pages he had ripped out of a beautiful Automotive Quarterly. Visibly upset, he showed me photographs of elegant hood ornaments and wheels. He was fuming about the designs he had recently reviewed in Chevrolet Studio. He referred to them as "circus wagon wheels."
This occurred around 1975 at the time of the Great Gatsby revival in the U.S.
Bill's comment was, "Where the f— has elegance gone?" An obvious linguistic dichotomy.
Cold Color Show
For several years George Moon arranged for the corporate color show held at the GM Proving Grounds in Mesa, Arizona, to coincide with the annual winter corporate meeting. This made perfect sense because all of the GM division General Managers who made final decisions on car colors for the corporation would be there.
Arizona was an ideal place to view full-size cars painted in the proposed colors. The winter weather there was usually sunny with a perfect temperature, compared to the dreary, cold, and snowy Detroit area. It took several hours for the General Managers to review all of the colors and settle divisional disputes as to which colors best suited their models. All in all it was a pleasant way to spend an afternoon.
However, as happens in a cyclical business like automobile manufacturing, cost cutting became very important one year, and it was decided to hold the color show on the Design Staff patio and save the costs involved in shipping cars to Arizona, along with the staff required to run and control the show.
So a grandstand was set up, and on a very cold, snowy day in January, the cars were run by the participants for voting and divisional agreements. What took several hours in Arizona was completed in about 20 minutes in Warren with partially snow-covered cars, driven as fast as possible by the grandstand. Afterward the participants quickly retreated to the warmth of the Design building. I believe that was the last corporate color show held in Michigan.
Chuck Jordan—Tan Suit
Once Chuck arrived at Design Staff wearing a new tailor-made suit. It was tan with hand stitching.
Chuck normally started his rounds in Chevrolet One Studio and worked his way to Cadillac. Each studio forewarned succeeding studios of where he was and his imminent arrival at the next studio.
That day they also passed along information about his attire. I don't know which studio Paul Deesen was in, but by the time Chuck had arrived, Paul was wearing a tan suit he had created from brown paper, complete with stitching applied with a felt tip pen.
1963 Corvette Colors
It was the responsibility of Chevrolet Interior Studio to develop exterior colors for vehicles, with approvals from Chevrolet Exterior Studio and division management.
We had developed ten colors for the 1963 Corvette, painted the vehicles, and reviewed them with Chief Designer Irv Rybicki, who approved the color line. The next step was to review the colors with Bunkie Knudsen, Chevrolet's general manager.
The review was set up on the Design patio. Lined up for the review were Mr. Knudsen, Bill Mitchel, Irv Rybicki, and myself. All went well through the red, white, bright blue, dark blue, black, silver, yellow, gold, and dark green colors. Then we got to the last color, maroon.
Mr. Knudsen asked, "Where'd you get that color, Bill?" Mitchell turned to Rybicki and asked, "Where'd you get that color, Irv?" Rybicki turned to me and asked, "Where'd you get that color, Don?" There was no one left for me to ask. Such is life in the corporate world.
I found out later that Mr. Knudsen was color blind. He had tailored suits made at a local haberdashery in the same dark blue color so he couldn't make a mistake when he reached in the closet in the morning.