Part II—Design Of The Falcon
By Jim and Cheryl Farrell
Sometime between Crusoe's heart attack and retirement, all plans to produce the Mercury L'Avion were terminated in favor of McNamara's "new" Ford Falcon, which started out looking a lot like the L'Avion. In fact, the L'Avion actually turned into the Ford Falcon, but it was, with some twists and turns, redesigned and engineered as McNamara approved. If the Mercury L'Avion had been marketed in the U.S. starting in 1958, as Crusoe proposed, Ford would have had a two-year jump on the competition—but that was not what happened.
As an executive for an American automobile manufacturer, Robert McNamara was unusual. He lived in Ann Arbor, a college town some distance from other auto executives. Before he became president of Ford in 1960, McNamara usually made his own business and travel arrangements, which most times included rental cars, usually Volkswagens. McNamara liked basic, no-nonsense automobiles. He disliked fins and space age gimmicks, but he also acknowledged that his job required the sale of more Ford-made vehicles whatever they looked like and whether he liked them or not.
At most business meetings, it was quickly obvious that McNamara was the smartest guy in the room. He usually won arguments because he was able to rattle off reasons supporting any position he took. He disabled the opposition with his delivery of facts, and literally wilted the opposition. Nobody at Ford wanted to take a position against him—and he knew it.
From McNamara's standpoint, neither Reith's Mercury compact nor anything like it was EVER going to see the light of day at Ford. By the fall of 1957, and under McNamara's direction, design of the compact car that became the Falcon was restarted (or continued).
We don't know the individual designers who were initially assigned to McNamara's Falcon project, but by mid-December 1957, a full-sized clay model was ready for his review. It was not Grisinger who continued with the redesign of the Ford compact. Grisinger had become head of the Mercury Preproduction studio at the conclusion of his successful completion of the L'Avion's design. After the Stylerama program was cancelled in fall 1957, Bob Maguire's Advanced studio (located at the former Continental building where the Edsel was currently being designed) and his designers had the free time to take on the task of turning the L'Avion into the Falcon, but the job was assigned to Joe Oros' Ford studio. Oros was one of Walker's favored designers, and in March 1956, Walker had named him to head Ford studio.
Several of the early Falcon proposals done in Oros' studio wear license tags marked as "Ford Styling," and in at least one of the later Falcon design photos there is a '61 Thunderbird design proposal in the background on the studio wall. Oros was usually more conservative design-wise than Walker, and thus it's likely Walker himself oversaw the general design direction being developed for the Falcon. Walker liked fins and the modern styling of the L'Avion, and saw no reason it shouldn't be continued on the Falcon. Although Walker loved the initial design of the Falcon that continued the looks of the L'Avion, it proved unacceptable to McNamara.
During the next year, although the proposals submitted for McNamara's review became more simplified and/or conservative over time, neither Walker nor Oros was able to come up with a Falcon design McNamara approved. No proposal he saw at the Styling Center was the bare-bones, basic, practical, no nonsense smaller Falcon McNamara was looking for, assuming there was a specific type of design he wanted. From reviewing the design progress photos it looks likely McNamara's design thoughts (if any) crystalized the more Falcon proposals he rejected.
According to Ford designers, it's also highly likely McNamara himself came up with the name Falcon. There are reports the Falcon was first referred to as the XK-Thunderbird. Those reports also indicate the Falcon name didn't come until April 1958, but there are Ford Styling Center photos dated February 1958 of a full-sized clay model wearing the name Falcon. As far as it's designers knew, McNamara always referred to the Ford compact only by the name Falcon.
Gale Halderman was a young design manager in Ford's Corporate Advanced studio. Sometime right after the first of the year 1958, he was told by his studio head Elwood Engel, that he (Halderman) and Don DeLaRossa were being temporarily reassigned to a new studio "downstairs" to come up with a design for Ford's new compact car. Halderman was told he and DeLaRossa had to come up with a design McNamara would accept, and to date McNamara had been impossible to please. Halderman was also told the design McNamara was looking for had to be simpler and more bare bones than the ones Ford designers had already proposed—and time was running short.
DeLaRossa was a former World War II fighter pilot who was half a generation older than Halderman. DeLaRossa had been a designer at Ford since 1947, and before that had been a designer at GM. There's no question DeLaRossa was a talented designer, but he was also a heavy drinker who could be difficult.
Halderman was an Ohio farm boy. He was a straight arrow and a non-drinker who got along with everyone. After graduating early from the Cleveland Institute of Arts, Halderman started at Ford in 1954, and was soon recognized as one of Ford's up-and-coming design leaders. According to Halderman, DeLaRossa had the rare ability to make subtle but inexpensive modifications to a design proposal that dramatically changed the looks of a vehicle. Halderman and DeLaRossa were a true odd couple, but as it turned out, they worked well together.
According to Halderman and somewhat confirmed by DeLaRossa, most of the design work they did on their Falcon project was actually done by Halderman, while DeLaRossa sat in his office and usually read a newspaper or magazine. On the occasions DeLaRossa did review the full-sized clay model Halderman and the clay modelers were working on, Halderman said that, to his amazement, DeLaRossa's suggestions "always made the design better."
The progress photos show that Halderman and DeLaRossa came up with several proposals. Design of the front end and side scallops were pretty well set by April 1958, and the design of the taillight area came together the following month. According to Halderman, because of time pressures, he borrowed the distinctive side scallops that wrapped around the taillights of the Falcon directly from the Levacar he had designed immediately before he was assigned to the Falcon project. Those side scallops that encircled the taillights became the most distinctive element of the '60 Falcon's design.
With a wheelbase of 109.5 inches, the unibody 1960 Ford Falcon had a gross weight of a little less than 2,300 lbs. It was powered by an inline 6-cylinder engine and was available that first year only as 2- and 4-door sedans. The Falcon did show a family resemblance to the big Ford, but it certainly wasn't a small car as that term was understood in Europe and Asia. Nevertheless, its first year sales of 435,676 outsold its '60 Corvair and Valiant competitors by large margins. (First year sales of the Corvair were 250,007, with 194,292 for the Valiant.) To the surprise of many, sales proved that McNamara wasn't the only one who liked the bare bones but honest little Falcon. However, by the time the Falcon's sales success was fully realized, McNamara had become president of Ford, and had quickly moved on to become president Kennedy's secretary of defense.
The original body style of the '60 Falcon was produced through the 1963 model year. After McNamara left, new models (convertible, station wagon, Ranchero and Sprint) and fancier options were offered, including stuffing a V-8 engine in the Falcon. The Falcon was followed by other smaller Fords, including the Maverick and the Pinto. And it was the basis for the '65 Mustang. During its 10-year production run, however, the Falcon eventually grew larger as its sales grew smaller until it was finally discontinued.
It's still surprising how many Ford vehicles or proposed vehicles were affected by the Edsel and its aftermath.
Photos: Ford Design
Books by Jim and Cheryl Farrell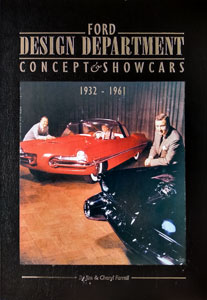 Ford Design Department—
Concepts & Showcars
1999, 10×13, 400 pages, Fully indexed
900 photos. Includes 150+ designers and sculptors, and highlights 100 concept cars.
ISBN 0-9672428-0-0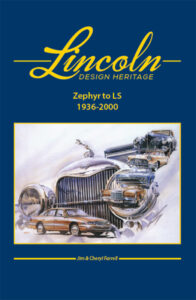 Lincoln Design Heritage:
Zephyr to LS (1936-2000)
2021, 10×13, 480 Pages, Fully Indexed
1,600 photos and illustrations
ISBN 978-0-9672428-1-1
The Ford book is $50 plus $7 S&H (US). The Lincoln book is $85 plus $10 S&H (US). Both books bought together are $110 plus $17 S&H (US). To order, email: cfarrell57@gmail.com