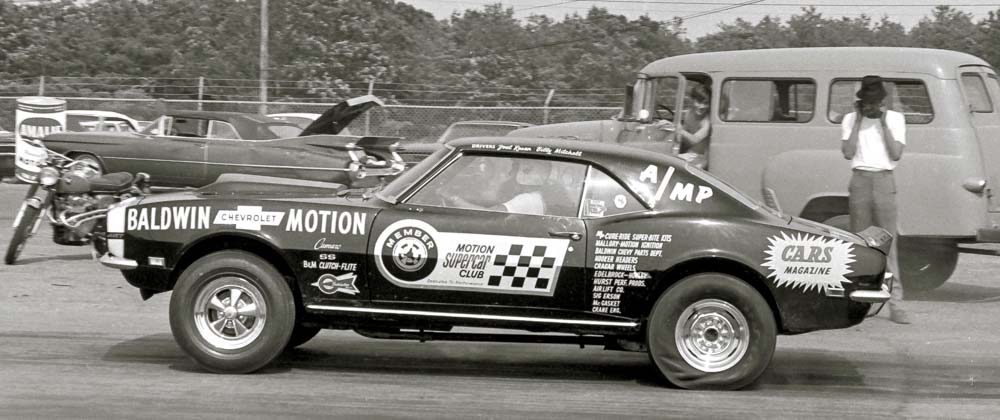 Day One: An Automotive Journalist's Muscle-Car Memoir
By Martyn L. Schorr. Forward by Joe Oldham. Review by Gary Smith.
RPO Z11: Chevy 427 Light Heavyweight
A typical story, from page 53.
"By checking off RPO Z11 on a 1963 Chevrolet new car order form, you could have a factory-built race car. Only fifty-seven made that choice before GM pulled the plug.
"The first time I saw a Z11 Chevy was not at a GM press event, drag strip, or even at a Chevrolet dealership. It was at Ford's Dearborn Proving Ground. That's right, FORD!
I'll certainly never forget the first time I got up close and personal with a Z11 Chevy. It was in June 1963 and I was driving a 427/425 Galaxie on the test track. Frank 'Zimmy' Zimmerman, a sales and marketing execuive who would later become a Special Vehicles Activity manager, was riding shotgun. He was breaking one of the Proving Ground's cardinal rules not to allow an "outsider" to drive on the banked, high-speed track.
After positioning the red Galaxie in the 110- to 120-mile-per-hour groove, I spotted a black '63 Chevy coming on strong. I thought my eyes were playing tricks on me. Suddenly he dropped down a slot and the black Chevy was next to me. I figured he was looking for a run. Zimmy said: 'blow his doors off and show him what Total Performance is all about.' He didn't seem concerned about the Chevy's hood and fender signs that read: Aluminum—Do Not Touch. Maybe he didn't notice. At more than 100 miles per hour, we both nailed it. Then, the Chevy's driver waved goodbye and proceeded to make my Ford look like four spark plug wires had been disconnected. It was not a pretty picture."
Even the most scholarly and well-researched books can't beat first hand experience. Marty Schorr drove and sometimes lived with some of the most outrageous performance cars that will ever be made. He wrote for Cars magazine, a publication noted for it's honest reporting, even at the expense of losing advertisers.
Well written and fun to read. I'm not sure what else to say. Well worth buying.
The writing is what makes the book great. Lots of historic photos. Many detailed personal accounts of encounters with the totally outrageous. Straightforward interior design. Chapter title pages in sort of a '60s style. Running footers with page numbers. Fully indexed. Inside front and back cover spreads with paintings of Ace Wilson's Royal Pontiac and Yenko Chevrolet by Dave Snyder.
Description from the publisher
In Day One, automotive journalist Marty Schorr recalls life on the front line in the classic muscle car era, thrashing brand-new cars that would become collector vehicles.
Most muscle-car books celebrate beautifully-restored vehicles surrounded by hard facts; Day One tells the real story from the point-of-view of one of the period's most respected automotive journalists, Marty Schorr. For the first time in print, you'll get a unique perspective on what it was like to actually drive, race, and otherwise thrash what are some of today's most valuable collector cars.
CARS, the iconic magazine Marty wrote and edited didn't rely on industry advertising for revenue. Instead, the magazine made money the old fashioned way, from newsstand sales, leaving it able to be honest and frank in its coverage of high-performance street cars. CARS magazine reported on both Day stock and modified cars, cars the traditional magazines wouldn't touch, like the ultra-high-performance vehicles from companies like Baldwin-Motion, Yenko Chevrolet, Nickey Chevrolet, Royal Pontiac, and Tasca Ford.
Prepare yourself for Day One to cover the most important cars of a given year, including:
Pontiac's 1962-1963 lightweight Super-Duty 421 street and Swiss Cheese models
Chevrolet's 1963 big-block 427 Mystery Motor and ZL-1 Impala.
Ford 1963 ½ 427/425 Galaxie fastback
The 1964 Ramchargers
The first 426 Street Hemi
Cotton-Owens prepared Hemi Coronet
A 1966 Olds Twin-Engined (850 cubic inches) Grant Toronado, currently owned by Jay Leno
A prototype 1966 Plymouth 426 Street Hemi Satellite
One of two 427 SOHC Galaxies prototypes
A '67 Royal Bobcat GTO
Plymouth's original '68 Hemi Road Runner
Hurst-built Plymouth & Dodge 1968 Hemi-Darts and Hemi-Cudas
About the Author
Martyn L. Schorr has a history with high-performance cars that dates back to the beginning of Ford's Total Performance era over fifty years ago. He rode with Carroll Shelby and was at the press conference in New York for the debut of the Lola-built Ford GT that became the GT40. Schorr drove the GT40 on streets of New York City and went with Mickey Thompson in 1969 to Bonneville to set a book full of records. He personally knew all the key players from Ford's racing program from his years as a magazine editor. Schorr is the author of Motion Performance (Motorbooks, 2009).
Joe Oldham (1943–2017) was a journalist whose career began in 1964 when he earned the position of writer/editor for Magnum Royal Publications, where he road-tested every muscle car for magazines such as Hi-Performance Cars, Speed & Supercar, and Supercars Annual until 1976. He spent the next 32 years at The Hearst Corporation, and the next 18+ as editor-in-chief of Popular Mechanics
Published by Motorbooks
Format: Hardback, 208 Pages
ISBN: 9780760352366
Illustrations: 100 color & 175 b-w photos
Size: 9.25 in x 10.87 in / 234.95 mm x 276.1 mm
Published: November 21, 2017
Cost: $45