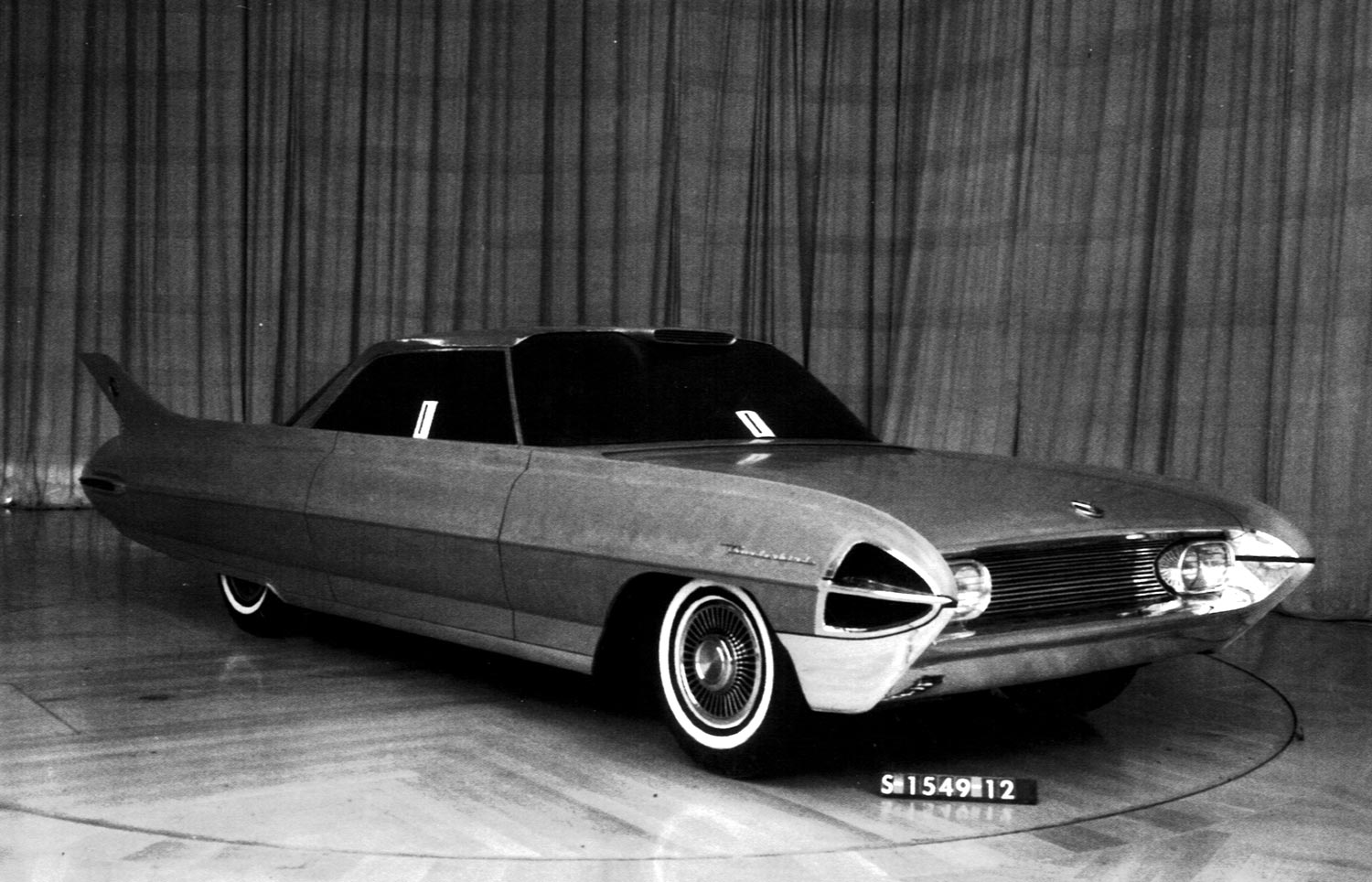 1961 Thunderbird Design Development
By Jim and Cheryl Farrell
There is probably not a more confusing design story than the design of the '61 Thunderbird. Robert McNamara, head of Ford Division at the time, had trouble deciding whether the next Thunderbird would be a facelift of the 1958-60 model or a completely new design.
Designers in the Thunderbird studio when the '61 Thunderbird was designed were Bill Boyer (manager), Jim Powers, Richard Clayton and Ken Pheasant. Boyer had been involved in all prior Thunderbird designs. Powers was a disciple of Alex Tremulis, who had been his mentor. He was relatively new in that studio.
Because of the lack of direction and the often changing directions, it was difficult for studio designers to develop a theme model that would gain management approval. There had been many tries but no approvals.
Management reviews were usually held every Friday. In fall 1957, on a particular Thursday afternoon, Boyer realized there was nothing ready for his studio to show management the next day. Almost in desperation he selected an incomplete full-sized clay model Powers and clay modeler Walt Amrosi had been working on, and he suggest that he, Powers and Amrosi pull and all-nighter in an attempt to come up with a proposal that management might accept at their next day Friday review.
Boyer, Powers and Amrosi began work on the full-sized clay model about the time everyone else went home. Boyer left around midnight, but Powers and Amrosi stayed and finished the clay model just as everyone else was coming to work the next morning. Although the fins were added by Powers on both sides after Boyer went home, the passenger side of the proposal was designed by Powers and the drivers side by Boyer. The clay model was barely ready to show management at Friday's review.
To Boyer's surprise, Powers side was chosen as the theme for the '61 Thunderbird—vertical stabilizers (as Powers called them) and all. For several months after that it was still up in the air whether the '61 Thunderbird would be a facelift or all-new, but development of the new theme model continued. Development of the Powers design took several months. Eventually the fins disappeared because they were too costly the build. The front end design of the car come from another studio, but the '61 Thunderbird proposal as it was completed in the Thunderbird studio was finally chosen as the new '61 Thunderbird.
There are dissimilarities between the sides of the car that Powers designed and the Boyer side. Best guess is that most viewers will be astonished that a proposal with those huge fins—bigger fins than on the '59 Cadillac—was chosen. The following photos show the proposal as designed by Boyer and Powers, and that same model after a few weeks of development.
Photos: Ford Design
More 1961 Thunderbird Styling Studies
Books by Jim and Cheryl Farrell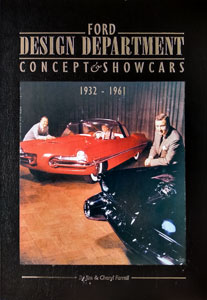 Ford Design Department—
Concepts & Showcars
1999, 10×13, 400 pages, Fully indexed
900 photos. Includes 150+ designers and sculptors, and highlights 100 concept cars.
ISBN 0-9672428-0-0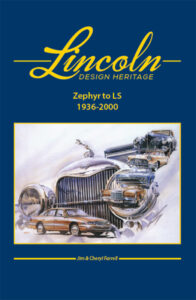 Lincoln Design Heritage:
Zephyr to LS (1936-2000)
2021, 10×13, 480 Pages, Fully Indexed
1,600 photos and illustrations
ISBN 978-0-9672428-1-1
The Ford book is $50 plus $7 S&H (US). The Lincoln book is $85 plus $10 S&H (US). Both books bought together are $110 plus $17 S&H (US). To order, email: cfarrell57@gmail.com